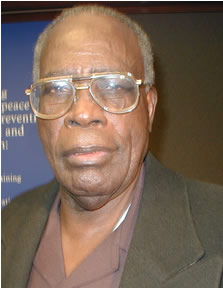 Bai Gbala
I read with disbelief Bai Gbala's article,
Those Intellectuals…
posted on the November 5, 2004 edition of The Perspective Magazine in which he accused African intellectuals and professionals of abandoning the African continent, therefore foreclosing their rights to criticize the misrule in Africa.
There is a direct correlation between the African countries that have most of their intellectuals and professionals in western countries and the level and length of political repression and instability. For examples, Most Nigerian and Ghanaians intellectuals and professionals left the two countries during the military dictatorships in the 1960s, 1970s and 1980s to escape political repression. Also, many Liberians intellectuals and professionals left Liberia during the brutal regimes of Master Sergeant Samuel K. Doe and Charles Taylor for their safety.
Therefore, Bai Gbala is off track to accuse African intellectuals and professionals of abandoning Africa, given that almost all African intellectuals and professionals abandoned Africa because of policies and programs implemented by African dictators from Mobutu Sese Seko to Charles G. Taylor which drove African intellectuals and professionals into exile.
In Liberia, Bai Gbala served as one of the principle advisors to two of the most brutal Liberian dictators, Samuel K. Doe and Charles Taylor during which times both men implemented policies and programs that drove Liberian intellectuals and professionals into exile. For example, in the 1980s, General Samuel K Doe, routinely designed schemes that falsely implicated Liberian intellectuals and professionals in plot to destabilize Liberia. Ellen Johnson-Sirleaf, Amos Sawyer, George Kieh, Jr., the late Mary Antoinette Brown-Sherman just to name a few, were at various times arrested and imprisoned on frivolous charges. For the most part, their only crime was they spoke against the violations of civil and constitutional rights of Liberians, and the massive corruption perpetrated by the Doe regime.
Bai Gbala also served as an advisor to dictator Charles G. Taylor during which time scores of Liberian intellectuals and professionals including Tiawan Gongloe, Hassan Bility, Amos Sawyer and others civil and constitutional rights were violated. What did Bai Gbala expect in the face of the aggression against these Liberian intellectuals and professionals during the Charles Taylor dictatorship in Liberia?
Bai Gbala and others must place the blame for the departure of African intellectuals and professionals from the African continent on dictators like Samuel K. Doe, Charles G. Taylor, Mobutu Sese Seko and people like him who contributed to their misrule by their advice and association with these regimes over the years. As long as brutal African dictators like Samuel K. Doe, Charles G. Taylor, Mobutu Sese Seko and others are on the African continent, African intellectuals and professionals will continue to flee the continent for their safety. Thus, they have the rights to criticize misrule by African rulers from abroad where their safety and freedom of expression are assured.