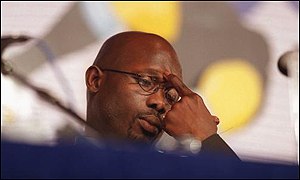 George Weah
Much has been written in recent times about the possibility of "running" the former soccer super star, George Oppong Manneh Weah, for president in the up coming Liberian general elections. Although the majority of the write-ups are favorable to Mr. Weah, there have been a number of writers who are furiously opposed to the idea. The pros and cons have clashed in this forum. In politics, the saying is, "Publicity is good". Some go as far as saying, "It is better to get bad publicity than no publicity at all". Judging by these measurements, Mr. Weah is doing well. For someone who hasn't officially declared his intention to contest the election, being treated as a potential front-runner is already a tremendous accomplishment.
For me personally, switching our attention away from those mainstream contestants such as Sherman, Brumskine, Johnson-Sirleaf, Tipoteh, Tubman and Tubman to focus exclusively on Mr. Oppong Weah is unfortunate. Why, because it detracts from the pluralistic nature of good politics. We definitely need diversity among the candidates – it enriches our slate of choices. (Although, on the other hand, I must admit there are just too many candidates in the race now). To narrow our choice to one super hero without giving the other contestants the benefit of the doubt is unproductive.
What makes it most unfortunate is that Mr. Weah is yet to make a major speech on the issues at hand. Besides meeting with his fans-turn-loyal-supporters, Mr. Weah has yet to meet with a cross-section of Liberians to market himself. Is Mr. Weah really running for the presidency? On that crucial point, he remains tight-lipped while his handlers go all out to convince the rest of us that their "candidate" is qualified.
It comes as no surprise to us that Mr. Weah is the most internationally well-known (popular) potential candidate in the crowd, yet beside the fact that he was once "African, European and World footballer of the year", and is serving as an honorary "ambassador" of UNICEF, we know the least about him.
There is an old line of wisdom: "The past is a great predictor of the future". Since Mr. Weah is not running for a position as a football player, but to become the "leader" of a government, it becomes a pressing responsibility of Mr. Weah's and his handlers to tell the public exactly what qualifies him for this daunting task and responsibility, besides his huge popularity.
Let's make one thing clear: as much as I don't think that being "footballer of the year" and "UNICEF ambassador" should qualify Mr. Weah as a candidate, I also don't believe that one necessarily needs to acquire a multitude of academic degrees to qualify for the race at hand. The pertinent question now boils down to leadership. Mr. Weah has enough fundamental education to qualify, but is he a leader? Has he demonstrated leadership in the past? Can his past be a demonstrative indication of the future? These are a few of the questions that I have wrestled with while the debate develops. In my view, it becomes absolutely necessary that Mr. Weah and his handlers provide answers to such provocative and necessary questions to allay the fears that some of us might have. I'm now throwing the ball onto Mr. Weah's court.
Many of Mr. Weah's supporters point to the present President of Brazil in dismissing the candidate's lack of academic accolades. Mr. Luiz Inacio Lula da Silva did not finish formal high school. But as a trade union leader, "…his party was a political force to be reckoned with: it was represented in almost every part of Brazil and had a huge membership of 400,000. Lula was at the forefront of the process of establishing an organizational structure for the party…"
The Brazilian President while lacking academic credentials has been a proven leader throughout his life. He wasn't only a trade union leader; he enjoyed the respect of "other trade unionists, social movement leaders, left-wing academics, intellectuals and religious leaders", before becoming president of his country. (This information was retrieved from a document published by the Embassy of Brazil in London).

Does Mr. Weah possess a similar track record of accomplished leadership? Instead of preaching to the crowd of the converted, Mr. Weah will do himself a world of good if he decides to tell us why he deems himself qualified.
In their book, "Discovering the Leader in You: A Guide to Realizing Your Personal Leadership Potential", the authors, Robert J. Lee and Sara N. King pose some basic and fundamental questions as leaders and potential leaders find themselves in the quest for the definition of personal leadership. Here is a sample of the questions for contemplation: