Thousands of Liberians mainly the youth on Tuesday, 24 November 04, thronged the principal streets of Monrovia and the suburb of Paynesville to give Liberia's soccer legend and former World Footballer of the Year a rousing welcome, as he arrived in the country to seek the nation's highest office - the Presidency. Mr. Weah is Liberia's soccer ambassador and UNICEF Goodwill ambassador.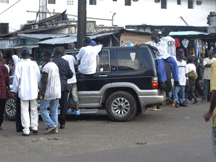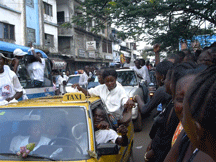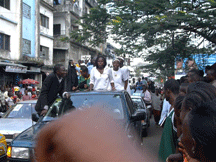 Weah Returned Home
The arrival of the presidential aspirant paralyzed normal business activities for some hours, with thousands of the Liberians coming out to take a glance and/or welcome Mr. Weah. The people demonstrated a high degree of loyalty to their candidate.
The Weah's motorcade, under the escort of the Liberian National Police (LNP), patrolled the streets of Monrovia, with a large crowd accompanying the convoy from street to street, while the presidential aspirant who was riding in a well-protected jeep received praises from his supporters and sympathizers.
As early as 7:00 AM, Weah's supporters stormed the Roberts International Airport (RIA) in Margibi County on chartered vehicles decorated with pro-Weah placards and Weah's photos to welcome him and pledge their support for his bid to become president of Liberia.
Ambassador Weah is viewed by his supporters as the right man at the rightful time and one who is capable of moving mountains, but many believe that he is not capable to run the affairs of the state.
King George appears to draw his support mainly from young people and ex-combatants. Chanting an anti-education and pro George Weah song, they are saying whether he is educated or he is not educated, they will vote for him – "He know book, he does not know book, we will vote for him". This is similar to the song that Liberian youth and ex-combatants sang during the 1997 Special Elections which brought Charles Taylor to power: 'you kill my ma, you kill my pa, I will vote for you." It is the same old song but the lyric have been paraphrased for the occasion.
Many in Liberia believe that there are some invisible hands or unidentified politicians using Weah to exploit his popularity to occupy key and lucrative positions in the next government if he should win come 2005. Currently, Ambassador Weah draws his support largely from the youth, including some ex-fighters who believe that the old political elites have failed them, and that education is not a determinant factor in the coming elections.
However, others see Weah's bid for the Liberian Presidency as a serious mistake for not only him, but for the Liberian people also; adding that the same groups that are going crazy for him now, will be the ones to chant his downfall.
Meanwhile, Mr. Weah promised massive development, saying that the old politicians have failed the Liberian people. He, however, failed to give details as to how the old political elites failed the Liberian people. He said that the politicians never had "common love" for the Liberian people.

Mr. Weah further added that he was going in the race to build institutions, serve his people with love and compassion as a true son of the land. In addition, the Ambassador said that upon his election, he will hire the services of people of political background to work for him to develop Liberia.

Over the past few weeks, there have been speculations about Weah's ambition to run for the presidency, and on several occasions, he categorically denied having any interest in contesting the office on grounds that he is a soccer player and not a politician.

The argument concerning Weah's presidency has divided the city into two schools of thought with one group in support of his declaration, while the other group believes that Mr. Weah is not a political material and therefore dismisses his ambition.

Those who opposed to Mr. Weah's declaration were quick to identify his shortcomings, insisting that he cannot make a good president – pointing to his failure to take the nation to the World-Cup during his tenure as a technical director for the Liberian Lone Star. Others argue that Weah only bankrolled the team during the war because he was a member of the team. They argue that if Mr. Weah is so generous, why is he not still bankrolling the national team when he was not a member?

Other areas of Mr. Weah's weaknesses highlighted by his critics, include his lack of managerial skills coupled with his uncontrollable temple in handling issues as well as his lack of requisite education. His critics went further to accuse him of having bad moral values in dealing with his colleagues, using his leadership as captain and technical director for the national team as an example. Some even point to his alleged arrogance besides being a political neophyte as reason why they don't want him to become president. There are others who feel that the warring factions want to use Mr. Weah to perpetuate themselves in power – using the alleged presence of members of warring factions in leadership positions in Mr. Weah's organization as a in point.

Majority of his critics feel, he should be encouraged to run for either Minister of Youth and Sports or president of the Liberian football organization - the Liberian Football Association (LFA). His critics want him concentrate on sports instead of going into politics.