As a law abiding citizen, I stayed in door when the curfew was imposed but that is only the partial truth. On Friday, October 29, 2004, I was scheduled to travel to Greenville, Sinoe County via an UNMIL Flight. I left my home in Congo Town and while driving towards the Airport, I saw students walking away from their school buildings. I had just listened to the early morning radio broadcast at which time mentioned was made about an outbreak of violence in the Paynesville Red Light area. Some how violence always seems to break out in this place and perhaps for very good reasons too. I am an adherent to the principle that deprivation goes hand in hand with violence. I know that in Liberia's deprivation is as pervasive as they air we breath but just like the air we breath, which is fresh in some places and foul in others, there are communities within the country where deprivation is so entrenched that it has become wretchedness and Paynesville Red Light is one such place.
Upon arrival at the airport, it became clear that the Thursday night violence in Paynesville was fast spreading to such areas as Duport Road, Jacob Town, Pipeline Road, then Seventy Second, Gardnerville, Fiama and other areas in the Sinkor area. From the James Spriggs Airport, one could see stack of smoke rising into the heavens – I counted six different such stacks of smoke and was later to learn that they were petrol stations and homes that were set ablaze by marauding mobs easily dubbed "Moslems and Christians youth" by the media. I turned on my transistor radio, which I always traveled with and got tuned in. It was reported that buildings and cars in the Monrovia city center were being set on fire. Then the radio announcer came on and said that the Chairman of the NTGL was going to deliver a statement to the Nation. During his statement, he imposed an indefinite and immediate curfew. I could not return to my home for fear of violating the curfew and was stranded at the airport from 9:00 A.M. until 5:30 P.M. Fortunately, I had in my possession a copy of the Global Witness Report on the Timber Sector in Liberia and that was one good reading. I also took the opportunity to call my various colleagues, co-workers, family members and friends to find out how they were doing and to my relief they were all staying put, alive and well. Obviously, some complained of the inconveniences of not being able to exercise their "democratic right to free movement". Later during the day, it was announced that the curfew would run from 4:00 P.M. to 7:00 A.M.
Once at my home, I was glued to the radio. I would move the dial from station to station and tried to follow-up on the development. All the while, the violence was escalating. The reports indicated that some persons had been murdered by mob, while a young boy about age10 was thrown into a well where he met his untimely death and another man was wrapped in a mattress and set ablaze encountering a rather painful death. There were reports of arsons and looting both within the Paynesville area, as well as the city center.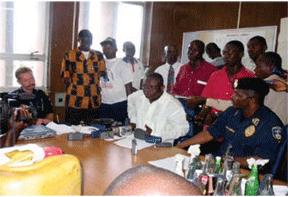 These softdrink bottles were used to prepare what is localled known as "bombs", Gas in this container was used to set buildings on fire
The night was a bizarre one for me. I had appeared on local radio stations only a few weeks before assessing one year of the transition at which time, I had commented on the increased level of security in the country, among several other positive developments during the past year. Was this episode a reality check or simply one of those gasping occasions when one runs out of air. I do not know the answer yet but I am searching.
I did not sleep well. I needed to get out and see for myself what it was like in the neighborhoods that had witnessed the burnt of the violence. I could not wait for day to break. By 4:30 A.M., I was out of bed and unfortunately for me, my favorite radio program, Network Africa, was not airing on Saturday morning. I was stuck with the world news and was saddened by the broadcast of the airlift from Ramallah of the Palestinian leader, Yassir Arafat for medical check-up in Paris. This was the first time he was leaving his compound in three years…
As soon as the sun appeared over the horizon, brightened up, and the clock struck 7:00 A.M., I put on my running shoes and went out for a run. Nothing unbecoming had happened in my neck of the woods. It was pretty calm and all the structures appeared unmolested and intact. A lot of people were unusually on the road walking. I believe this was because public transport had grind to a halt. Following my run, I returned home, had a cup of coffee and got into my car (by the way, I am now driving a nice sport car – a 1992 Opel Kadet with drop-top, a convertible or as they say in Monrovia – "Open top." No, I am not frivolous but it is a nice car and I bought it for only $4,000.00 not pricy and with hard earned honest money. Just in case you are wondering, I was guided by the commercial which says "why only the rich guys should have fun?" I too like to have fun.).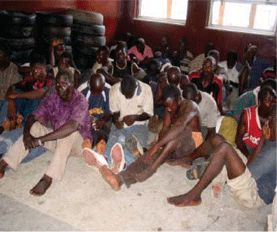 Some of those arrested for their alleged involvement in the violence
First I drove to my office on Ashmun Street in the Snapper Hill area near Cathedral High School. Except for the level of desertion on the street, everything looked calm and untouched. My office was in one good piece and nothing was destroyed or stolen. I then decided to check out the Mosques in the City Center, the main Mosque on Benson Street appeared intact except for few of its windows which were broken apparently by rocks throwing lumpen elements. The Mosque on Newport Street was another story, It was burned but not to the ground. One could see smoke imprints on and around the window areas and towards the roof of the Mosque. Few stores appeared destroyed and/or looted. There was a burnt-up vehicle on Randall Street just after Benson Street. Monrovia was tense but calm I did not see any burnt church in the city center. The Press reported that churches in the Paynesville area were burned. I decided to drive to Paynesville. I avoided turning into Duport Road and headed directly towards Paynesville Red Light. Along the way, I saw at least three petrol stations that were burned or destroyed but not completely. One of them was pretty new and located at the Catholic Hospital Junction and another across the street from the Ministry of Health in Congo Town, which was to be constructed by the Chinese but was incomplete due to the war. As soon as I drove past the ELWA junction, I began to encounter carcasses of burnt vehicles. I counted a total of 12 such carcasses; most of them appeared to be mini-buses popularly used for public transport. At one site three minibuses were burned and they appeared to have been parked at a filling station. At the Red Light, there was near total desertion. Paynesville Red Light is one of the most over-crowded places in Monrovia and for it to be deserted on a Saturday morning speaks volume about the nature of the violence in the area. There was massive destruction of market stalls and a number of containers, which had been converted into shops and/or storage facilities appeared to have been forced open and looted. I was saddened and depressed. I don't know whether Liberia's peace process is imperiled. I do know however, that more lives have been painfully ended, some persons have been displaced, our country's image further maligned, and efforts at reconstructing the country needlessly complicated. Yes Monrovia is indeed a sorry site, but we cannot loose hope for as they saying goes, "where there is life, there is hope." In Liberia there are lives yearning to live in peaceful co-existence with each other and given that they are in the majority, they need to be supported while those who want to continue in their criminality should be made to face the full force of the law.