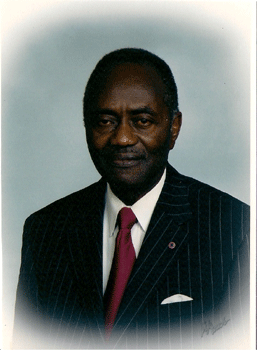 Dr. Abraham James
I could not believe the text message I saw on my cell phone on November 2, 2009 at 10:43 a.m. The message came from his niece, someone I have known briefly since my arrival in Liberia. The message read as follows:
Sir, Cllr. James passed away last night.


When I read the message I became dump founded, I did not know what to do. My first thought after I gained my composure was to recollect some of the many years of discussion about the way forward in Liberia. The death of "Prof. James" as he was commonly known is a big blow to Liberia. Liberia has lost one of its true patriots, a true believer in a peaceful and democratic Liberia, a true believer in constitutional democracy. Dr. James was one of the original drafters of the1984 constitution that now governs Liberia.


I came to know Dr. Abraham James more than twenty years ago as residents of Philadelphia, where we lived in involuntary exile as a result of the Liberian civil war. I closely interacted with Dr. James during the Liberian civil war. He was a true Liberian whose commitment to peace in Liberia surpassed anything beyond imagination. He attended countless numbers of meetings and rallies in search of peace in the "glorious land of liberty," Liberia in Philadelphia, Washington DC many other places.


Unlike many other Liberians who sought for peace, but yet sympathetic to warring factions or political interests, Dr. James exhibited complete neutrality in his search for peace. He believed that the road to peace and stability in Liberia rest on a constitutional democracy and building an institutional framework for democracy to succeed.


Dr. James was a voice of reason during the heydays of the Liberian crises, he met with Liberians of all works of life in his quest for peace in Liberia. I was particularly impressed by his tolerance of the views of others and his thoughtful interjection during discourse.


Dr. James and I discussed hundreds of times how to achieve peace in Liberia and the way forward. He was a true son of Liberia who cared deeply about the country. Liberia has lost a true son, a champion of democracy and the rule of law who was not interested in showcasing himself as many of us do.

He always encouraged me to return to Liberia for us to help rebuild the country. We both returned home to make our contribution to Liberia. We met at least once every month to compare notes about events. At each meeting we thoroughly discussed the weaknesses in the governance structure and how they could be strengthened.


Dr. James was a man of integrity. Unlike many people that returned to Liberia to hustle, he returned to Liberia based on his genuine desire to contribute positively towards ensuring that democracy works in Liberia.


Prof. James did not only demonstrate his desire for a peaceful and democratic Liberia through participation in events centered around the resolution of the Liberian crises, he wrote countless number of articles on the Perspective Magazine, an online publication which I have associated with since 2002. His articles were pointed and consistent with his core value as a proponent of constitutional democracy.


He was a founding member of the University of Liberia Alumni Association in the United States, an organization geared towards bringing former students and graduates of the University together with the objective of supporting the University of Liberia.


Liberia will truly miss Dr. James. May his soul rest in peace.

Here are few of his articles:
The Forthcoming National Referendum: A Significant Institution Of Our Constitutional Democracy
A Political Crisis Is Looming Over The Delay In Enacting The Legislative Threshold And Other Related Electoral Bills
Leadership for a Nation in Crisis: Liberia
Liberian American Relations Revisited
The Dawning of a New Era For Liberia
Lingering Liberian Constitutional Issues