The former Chairman of the National Transitional Government of Liberia, Mr. Gyude Bryant, on Wednesday paid a courtesy call on President Ellen Johnson Sirleaf at her Foreign Ministry office in Monrovia.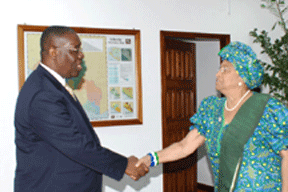 Former Chairman Meets President Sirleaf
Chairman Bryant thanked the Liberian Government for the decision to drop all charges of corruption against him. He said he was pleased that the issue had now been laid to rest, and hoped the decision would help foster the spirit of reconciliation in the country.
An Executive Mansion release says the Liberian President and the former Transitional Government Chairman used the occasion to discuss matters of common concern.

Mr. Bryant was being tried by the Government on charges of economic sabotage and theft of property. He became Interim President following the departure of former Liberian President Charles Taylor in 2003 and led a power-sharing administration which ushered in the Government of President Johnson Sirleaf in 2006.

In other news, the President has been invited to participate in celebrations marking the 50th independence anniversary of the Federal Republic of Nigeria, in Abuja. The President will be away from September 30th to October 2nd.

The Minister of Justice, Cllr. Christiana Tah, as Chairman of the Cabinet, will coordinate the affairs of Government in consultation with the Vice President during the President's absence from the country.


Source: GOL