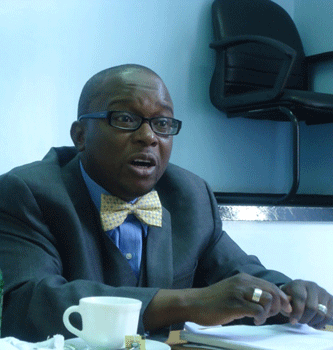 Auditor General John S. Morlu II
The decision by the President of Liberia, Ellen Johnson Sirleaf, to not re-nominate Mr. John Morlu as Auditor General of Liberia, has not only raised a significant outcry amongst many Liberians who are committed to ensuring and seeing corruption stamped out of our country, but this decision has also left many Liberians locally and internationally even more concern about our government's commitment to promoting a corruption free Liberia. However, and given the intricate nature of the Sirleaf's administration decision, and despite the fact that this decision might have been politically influenced, the responsibility for Liberia's anti corruption success should not be reduced to the departure of Morlu as much as I have strongly believed in John Morlu and his style of auditing. Admittedly, I must say that it is a sad development for such an astute Liberian public servant, and Liberia as a whole, given the President's decision not to re-nominate Morlu; it is no wonder there has been calls from well known organizations, as well as calls from individual like Ban Kin Moon, the United Nation Secretary General, and other international watchdog organizations pointing to the fact that the Johnson's administration's decision may have been untimely. Yet, to contend that the GAC will lose its momentum as far as the future integrity of this body stands would be to distort reality; a thing I think those corruptions freaks should watch out for.
Furthermore, and given the many disdained surrounding Morlu's departure, I think to suggest that Liberia without John Morlu is doomed to failure and rampant corruption, only takes away from the fact that there are competent Liberians with equally great auditing skills like Morlu, who can take on this beast call corruption. The current GAC has some of these individuals, and there are many Liberian locally and internationally who would be willing to take on this task. Additionally, I certainly think while it is pertinent that we have legislative instruments that ensures the "terrorists" of corruption is attacked effectively by dismantling its hideouts and sources within and outside of Liberia, without favouring the executive branch of government, or any other branch of government, and or any individual in our Liberian society, to assert that John Morlu's departure will suddenly expose Liberia to total failure in its fight against corruption only oversimplify the issues surrounding the current GAC ability to continue its good work. It is therefore against this background of concern that I am suggesting the way forward as young Liberian living in Canada.

Firstly, I will like to thank Mr. John Morlu, the current GAC, and all concern Liberians who are standing tall against corruption. The way forward against what I have earlier coined as the "terrorist of corruption," I believe is an unrelenting commitment by Liberia to good governance at micro and macro levels. In this sense I am proposing that whether it is at the executive branch of government, the legislative branch, the judiciary, and or the GAC, or at any level in Liberia, we as a people should ensure we have a system that clearly determine who has the authority to make decisions concerning what the Auditor General does and how. Is it the President, or the legislature, or is the Auditor General office autonomous of any political influence? Good governance here would clearly define the role of the executive when it comes to the Auditor General of Liberia, in order to avoid future outcry in the fight against corruption as was with the Morlu Saga. Good governance will also ensure through various instruments and techniques how to do what and why- the procedures.

Second, good governance in Liberia's fight against this beast of corruption requires constant recognition of stakeholder's interest. In Liberia's case our stake holder is the electorate. How much is the electorate involved in stamping out corruption and is our government's policy against corruption representative of the electorate interest- for example, the taking out of Morlu. If it is, what tools are in place to ensure that whoever is replacing Morlu is not an agent of the government of Liberia? How much is Liberia engage with the decision making process of selecting the new Auditor General? To what extent, do we have oversight of the executive branch of government, the legislative and branch and the judiciary? At this point the cancer of corruption will be given room if, in going forward, these areas are not put in place. John Morlu's fight against corruption with his team was directly hinged to the connectedness between various branches of government in Liberia and their willingness to tackle corruptions. The failure by the leadership of Liberia to work with whoever is in charge as far as audit is concern may be detrimental to socio economic development. Thus, as long as we don't have these tools in place to stamp out corruption it may be a challenge. However, the GAC and the electorate together with the various branches of Government can take steps toward good governance by ensuring everyone meet their obligations for Liberia to be successful against corruption.

Another important point to make is the fact that at various levels in Liberia there must be a clear strategic direction in the fight against corruption. The anti corruption campaign in Liberia should outlive Morlu and even the current administration. This would mean our country should have a long term perspective when it comes to anti corruption. This perspective should have legitimacy of voice that comes from its stake holder which is the Liberian people. In short, I am saying without the general population being part of the process of anti corruption it will be difficult. I am proposing that it is time that from our pre schools levels, elementary, secondary and University levels in Liberia, Liberians be taught about the negative effects of corruption. This is a long term strategic fight. I am also suggesting as the way forward that the fight against corruption should be control not only be the GAC but all Liberians who are concern. We as a people should feel it our responsibility to identify and deal with corruption in our society. The Sirleaf Administration has "black sheep" as I would put it, but the way forward is not to keep the Morlu issue a subject, even though evidently it is a blow to our democracy however we may call it. I contend we can make the difference by working with what we have relentlessly, and having no fear of whomever. Liberians awareness of the negative impact of corruption has arisen over the period, and thanks to all, but let's know we can do it even without Morlu, because we are a sovereign people, a people endowed with the abilities to conquer this enemy of corruption that has plague our nation and people for years. We shall overcome.

God Bless Liberia

---
© 2011 by The Perspective
E-mail: editor@theperspective.org
To Submit article for publication, go to the following URL
:
http://www.theperspective.org/submittingarticles.html