Dear Compatriots and Friends: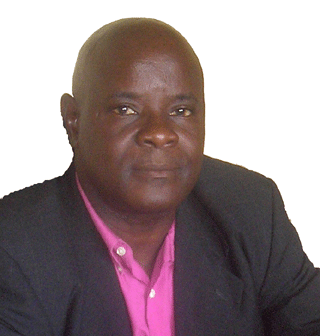 George H. Nubo
Since the 1970s, Mr. George H. Nubo has been actively involved in the Liberian people's struggle for democracy and social justice. He has long worked for positive change in Liberia! Born and raised in Pleebo-Sodoken District, Maryland County, George has special sensitivity to the needs of rural people. He is especially passionate about the upliftment and wellbeing of his people of Pleebo-Sodoken District.
Having worked for positive change in several leadership capacities for over 30 years, George now feels that the time has come for him to seek an elected office. He wants to bring his leadership skills, compassion, dignity and integrity to the House of Representatives by running for representative of the Pleebo-Sodoken District #2. He believes our rural folks deserve better, and that people who represent them in Monrovia should have sensitivity to their actual needs. He wants to represent his people in the house so that he can seek improvement in their poverty-stricken living conditions.
George is also deeply concerned about the current erosion of our checks and balances system which over the past six years has rendered the Legislative Branch a lame duck. He believes that the House of Representatives need competent men and women of character whose concerted effort will not only restore integrity to the house but will also preserve checks and balances in our government.
George was a community activist and served as Treasurer of the Liberian Community Association of Metropolitan Atlanta (LAMA), under the dynamic leadership of Mabel Jarnyenneh Green. Under his stewardship, the Liberian community received regular financial reports, and every penny received and spent was accounted for. Transparency was his hallmark and at the end of his tenure, the community was left with a surplus in its coffers.
George offers an enviable record of accomplishments in education and leadership. He is a former student activist and an alumnus of the Tubman College of Technology (now Tubman University). He is a trained civil engineer and a graduate of the University of Tennessee. George is a founding member and the managing editor of The Perspective, a trailblazer online magazine which relentlessly exposed the tyrannical rule of Charles Taylor. He has also served on the Supreme General Auditing Commission (GAC) under Honorable John S. Morlu. Working along with the courageous Morlu, George helped fight corruption in Liberia.
George H. Nubo is therefore a man of integrity, dedication and passion for public service. These qualities endear him to his people of Pleebo-Sodoken district #2 who actually petitioned him over two years ago. They strongly believe that he can better represent their interest in the House of Representatives of the Republic of Liberia.
But the stakes for this year's election are very high! A few good men like George are challenging crooks, dishonest, and corrupt individuals who have the money and resources. We know our people have the insight to separate the sheep from the goats, but we can't take anything for granted and leave anything to chance. We need to help our friends cross the finish line to win this election.
As friends of George, we have decided to launch a fundraiser to help our friend and are asking all those who believe in him and share the principles that he stands for, to please contribute a minimum of $25.00 to support his campaign. By your ability, if you can contribute more, this would be most welcome. This is an urgent appeal! Please help! There are only 50+ days left in this campaign and each day counts!

Please send your contribution directly to the WELLS FARGO Checking Accouunt # 3000231142996 that George H. Nubo has established. Let's not delay!

---
FOR A BETTER REPRESENTATION IN THE LIBERIAN LEGISLATURE, WE REMAIN

The Friends Of George H. Nubo,

Regards,

J. Kpanneh Doe, Siahyonkron Nyanseor, and Ray Martin Toe