4 MORE DAYS: VOTE LIBERIA, VOTE KANVEE FOR INTERNATIONAL AWARDS
By: Nat Bayjay (0777-402737, 0886-402737)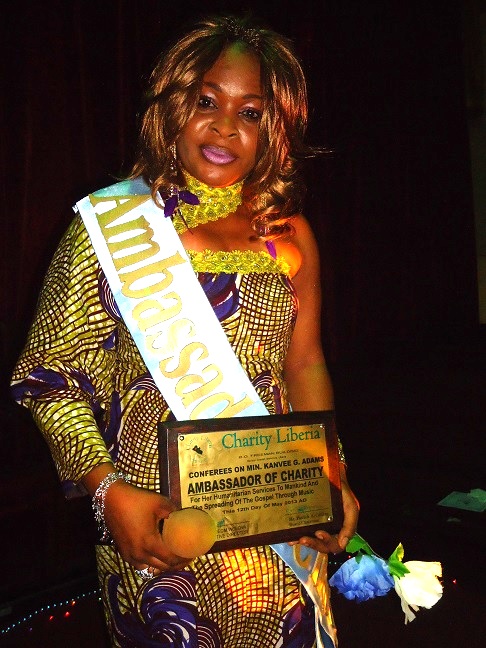 The countdown to the prestigious internationally acclaimed Africa Gospel Music Awards (AGMA's) 4th annual event is at hand with just four days left for the voting period to close. Liberians are being urged to vote 'Mama Liberia' by voting Gospel icon Ambassador Kanvee Gaines-Adams who has been nominated for two international esteemed awards: 'Artiste of The Year For West Africa' and 'Female Artist of The Year For Africa'.

Liberia's Kanvee is being nominated along with other continental Gospel musicians based in Africa and overseas drawn from South Africa, Nigeria, Botswana, Ghana, among others.
The Africa Gospel Music Awards, being held in London's Great Hall of Queen Mary's University in the United Kingdom, recognizes African Gospel music by uniting both current and legendary Gospel artists from around the globe.

As Liberia makes its first ever entry into the event, Liberians can only afford to vote their country through Kanvee by going online at: www.africagospelawards.com, check on home page for '2013 Nominees And Voting' and at the end of that page, scroll down to 'Vote Now' and enter personal email. Then go to your email and vote the two categories by checking Kanvee's name and submit. One can only vote once in each category and not compelled to vote in every category.

Make Liberia proud by voting Kanvee, the supreme Gospel musician whose 12 leading Gospel albums since 2002 have won her several Gospel awards in several categories including three-times 'Artist of The Year', 'Best Selling Album', 'Best Inspiration Artist', just to name a few.
Vote Liberia!!!! Vote Kanvee for AGMA's 'Best Female Artist of The Year For Africa' and 'Best Artist of The Year For West Africa'!!!!!!!!!!!!!!!!