World Bank Wants Poor Countries to Monitor Flawed Contracts
By J. Yanqui Zaza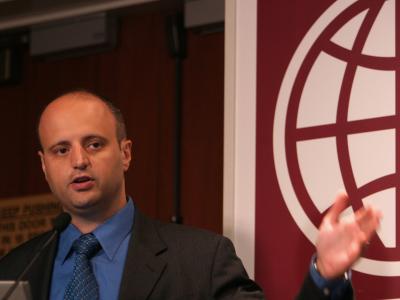 Francisco Ferreira
The recent story that the World Bank believes that monitoring and, or enforcing concessionary agreements would yield higher benefits for poor countries, but continuing to write sweetheart deals for multinational corporations is another interesting news about concessionary contracts. Before contract agreement became controversial, the first bizarre news was about President Ellen Johnson Sirleaf's unilateral decision to cancel, what Liberians call the Russian oil contract.
Yes, under the watchful eyes of the World Bank, President Sirleaf canceled the Block # 13 oil agreement signed between Liberia and a Russian Company, and awarded a new contract to an American Company. The former speaker of the Liberian House of Representative, Edwin Snowe sought an explanation. In response, President Sirleaf stated that America did not want a Russian Company to be operated between two American Companies operating Blocks # 12 and Block # 14. Of course, the American Embassy in Monrovia refuted the explanation.
In another revelation, the Executive Branch stated that, to obtain the oil concessionary agreement, it gave US $118,000 to the Legislative Branch in exchange of its approval. I guess the lawmakers wanted their share of the offer President Sirleaf received in exchange for rejecting an agreement with better benefits for Liberia. Is it not strange for a government, cash-poor, to reject a better offer?
Now, the World Bank, which wrote the oil concessionary agreement, according to Robert Sirleaf, son of President Sirleaf, and apparently, the Petroleum Act, which permitted President Sirleaf to abandon the competitive bidding process, is saying that a better way for poor countries to get higher benefits from natural resources is for citizens to participate in monitoring concessionary agreement. In the blue print of the World Bank, a fair concessionary agreement awarded through competitive bidding process might not yield better result. Rather, citizens' participation in monitoring concessionary agreements, whether flawed or not, would generate higher benefits for poor countries.
Speaking to journalists on Monday, April 7,  at the German Embassy Compound in Monrovia, after a concessionary contract-conference in Ghana, the World Bank Chief Economist for Africa, Mr. Francisco Ferreira, stated that growth in Africa is not reflected in the lives of poor countries. Also, that "the Bank is concerned about growth not reflecting in people's pocket, not translating into people's lives," he was quoted as saying. And a remedy is for citizens to part take in monitoring and enforcing concessionary agreements.

The World Bank's recommendations uttered in Accra, Ghana and in Monrovia, Liberia, were not only troubling, but also deceptive, especially for Liberia. A case in point is the issue of concessionary agreements. In Liberia, everyone had concluded that the mismanagement of Liberia's natural resources precipitated the civil war. Acknowledging that theory, and consenting to finding a remedy to such a problem, Liberia was coerced into giving up its sovereignty on September 9, 2005. The Governance and Economic management Assistance (GEMAP) signed in Accra, Ghana on September 9, 2005 empowered foreign expatriates to co-manage all of Liberia entities, including those Ministries and Agencies that are responsible for preparing and concluding concessionary agreements.
Did the Bank advise President Sirleaf, its former employee, to cancel the agreement? Or did it keep quiet or was its advice not welcome? I say it did advise the President to cancel the Block # 13 contract. In fact, the Bank was pleased with President Sirleaf's performance that she was awarded as the global reformer in 2009. Few months before the 2011 Liberian presidential and national elections, the World Bank and its Affiliates praised President Sirleaf as the best president of West Africa.

The Bank's conflicting role such as advising poor countries and writing contracts unfavorable to poor countries will continue. Why so? This is because, as I have argued in many articles, the World Bank is an agent of multinational corporations. It borrows money from big business and lends the money to poor countries. Therefore, it is difficult for the World Bank to play an impartial role when it serves as consultant in writing concessionary agreements between big business and poor countries. Common sense does suggest that since the World Bank relies on the money borrowed from of these multinational corporations to survive as a lending institution, it would at most times protect and, or promote the interest of its lender (big business) against poor countries, the borrowers.
I agree with the World Bank Group's vice President for Africa that poor Countries' infrastructure is limiting growth. Well, it takes money to build infrastructure. But money will be inadequate if the World Bank continues to write sweetheart contracts. Instead, the Bank should write fair concessionary agreements; at the same time encourage big business (its clients) to implement every provision within the contracts in order to create an environment conducive for every stakeholder -big business and society- to become prosperous.
jyanqui@aol.com
---