Taxes: Have Liberia Nobel Prize Winners Paid Taxes US$1 Million Received?
By: John S. Morlu, II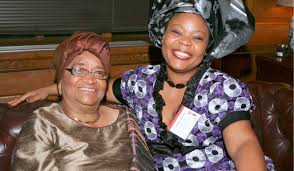 Nobel Prize Winners:
President Sirleaf & Madam Gbowee
To the People of Liberia:
"But in terms of owning something, zero! People say that the family got all this money. Money where? The only thing I have is my bank account, and the biggest amount in my bank account is that Nobel Prize money," Ellen Johnson Sirleaf, Interview with LBS, Executive Mansion Website, Monday, July 1, 2013.
What we need to do going forward is to focus our attention on the structural issues that will face the next administration.  Tax and expenditure policies are a key to wealth distribution in any nation, as they can reorder the behavior of rational people. Liberia has a revenue code prepared during the Charles Taylor's administration. Some parts of the Code were amended in 2009 as part of Liberia's quest to meet the HIPC requirements. But the definition of what gross income is  has remained the same.
The Revenue Code of Liberia Act of 2000 (Amended 2009) is the most authority legal guidance of what constitutes Gross Income in Liberia. Section 201, Taxable Income, (b) Gross Income states that " Gross income for income tax purpose means the aggregate of all income earned, from wherever source derived by a taxpayer during a tax year."  The only exception in the Revenue Code is Chapter 6, which exclude taxation on agriculture.
Charles Taylor's administration borrowed the definition of Gross Income from the United States. 26 U.S. Code § 61 - Gross income defined states, "Except as otherwise provided in this subtitle, gross income means all income from whatever source derived." U.S. Internal Revenue Service (IRS) Publication 501 states "Gross income is all income you receive in the form of money, goods, property, and services that is not exempt from tax."  There are very few exceptions to gross income; up to $250,000 in profit is excluded from selling principal residence assuming he has lived in it two years of the five years before he sold the home. In Liberia and USA, money received from winning the lottery or Nobel Peace Prize is included in gross income and therefore taxable.
There are several ways to deal with Nobel Prize Winners income:
First, in USA, IRS' Constructive Receipt" doctrine says that if a person has a legal right to a payment but elect not to receive it, the IRS can tax him nonetheless. Constructive receipt requires an individual to pay tax when he merely has a right to a payment even though does do not actually receive it. But IRS has been lenient when it comes to winning prizes such as Nobel Prize. So some people have tried to avoid paying taxes by just declining prizes and IRS has allowed them to do so.
The Liberian Nobel Prize Winners did not decline the prize, so they are on the hook for taxes.
Second, a winner can accept the Nobel Prize and then give it all to a charity. But receiving and giving it away does not avoid paying all the taxes. In USA and Liberia, a person cannot deduct charitable contributions exceeding threshold (50% in USA) of his contribution base, which is usually the person's Adjusted Gross Income. The limit is lowered for gift to certain types of organizations. Although the law provides for people to carry excess deductions for up to 5 years, but the winner will still have to pay taxes on the money he gives away.  
Even if the Liberian Nobel Prize winners argue that they have donated the money to a qualified charity, they still are on the hook to pay taxes on their Nobel Prize winnings. Why? They received the cash before they donated it.
Third, Robert W. Wood explained in 'IRS Is Taxing My Nobel Prize ! "Most of us will never win a Nobel Prize, but if we do, it comes with a tax bill.  Our old friend the IRS gets a cut of the roughly $1.4 million USD ($10 million Swedish kronor) cash prize. Martin Chalfie, won the 2008 Nobel Prize in Chemistry, lamenting that since the Reagan era when the tax code was changed, the IRS collects tax on prizes just like any other income.   President Obama cleverly avoided tax on his Nobel Peace Prize last year—and got great press—by regifting it." 
Liberia born Helen Cooper of the New York Times reported, "President Obama has made good on a promise to give his $1.4 million in Nobel Peace Prize money to charity, New York Times , March 11, 2010
But even if the Liberian Nobel Prize Winners wanted to  re-gift  like President Obama, there are rules to follow to avoid being on the hook with taxes. In the USA, IRS Procedure 87-54 states that:
The recipient must be a qualified charity.
The recipient must assign it to charity before the award is presented to you.
The recipient can, however, make a partial assignment as long as it's clear precisely what amount he is assigning.
Scott Wislon of the Washinton Post reported, "Obama's Nobel Prize money going to 10 charities ." The fact to know is that all of these charities President Obama donated to were duly approved 501 (C3) with "good standing."  There are charities that do not meet their annual reporting requirements to the IRS and so their statuses are cancelled. IRS provides a link for anyone giving money to check whether these charities are still in good standing.  There is a case of a wealthy man who donated $250,000 to a charity but could not deduct the amount on his tax returns because the charity was not in good standing with IRS. Check the status of charities at IRS, http://www.irs.gov/Charities-&-Non-Profits/Exempt-Organizations-Select-Check
But even after President Obama made history and donated the entire Nobel Prize money, some still felt that he should be made to pay taxes on the $1.4 million. These people argued that he did not meet the deadline. But it was later established that he met the deadline, as he donated the money before he received the award.
I downloaded this from the Executive Mansion Website: "Transcript of Interview with H.E. President Ellen Johnson Sirleaf Moderated by Mr. Darryl Ambrose Nmah, Director General, Liberia Broadcasting System, On the Super Morning Show, Held at the Studios of the Liberia Broadcasting System, Paynesville Monday, July 1, 2013."
In the Transcript of Interview, Director Nmah asked President Sirleaf: "But people talk about your family, they talk about your sister having undue influence, your children in government…" and President Ellen Johnson Sirleaf provided this explanation:
"Liberia is such a close-knit place, where everybody knows everybody, and everybody is trying to intervene on somebody's behalf. But in terms of owning something, zero! I, personally, do not own a single piece of property out of this country, not a single thing. The only thing I have is my bank account, and the biggest amount in my bank account is that Nobel Prize money. And even that one will be diminished because I just committed US$100,000 to build a girls' dormitory on Todee Mission, which is ongoing; and I just completed one in the village near my place, I just completed a new Junior High School there. People say that the family got all this money. Money where?"
First, President Sirleaf admits that she put the Nobel Prize money in her own bank account and she is using it to do charitable work. She has given unto herself the "qualified charity" status. She  failed to tell the Liberian where the proceeds from "This Child Will Be Great" is and whether she has paid taxes on the profit from her book. I purchased her book on Amazon. I know also that Ernest Maximore purchased her book on Amazon.
Second, President Sirleaf said, "The only thing I have is my bank account, and the biggest amount in my bank account is that Nobel Prize money." But she did not indicate the small monies in her account. The Nobel Prize she received was $500,000. So it is possible for her to have multiple small money each , for example ,in the amount of $450,000. If President had 100 of $450,000, the small money could total $45 million. And President Sirleaf also did not provide an itemized list of all the "small, small" money deposited in her "only" account.
A more useful and transparent information that President could have provided was the (1) total amount deposited in her account per year, (2) total ending balance in her account as of the date she made the pronouncement and (3) the average daily or monthly balance in her "only bank account." Instead she made a broad statement that the Nobel money is the biggest amount in her account and she has spent $100,000.  Also President Sirleaf did not indicate whether she has some money in other people's account such as her sons, her sister or grandchildren.
Third, President Sirleaf said "But in terms of owning something, zero!" asking  rhetorically "money where?"  How we can tell from these vague statements that she is telling us the whole truth nothing but the truth? Let's take a clue from America, since we are all "Harvard educated" people!  In America, words alone are not sufficient. Americans like see some documentation to substantiate claims made.
On 11 April 2014, the Whitehouse reported this, "Today, the President released his 2013 federal income tax returns. He and the First Lady filed their income tax returns jointly and reported adjusted gross income of $481,098. The Obamas paid $98,169 in total tax. The President and First Lady also reported donating $59,251 – or about 12.3 percent of their adjusted gross income – to 32 different charities. The largest reported gift to charity was $8,751 to the Fisher House Foundation. The President's effective federal income tax rate is 20.4 percent."
"The Vice President and Dr. Jill Biden also released their 2013 federal income tax returns, as well as state income tax returns for both Delaware and Virginia. The Bidens filed joint federal and combined Delaware income tax returns. Dr. Biden filed a separate non-resident Virginia tax return. Together, they reported adjusted gross income of $407,009. The Bidens paid $96,378 in total federal tax for 2013, amounting to an effective tax rate of 23.7 percent. They also paid $14,644 in Delaware income tax and Dr. Biden paid $3,470 in Virginia income tax. The Bidens contributed $20,523 to charity in 2013, including contributing the royalties received from Dr. Biden's children's book, net of taxes, to the USO." http://www.whitehouse.gov/blog/2014/04/11/president-obama-and-vice-president-biden-s-2013-tax-returns
Can President SirleafS follow the path President Obama has followed?  It is only then we can be certain that she has no other investments, as income from investments and interest income from savings will be reported on her income tax returns.

In 2011, three people won the Nobel Prize at total price of $1.4 million, divided evenly between all three of them. For the two  Liberian winners, with tax rates from Section 200 of Liberia Revenue Code, this is what they should have been paid in in taxes to the Government of Liberia:
| | | | | | | | |
| --- | --- | --- | --- | --- | --- | --- | --- |
| Payer | 2012 Individual Marginal Tax Rate (Liberia) | Nobel Prize (US$ | L$ (Equivalent @ $1 =L$70) | Standard Payment (L$) | Marginal Payment (Excess over L$1.2) | Tax Owed (L$) | Equiv, Tax  Owed (US$) |
| Ellen Sirleaf | 35% | $500,000 | $35,000,000 | $282,140 | $11,830,000 | $12,112,140 | $173,031 |
| Leymah Gbowee | 35% | $500,000 | $35,000,000 | $282,140 | $11,830,000 | $12,112,140 | $173,031 |
| Total | | $1,000,000 | $70,000,000 | $564,280 | $23,660,000 | $24,224,280 | $346,061 |
| | | | | | | | |
Can Liberians ask the Minister of Finance to provide evidence on the taxes paid by our Nobel Prize winners? This would be a good debate to have, rather than spending any more discussion on the war on corruption in Ellen Johnson Sirleaf's government, which is now a failed adventure. At least, Liberians can collect from her taxes on the Nobel Prize and on "This Child Will Be Great." My recap on corruption in Liberia is conclusively summed in Liberia's Catholic Archbishop Rev. Lewis Jerome Ziegler recent statement. Corruption is my worst memory for 2013,"   Liberia's Catholic Archbishop Rev. Lewis Jerome Ziegler, 9 January 2014, Inquirer.
"Corruption – is our daily bread," Liberia's Catholic Archbishop Rev. Lewis Jerome Ziegler, 12 April 2014, FrontpageAfrica TV. 
Archbishop is basically telling us that the current administration has traded in the "Body of Christ" as the daily bread for corruption as the daily bread. In "simple English", as the late Liberian journalist Othello Yarsiah would likely break the Archbishop statement,  corruption is in the plates ,pans, pots, rice, bread, drinks ,soup, tooth brushes and tooth pastes  and eaten in Liberia  in the morning, evening and night. Every second, minutes and hours corruption is eaten.   This is 34 years later after the murdered of President Tolbert and 9 years after Ellen Johnson Sirleaf took the oath of office as President of Liberia.  .
On 12 April 1980, Liberian President Tolbert is overthrown and thirteen (13) are butchered to death on the mere accusation of "rampant corruption."  Our current President, a cabinet member in President's Tolbert administration was spared and appointed as the first Economic Advisor to the military regime of Samuel Doe, later appointed by the military regime to head the lucrative LBDI and then later the military regime sent her to the World Bank.
She was Charles Taylor's buddy in NPFL and according to the Truth and Reconciliation Commission's report she admitted that she donated US$10,000 to Charles Taylor as a "Charitable Donation." She also worked in the Charles Gyude Bryant's administration. Essentially, our current President has an excellent track record working for and with Tolbert, Doe, Taylor and Gyude Bryant. All of these administrations have been deemed as "rampantly" corrupt.
And so it was no surprise for these statements:
"Corruption erodes faith in government because of the mismanagement and misapplication of public resources. It weakens accountability, transparency and justice. Corruption, under my Administration, will be the major public enemy, "President Ellen Johnson Sirleaf, Inaugural Speech, 16 January 2006.
Now in 2014 after 34 years and 9 years after Ellen Johnson Sirleaf took office "corruption" continues to be "our daily bread" and "worst memory for 2013."

We say in portfolio management, "cut your losses short and keep your profit rolling." Liberians should cut their losses on the 75 years old grandmother. It is too late for her to do anything meaningful about corruption. Let us accept and move on that Ellen Johnson Sirleaf is HISTORY.  Our hope and aspiration for our 'pursuit of happiness' lies in the next leadership coming into existence on 16 January 2018.  
But for the Presidential and General Elections in 2017, the main issue for "concerned" Liberians and international partners is whether, again, Liberians will trade in "Jesus Christ" for Barabbas. Or will Prince Johnson be forced, again, to choose between "lesser of two evils" as he claimed in 2011. Former President Jimmy Carter said in 2005 that Liberians have always faced the challenge of choosing between "lesser of two evils."
While Liberians figure out 2017, how about collecting the US$173,031 from the President as tax payment due to the Government of Liberia on "the only thing I have is my bank account, and the biggest amount in my bank account is that Nobel Prize money."  On US$173,031, three women could get a Harvard education, obtaining the same degree President Ellen Johnson Sirleaf received. It cost only US$45,000 to attend that Mid-Career MPA at Harvard. The ability to pay US$45,000 is the only entrance requirement, as long as you are from a developing country. It is an 8 credit hours program with 3 instructors since 1971. That is real value for money, a whopping $45,000 for 8 credit hours and a summer start-up.
That is my recommendation: 3 Liberian women at Harvard on US$173,071. This a good example of "gender mainstreaming."
It is never personal. It is just simple tax and spending policy debate!
---