Chairman Charles Gyude Bryant, Former Transitional Chairman Of Liberia   Is Dead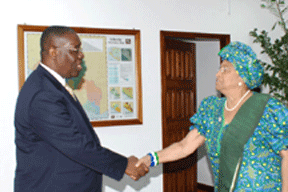 Chairman C. Gyude Bryant (L) is dead
The Government of the Republic of Liberia announces with profound regrets the sudden death in his 65th year, of His Excellency Charles Gyude Bryant, former Chairman of the Liberia National Transitional Government (LNTG).

This sad and mournful event occurred at the John F. Kennedy Memorial Hospital at about 5 pm, on Wednesday, April 16, 2014 after a period illness.

Former Chairman Bryant will long be remembered for the capable stewardship he demonstrated in steering the Liberian nation through a difficult transition from a period of protracted civil crisis to a peaceful and vibrant democracy from October 14, 2003 to January 16, 2006. The nation deeply mourns his demise.

As a mark of respect to the former Transitional Chairman, the President of Liberia hereby orders that the National Ensign be flown at half mast on all public buildings within the Republic for a period of fifteen (15) days, effective April 17, 2014.


The Government extends deepest condolences to his family for the irreparable loss sustained.

Funeral arrangements will be announced later.
Source: The Liberian Government
---