A Eulogy to Musue Haddad, the Writer
By Ray Martin Toe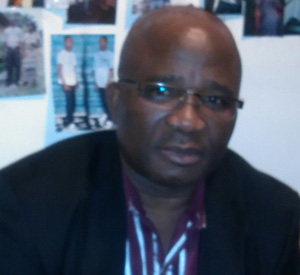 Ray Martin Toe
On December 17, 2013, a virtual memorial teleconference was held for Musue Haddad, the Liberian photojournalist and writer for The Perspective who died in late 2013. The teleconference was attended by 300 people across the globe. Among the speakers at the memorial teleconference was Mr. Ray Martin Toe, the Liberian linguist and associate editor of the Sea Breeze literary magazine for contemporary Liberian writings. Mr. Toe made the following remarks:

Thank you, Mr. Moderator. I extend my deepest sympathy to the bereaved family for this unexpected loss of their beautiful daughter, sister, aunt, niece and mother - Musue Haddad.  Y'all na mai-yah.  I must also thank the brothers and sisters - especially Mr. Nvasekie Konneh -who have conceived this program in memory of our departed compatriot and colleague.

When I was informed that I would be reflecting on Musue Haddad, the writer, I felt somewhat flatter for I thought there are more informed and qualified acquaintances of the deceased sister who can authoritatively speak to this title of hers, the writer. But on a second thought I feel honored to eulogize a gifted Liberian compatriot I knew so well. Yes, I had the opportunity to meet and interact with Musue Haddad on a personal level in Washington, D.C. for nearly eight years. That friendship afforded me some insights into her personality. Hence I can firmly place a finger on certain traits or qualities of hers which bespoke a potential writer that she truly was.

The first time I ever read an article by Musue Haddad was probably in 2004  when she reported a prayer service held in a Washington cathedral for the then ailing Catholic Archbishop of Monrovia - now the late Archbishop Michael Francis. It was published in the Perspective web magazine. I had written for the magazine from Warsaw, Poland, but I was not familiar with the name Musue Haddad. I hadn't met her.
A year later, I ran into this suckling mother in a Liberian home I often visited in Washington, DC.  She turned out to be the legendary Musue Haddad. Her son Michael, strapped on her back, was barely a year old. When I introduced myself, Musue warmed up to me with her infectious smile because she too had read a couple of pieces of mine in The Perspective. We soon became friends frequently visiting each other and sharing books. She would also flood me with her pieces eliciting my editorial comments. I subsequently linked her up with Stephanie Horton, publisher and editor-in-chief of the Sea Breeze Magazine for contemporary Liberian writings. Stephanie, who has a perceptive eye for literary talents, embraced Musue, edited and published her poetry in the magazine; Musue soon became one of the widely read authors in Sea Breeze.
For the sake of our young people who are into writing, I would like to briefly mention the traits of Musue Haddad, the writer. I do so not as a writing expert - for I do not pretend to be one-- but as a language educator who considers this memorial teleconference a teaching moment.

First and foremost, Musue Haddad had a talent which meant an aptitude for words and an intuitive grasp of our adopted language--English. Although English was apparently Musue's second language as it is for most Liberians, she had a perceptive ear for rhythmic phrasings and an instinctual understanding of the printed word. She never let this talent of hers lie idle - she consciously nurtured it.

The second trait of Musue Haddad which bespoke a potential writer was her willingness to learn. Not only was learning an effective way of nurturing her talent, but it was also an ongoing process with which she developed a mindset in constant search of enlightenment. Enter wherever Musue Haddad lived and you would walk gingerly over piles of books. Her apartments were always literally littered with print outs of articles from various African and Liberian web magazines. Musue was a voracious reader.  She devoted an endless amount of time and energy to studying the craft of writing through various authors.

Another quality of Musue as a writer was diligence—a way of putting into practical use of her learning. That is, she had a special commitment to writing even in the face of difficulties. Musue would literally juggle the multiple tasks of providing care for Michael, writing an article or term paper and reading a book. She had diligence to write—writing consistently.

For Musue, writing wasn't a hobby. It certainly wasn't a career. Writing for Musue Haddad was a lifestyle. She had the determination, the hardheaded tenacity to persevere; she was willing to devote her time and energy to pursuing the craft of writing.

Come to think of her as an established contemporary Liberian writer, I should leave a critical review of her writing - which of course have already received rave reviews in the Liberian press--to literary critics. But I would have to say that Musue has achieved what every writer strives to accomplish, which is a receptive audience, a steady readership. The massive tributes from Liberians at home and abroad that we have read and heard over the past weeks following her death are indicative of her solid fame through her writing.

One unique thing about Musue Haddad was, she targeted Liberian readers, her loyal audience for whom she had something to say in an authentic Liberian voice. This Lorma woman, as she would always describe herself to me, labored to share the Liberian experience, the Liberian condition - whether it was by the use of her camera or by the use of a pen or a keyboard.  And the audience or readers understood her. Musue  therefore did not have to posture to some international pundits to validate her as a writer. She was a Liberian writer with an authentic Liberian voice which her Liberian audience understood. May her soul rest in peace.
---
---