No 'Budget Shortfall' in Liberia: It is Fraud, Waste and Abuse


By: John S. Morlu II and Isaac V. Tukpah, Jr.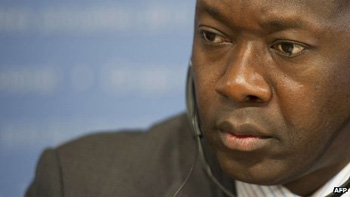 Finance Minister Amara Konneh
We have received numerous calls and emails asking us about our opinion on the budget shortfall and the projected 2014-2015 budget. We don't want to get into the nitty gritty or the hard numbers in this article but we addressed broader points for Liberians and our international partners to consider as the Liberian Legislature debates the proposed national budget. Liberians should focus on these big issues.
Chapter 21 of the Executive Law of 1972 and the Public Financial Management Act, 2009 stipulate that the Ministry of Finance is the government entity principally responsible for budget matters in the Government of Liberia. From the information provided by the Ministry of Finance in its press release that was carried in local dailies, there is no budget shortfall in Liberia. Instead there is fraud, waste and abuse.

Where is the Value for Money for the $2.7 billion collected and spent?
Quoting Finance Ministry's press release,  FrontapeAfrica reported "total revenue collected in the eight (8) years since President Sirleaf took over amounts to US$2.716 billion, with US$1.56 billion (58%) collected in the previous five and a half years of the administration, with US$1.15 billion collected in the last two and a half years ." 

All Liberians should ask the Executive and Legislature what has the $2.7 billion purchased or how has it impacted the Liberian people when in 2014, World Bank still ranked Liberia as the second poorest country on earth. In 2013, Liberia was ranked as number three poorest, so we are actually getting worse even after the Ministry of Finance says it has collected and spent $2.7 billion and international partners have pumped millions into Liberia.

Cutting Down on Fraud, Waste and Abuse is Not Austerity
FrontpageAfrica further reports, "the authorities at the Ministry of Finance have already unpacked a laundry list of austerity measures they hope would reduce the pressure for funding of capital projects and avoid any budget disruption in the middle of the fiscal cycle."

And the austerity is this:
"Government is introducing bulk purchases in procurement for the five biggest spending entities –Ministries of Finance; Lands, Mines & Energy; Education; Health; & Public Works – and for all procurements of capital equipment in the new fiscal year, which will enable the government to benefit from economies of scale while at the same time giving GOL institutions more time to focus on the delivery of their core mandates."

"Further steps would be taken to reduce excessive expenditure on goods and services by eliminating scratch cards and reducing spending on fuel and foreign travel. Fuel will be restricted to operational use only; and for all air travel less than eight hours in duration, officials and ministers will be required to fly economy class. The number of foreign trips will also be limited to three per year, with the exception of the President, Vice President, the Minister of Foreign Affairs and the Minister of Finance; and there will be a limit of no more than five members on any travel party" says the President, in her budget address."

This is not austerity by any means. It is fighting fraud, waste and abuse. Some heads of agencies have been receiving 1,780 gallons in gas coupon per month and at $3.50 per gallon that is $6,230 per month (see GAC audit on LPRC). Some agencies are giving out 500 gallons of gas coupons and $200 scratch cards per month and the Government of Liberia is calling that austerity.

All the things listed by the Ministry of Finance are classic examples of abuse and waste of taxpayers' funds that has been going on for nearly 9 budget years and the Government of Liberia is just now trying to cut the abuse and waste and calling it austerity.  In the so-called austerity, government entities are renting plush offices in the tune of US$700K to US$1 million. NOCAL says it expended $138 million in 2013-2014, upped from a meager $2 million in 2006 and NOCAL is expected to spend even more in 2014-2015. And it would be interesting for the Ministry of Finance to indicate how many foreign trips are taken each year by officials of Government, since it says it cutting down excessive waste in travel to only three per year.

President Obama did not say that his effort to cut fraud, waste and abuse in the U.S. Government is austerity. It is only in Liberia where such initiative is considered austerity. The people of Liberia need to read and comprehend this:

"Instead of accepting the status quo, President Obama has worked from day one to change how business is done in Washington. Under his direction, the Administration has moved to eliminate wasteful spending, streamline what works, and modernize how government operates to save money and improve performance.

"From scaling back on no-bid contracts and stopping improper payments to getting rid of unneeded Federal real estate and ending out-of-control information technology (IT) projects, the Administration has worked to reform how Washington spends taxpayer dollars. We've focused on cutting spending that is wasteful, duplicative, and outdated and improving the way services are delivered to the American people. " 
It did not take President Obama 4 years to start cutting down on fraud, waste and abuse. He started doing it on day one in office, because he knows the importance of spending taxpayers' money wisely and providing value for money. In Liberia, it has taken nearly 9 years for our Government to realize how it is wasting and abusing taxpayers' funds.

No Austerity…Spending is growing
FrontpageAfrica reports, "The total budget submitted is estimated at US$529 million and includes tax, non-tax and budget support grants, is 4 percent higher than the updated projection of US$486 million for total revenues for this fiscal year, but 12 percent below the 2013/14 budget." (Correction, $529M is 8.85% higher than $486M.)

Daily Observer titled its news article, "Spending Cuts!" and reported that, "the draft budget is in the tune of US$557million about 4 percent higher than the updated projection of the 2013/14 budget of US$486 million and 12 percent below the 2013/14 budget. " (Correction, $557M is 14.6% higher than $486M.)
The Liberian News Agency (Government of Liberia) stated that, "the Ministry of Finance worked closely with the Liberia Revenue Authority, revenue generating sector Ministries, private sector actors and other relevant stakeholders to derive a more realistic revenue envelop for the Fiscal Year 2014/15 draft budget of US$557million considering the level of projected economic activities in the economy. "
First, $529 million or $557 million divided by $486 million is not 4%. It is 8.8% higher on $529 million budget and 14.6% higher on $557 million budget. Second, as the graph below shows, the Government is not cutting down expenditure. In fact it is spending more and more each year on the things that have no long term impact on the productive capacity of Liberians:

According to the Ministry of Finance, the Adjusted Budget for 2013-2014 is $486 million. The projected 2014-2015 Budget is $557 million. This represents an increase of $71 million. This means Liberian Government plans to spend SEVENTY-ONE million dollar more over its adjusted budget of 2013-2014. This is the fact that the Ministry of Finance needs to make known to the Liberian people: it plans to spend more money in the upcoming fiscal year than it is spending or collecting today.

In fact, the Government of Liberia plans to spend more than the growth in the country's GDP growth, as indicated below:


The Ministry of Finance contradicts itself wherein on one hand it argues that it instituting an austerity program but then turned around boast of also expanding the budget. FronpageAfrica reports, "Finance Ministry officials say the government continued its fiscal expansion under Konneh in Fiscal Year 2012/13 with USD 593 million in expenditure, a dramatic increase since FY2006/07's outturn of USD 135 million, as the economy and revenue collection has recovered."
How can the Minister of Finance boast of fiscal expansion but then say he is ushering an austerity program? Austerity and spending more and more money do not usually go hand in hand in hand except in a voodoo economy.
Tax Waivers Did not Cause a "Budget Short Fall."
FontpageAfrica quotes the Africa Progress Panel, "Liberia continues to provide extensive tax concessions to foreign investors involved in ore projects that go far beyond the arrangements set out in the Liberia Revenue Code (LRC)," adding that "in a review of the natural resource sector, one IMF assessment made the following recommendation: 'If these concessions come up for renegotiation, the authorities should aim to harmonize the terms with the LRC and avoid tax breaks.'"

Moore Stephens reported that of the 68 concessions it reviewed, 66 of them were done irregularly and without due regard to the laws of Liberia. They were not in compliance. It was not Tubman, Doe, Taylor or Bryant who signed these concessions. They were all done and signed by Madam Ellen Johnson Sirleaf and her cabinet, including the current Minister of Finance who was a member of the inter-ministerial committee that reviewed and recommended for the President to sign all these irregular concessions. All concessions signed by Chairman Bryant were reviewed and renogiated by MadamEllen Johnson Sirleaf.
Unfortunately, these badly executed concessions have been in existence since 2006 and Government has been on a wasteful spending and abuse of resources bonanza for 9 years.  It's conclusive that the tax breaks have not been the issue. Fraud, waste and abuse of our revenue collected are the main issues.  

Duty Fall Did Not Cause a So-called "Shortfall"
FrontpageAfrica reports further, "the government has been growing revenue steadily but the budget has itself been ballooned with the combined effects of loses (sic) on duty free on certain imports by big concessions averaging nearly US$120 million a year and a noticeable reduction in activities of NGOs. Analysts familiar with customs issues fear that the government would continue to lose potential revenue unless blanket waivers in many of the concession agreements are reviewed and amended."
The abuse in duty is a long standing problem in Liberia, predating the Ellen Johnson Sirleaf's administration. The issue is that Sirleaf and her cabinet met in place these bad economic practices but maintained the status quo. Instead of correcting them on day one, they continued it to their own benefits. We are entering the 9th budget cycle and the Ministry of Finance is whining and complaining about abuse in the duty free program?
It is unacceptable for the Ministry of Finance to tell Liberians the Government is losing $120 million per year in duty when we have children sitting on the floor in various schools across the Nation. There are reports from the European Union and the GAC that highlighted in 2005/2006/2007 the abuse in the duty free privilege category and Government has done nothing or very little to limit the abuse. In today's Liberia, it seems it is easy to complain about a situation than actually take concrete variable steps to fix the problems.
Don't Spend What You Don't Have Says Current American Ambassador
The current American Ambassador has warned that the Government of Liberia not spends money it does not have. We agree! After waiving nearly $4.9 billion in debt (mainly in interest arrears), since HIPC completion, the Government of Liberia has gone on a spending spree, borrowing to finance budget deficits that are mainly a result of fraud, waste and abuse. 
Liberia's Public Debt to GDP of 30% is arguably not the worst in the region. But given the size of the Liberian economy and the limited investment in human and real assets being made to expand the future productive capacity of the country, a 30% Debt/GDP ratio could prove problematic.  Instead of listening to the American Ambassador to exercise some level of fiscal discipline, the Government has continued irresponsible spending financed by borrowing.
FronpageAfrica reported, "Budget support grants are expected to fall as two donors, the World Bank and African Development Bank, have transitioned their budget support to loans rather than grants. Credits of US$10 million from the World Bank and US$8 million from the African Development Bank, both for disbursement in fiscal year 2014/15, are expected to be put before the Legislature, but the slow passage of previous credits means they have been classified as contingent revenue." 
Liberia is approaching a billion dollars in borrowing just within the past three years. This is unhealthy as it is mortgaging, once again, the future of Liberia. Government borrowing in itself is not a bad thing, but what is the value for money being received for each dollar being borrowed by the Liberian Government. Finance Ministry says some international institutions are no longer providing grants, instead loans are being provided. The opaque Liberian Government has not provided any information as to how each penny taken in loan will be repaid. In no small measure, the current administration is creating a debt hangover that will strangle future governments. Where is the loan Amortization Schedule and sources for repayment? The Legislature should insist of a Loan Amortization Schedule and identifiable revenue source to liquidate the loans.
Same Old Song from 2012-2013 Budget
While we appreciate the Government's PRONOUNCED efforts to cut down on fraud, waste and abuse, the current Minister of Finance has said that each year he has been in office. In an interview with FrontpageAfrica on December 3, 2013, the Minister of Finance said:
"Since I took over the Ministry of Finance, the national budget has been sufficiently debated and opened for public scrutiny like never before. Additionally, I have pressured my colleagues to ensure that the necessary investments are made in popularizing the Open Budget Initiative (OBI) so that budget execution is within the public domain which has landed me in trouble and expose me to all kinds of hatred…I can understand why some of my colleagues are angry…we are changing the way we spend money by eliminating what we spend on ourselves to investing it in public sector investment programs that will benefit all Liberians. "
On September 5, 2012, the Executive Mansion's Press Release stated, 'This Budget Is Intended to Work for the Liberian People,' President Sirleaf Says As She Signs Record US$672 Million National Budget for FY2012/2013' .  The Release said, "Before signing the document at a formal ceremony in the Ministry of Foreign Affairs' C. Cecil Dennis Auditorium, President Sirleaf explained that there is a seismic change and paradigm shift in the way public expenditure will be executed, as reflected in this new National Budget.' As a government, we are moving away from spending our meager resources on recurring expenditure, to making more investments in key infrastructure and institutions that would begin the process of the much needed economic transformation the country needs.'"
"Speaking earlier, the Minister of Finance, Mr. Amara Konneh, thanked the two Co-Chairs of the Ways, Means and Finance Committees and their colleagues of both Houses for the level of cooperation during the tense and sometimes acrimonious budget discussions at the National Legislature which, in the end, produced a National Budget that is intended to begin the process of transforming the Liberian economy. He also thanked his Cabinet colleagues for their cooperation," the Executive Mansion stated.
Unfortunately, the glorious new initiative that was supposed to transform the Liberian economy seems to have laid a foundation of economic deterioration. The fact of the matter is that all of these lip service items have been said before. The minister of Finance has a very strong tendency to say what he thinks the Liberian people want to hear.
Unfunded Three Education Year—Classic Example of Incompetence
FronpageAfrica carried this headline: "President Ellen Johnson Sirleaf has launched the Ministry of Education Operational Plan (2014-2016) with a number of recommendations aimed at improving the education sector of the country. "
FronpageAfrica reported, "The cost of implementing the Three-Year Operational Plan is approximately US$180 million; whereas, projection for year one is estimated at US$58.7 million. Out of this amount, US$3million is available while the funding gap is US$55million.  The plan shall be financed through the Government of Liberia's Annual National Budget and Donors' contributions. In addition, Public-Private Partnerships shall be sought to mobilize resources to support implementation of interventions contained in this plan."
How can the President launched a three year education that she knows there is no money identified to finance the plan. The first year funding of $58.7 million is not even available. Only $3 million of that amount is funded. Now the President says they are going to look for 95% of the first year funding somewhere in the budget, from donors or from some rich people in the private sector. By the time the Government can find the $180 million, the President's remaining three years will have expired. There is no serious attached to any of these plans. A plan with no funding to implement is not a plan at all.
Sieh, R.D (May 21, 2014). Liberia's Spending Curse - Will Konneh's Austerity Fix Shortfall? Retrieved from http://www.frontpageafricaonline.com/index.php/politic/1719-liberia-s-spending-curse-will-konneh-s-austerity-fix-shortfall
Cutting Waste, the White House. Retrieved from http://www.whitehouse.gov/economy/reform/cutting-waste
Spending Cuts!, Kennedy, G.D. (May 22, 2014). Daily Observer. Retrieved from http://www.liberianobserver.com/news/spending-cuts
FPA Staff Report (May 8, 2014). "LIBERIA - RICH BUT POOR: AFRICA PROGRESS PANEL LISTS RESOURCE CURSED NATIONS" Retrieved from http://www.frontpageafricaonline.com/index.php/politic/1585-liberia-rich-but-poor-africa-progress-panel-lists-resource-cursed
FPA Staff Report (December 3, 2013). "Liberia's Finance Minister Addresses Criticisms of Economy." Retrieved from http://www.frontpageafricaonline.com/index.php/interview/84-liberia-s-finance-minister-addresses-criticisms-of-economy
---