The $73 Million District Development Plan, A Good Idea But…


By: John S. Morlu II and Isaac V. Tukpah, Jr.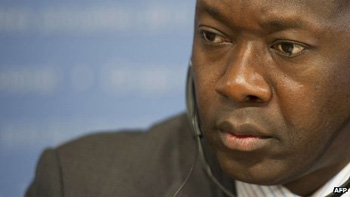 Finance Minister Amara Konneh
The proposed $73 million district development appropriation is constitutional. It also sends a signal that after mismanaging $2.7 billion in public monies, the Legislature wants to decentralize the budget to have an impact on ordinary Liberians. In the West, such funding has been viewed as "pork barrel spending" (legislation for local development geared to ingratiate legislators with their constituents) or in a good way as earmarks. We look at the $73 million as a good earmark if it is planned, communicated, supervised, monitored, and implemented properly.
Given Liberia's current systemic and entrenched culture of corruption and mismanagement of the County Development Fund (CDF) and various County Social Development Funds (SDF), it is understandable for Liberians to be skeptical that the Legislature wants the money to "eat it." But we have told many Liberians, the Executive will "eat it" too. So, for many Liberians, the debate really is about whether the Legislature or the Executive Branch should be allowed to "eat" the $73 million. Either way, the $73 million or some negotiated variation is likely to be budgeted and signed into law, although we expect the President to say that "they took it," after she has signed it into law instead of vetoing it.
Since it seems like a foregone conclusion that all or some amount of the $73 million will be passed into law, we believe the Legislature should consider identifying specific projects by District or inter-district projects that the millions will finance. It should not be a blanket amount put in the budget to be decided later by some "district committee" or "project management committee" as it is the current practice of the CDF and CSDF. Liberians should insist on a full detailed disclosure in the National Budget delineating each project to be financed so that each of us from our districts can track the performance of the earmarked projects. This is how it is done in all serious democracies that want to improve the living condition of their constituents. For instance, each one million should indicate:
The type of projects
Total number of each project type
Estimated cost for each project
Which entity will manage the project
Who has control, influence, and oversight over the funding and the projects
Estimated time of delivery for each project
Expected impact or benefit for each project
Alternatively, if the $73M idea was looked at from a bigger picture long term (5 year) perspective, it could be switched into an $365M program that benefits all districts rather than $5M for each district over 5 years. So instead of small discontinuous projects, there could be more integrated projects with economies of scale that significantly benefit the people of Liberia. 
More thought need to be put into the $73M idea before a decision is made.  At this moment, the idea is ill-formed and not properly vetted. Are the lawmakers really concerned about development or is this another scam?  This $73 million cannot be a blanket amount place in the budget to be decided at some future date. If that is done, then the Legislature, or the Executive or both intend to "eat" the money.
If that happens, Liberians should take the posture of, "No Taxation Without Decentralization," or "No Taxation Without Development." Unless Liberians are willing to take the streets against corruption, impunity, abuse and mismanagement, both the Executive and Legislature will continue to take Liberians for granted.
---