GOOD LUCK LIBERIA: 34 Years of a long and Painful Transition to Democracy (April 14, 1979-April 12, 2014)


By: James Thomas-Queh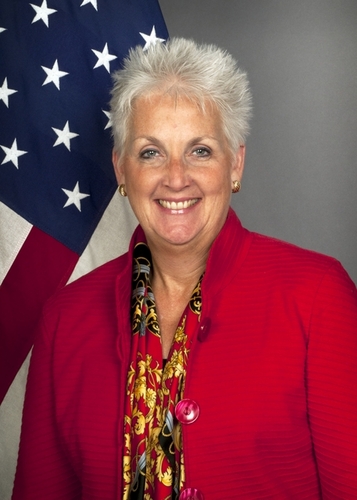 Ambassador Deborah Malac
The Civil War Memorial we ignored - An essential element to a genuine  national reconciliation, unity, peace and stability.
           
In pursuance of the recent Peace and National Reconciliation initiative  launched  by Peace Ambassador George Opong Weah on May 19, 2014, the United States Ambassador to Liberia, Madam Deborah Malac, has also unveiled a War Memorial dedicated to the people of Liberia (see www.frontpageafricaonline.com/index.php/news/1722- 22 May 2014) at the former Greystone, where the US Embassy compound is situated.  After reading keenly the presentation  made by Ambassador Malac, I found in it  three substantial measures that she is demanding us– in a very diplomatic way – to carry out if were we to sustain a genuine national reconciliation, unity, peace , democracy and economic development.
First, it is the big symbol – Civil War Memorial – which, in the Ambassador's words: "It is to honor the estimated  200,000 people killed during the 14-year civil war, including hundreds of victims who died when rebel groups fired guns and rocket-propelled grenades into the Embassy compound, which had become one of the largest refugee camp in the country." In my view, this is the greatest  gift from the American people that even surpasses all the millions in aid that we are so unscrupulously squandering. But more, this gesture of humanity brings a profound personal joy and comfort to my heart; and not only because I lost nearly half of my beloved family members in the civil war -and without graves -like all the other over 200,000 victims (my father, brother, sisters, uncles, aunties and the list goes on – and for which I have no hate nor hold anyone responsible, but only to demand that we get it right this time), but I also suggested this identical symbol back in 2005.  Because what other better way could a normal nation and people immortalize such a tragedy. And here were my exact words:
"That National Memorial Monuments be constructed throughout the length and breath of the country in honour of all our fallen compatriots since April 14, 1979. For the 60th anniversary of the Holocaust the state of Israel dedicated this huge ultra-modern Holocaust memorial museum to honour the 6 million Jews killed at the hands of the Nazis, and under the same token, to perpetuate the Jewish unity: that never again would they allow themselves to be persecuted. In our own weak way, we can also attempt similar ventures so that never again will we allow personal greed for wealth and power to confiscate the destiny of our nation and people. To launch this objective, we would like to make this personal appeal in this very public manner – to the families and friends of late presidents Tolbert and Doe, of the 13 government officials executed on April 22, 1980.. and all interested compatriots (especially within the Diaspora) to join us in establishing a Trust Fund and a non-political movement to promote, encourage and facilitate the implementation  of this project. Our initial pledge is 500 euros; having survived this quarter of a century, let us come together for once and vindicate our generation (that we were not just mere destructive fanatics, mad men and women) by initiating these positive symbols that would give some lasting sense of direction, stability and prosperity to the generations behind us, and those that are to come. Less we forget, our founding fathers also did the same to perpetuate their hegemony and national unity; they left us the Pioneers and Unification monuments around the country that we have also destroyed (because, precisely, what historical significance they stood for was not adequately inculcated nor clear to the majority) - errors that we must now seek to avoid" (see  www.theperspective.org/april2005.html). I repeated this call again in 2008, under the caption: "All Hail, Liberia hail: This glorious land of liberty shall long be ours" (see www.liberiaitech.com/theperspective/2008/0105200801.html).
Frankly, it is amazing that we travel around the world and visit some of these historical monuments, admire them, and they impact us; and yet for ourselves we would find them meaningless and beyond our reach. At the same time though, we are also very proud to travel afar to celebrate and unveil our own bust and giant portrait in some foreign universities; and while it is only the US Ambassador who would unveil and celebrate for us this mile-stone gift from her government on our soil to heal our own madness.
Second, the illustrious Ambassador tells us that this magnificent sculpture was commissioned by her predecessor, Ambassador Linda Thomas Greenfield, in conjunction with the ART in Embassies Office. This is a perfect example of the continuity in statecraft and a nation that functions marvellously. But if were a Liberian,  she would have put an immediate halt to the project under any pretext – going from being jealous of  her predecessor or just because she was not the receiver of that  10% cut upfront.   Worst, we Liberians generally have the fallacious tendency to ignore or disregard what others before us have done –an attribute of the great "personality cult." Another major point to note is that the Ambassador's predecessor did not cling on to her functions under the pretext "of finishing what she had started" or "worry that others may take credit for what she had started."  And the result speaks for itself: long after Ambassador Linda Thomas Greenfield departed the US Liberian mission, her project has been accomplished; the credit is shared, and the US shines continuously. What a better example to transmit to a traditional partner as Liberia.
And lastly, it is the extraordinary career trail of the sculptor, Jallah Kollie - this young and talented Liberian, already eminent in his own right and attaining the rank not only of his own genius, late father Jallah Kollie, Sr, but also the likes of the late renowned sculptor,  Vanjah Richards. What I have gathered again from this message of the Ambassador, is that there are  thousands like Kollie in Liberia today, and if were we to have the wisdom and the will to appropriately tap into that reservoir of talents -  only the sky will be our limits in our national agenda for transformation.
But having said all that, I am constrained to doubt. Because at this important level in the launching of the Peace and National Reconciliation initiative,  I had expected to see and hear the  speeches or messages  from our Peace Noble laureates, the Honourable Legislators, the Honourable Justices, the Vice President of the Republic of Liberia, the Cabinet Retreat goers, etc, etc. But not, the only important personality recognizable in attendance was Peace Ambassador George Opong Weah. Bravo!
Now, let us take a moment and look at it all from the following perspective. Imagine that the Liberian Ambassador to the United States in the 1970s had had the heart, with the support of the Liberian government, to have built even a mini Vietnam  War Veteran Memorial on the premises of the Liberian Embassy long before President Reagan ever ordered the construction of that extraordinary Veteran Memorial in Washington, DC, in the 1980s.  I have no doubt that the Ambassador and his country would have been highly honoured as among the genuine traditional friends of the United States of America.
And here we are with the reverse of the coin. It is the Ambassador of the United States of America, with the support of her government, that has dedicated to us this magnificent War Memorial on the grounds of the US Embassy to immortalize the more than 200,000 victims of our civil war. Isn't it the occasion where we all should have been in attendance, dancing, singing and blowing our traditional horns to confer upon Ambassador Deborah Malac the first "White Citizenship" of our Republic, and at one stroke, scrapping our racist Constitution, do away with our inherent contradictions, hypocrisy and reconcile our nation also with the international community which saved us from self-destruction?
But on a personal note,  as just an ordinary citizen of the Republic of Liberia  and an ardent believer in the value of free-speech,   at this time  I would rest my usual bashing of our "foreign partners" and only wish to honestly say: Thanks to Ambassador Deborah Malac, her predecessor and the American tax-payers and their government. And I also wish to tell her a parable in my dialect that says: "You can take a goat to creek, but you cannot force it to drink." But please continue to assist us find our way.
I would now conclude with this advice to Peace  Ambassador George Weah, a true patriot I so admire as far back as 2004 (see www.theperspective.org/2004/dec/hurdlestostatepower.html and www.theperspective.org/articles/1126200502.html).    You have to be focused, bold and decisive in order to succeed in your current national challenge. If I were you I would plug deep into these symbolic and very important gestures of the United States Ambassador and make them big and memorable rally points for a true and genuine National Reconciliation, Unity, Peace and Stability of Liberia. I would roll up my sleeves and mobilize our young talents (sculptors, artists, architects, poets, etc) and begin to prepare a blueprint for the establishment of a National War Memorial in every county. I would travel into every village and town throughout the length and breath of Liberia and ensure that a plague is installed, engraved with the names of their civil war victims; so that they be perpetually remembered in our minds, hearts and souls.  And,  to further drive away our demons and revengeful instincts from the month of April, I would press the National Legislature to pass an Act, declaring April 12th as a "National Reconciliation Day" (and even more significant if this date was also the birthday of the late President William R. Tolbert, Jr) . Oh, many among us will be against this idea because we also have many dummies and short-sightedness. But remember Opong, the French "Bastille  Day" (14 July -French national holiday). It was the day that climaxed the French Revolutionary of 1789, when a Paris mob stormed and destroyed the Bastille – this medieval fortress, dungeon or prison – and freed all the prisoners and oppressed; thus becoming the symbol of the French Liberation from a royal despotism.  And like Liberia, their King and Queen were publicly executed to applauses and insults; the ruling clique of bourgeois and autocrats was persecuted; properties confiscated and unimaginable horrors followed – and France was never the same again. Yet today this date is celebrated in the unity of France and its status as a famous colonial and world power.
Lastly, having lost two very close presidential elections and still holding together a political party to be reckoned with for the last 10 years (against all the odds, and something most Liberian politicians of the today have yet to accomplish, but seek only to sponge on you), I have no doubt that apart from your magical nature as a charismatic assembler, you are also a genuine builder, a man of great determination and, with a certain national vision. Thus as you engage yourself fully into this new national challenge, I urge you to keep in mind the following:
That the only beneficiary to your engagement is Liberia – its unity, peace and stability.
Do not bother yourself about who may take the credit; the credit only goes to Liberia.
Make partiality your "Enemy #1", then distance yourself from political manipulators and charlatans, rumour-mongers and gossipers.
Start with an extreme honesty and on a solid base; then don't bother when it will finish because your successor will definitely continue it.
Have full confidence in the ability of yourself and your team around you; then you will be trusted and respected.
If you should ever give the impression or perception of using your current engagement as a stepping-stone for state power, then you may certainly fail both.
If you work hard, then your team around you will work even harder.
Do not reject off hand competence and advice, but use competence and advice wisely to success.
Ah, if you should ever get the slightest idea that government and public support is not forthcoming, then the most honourable thing to do is to resign, and history will reward you still as a great patriot.
Good Luck Peace Ambassador Weah, and Good Luck Liberia.
---