Expunging Our National Symbols of Falsehoods: A Rejoinder to James Thomas-Queh's "Preserve Our Historical National Symbols,..."
By Siahyonkron Nyanseor &
J. Kpanneh Doe

This rejoinder is a response to James Thomas-Queh's article: "Preserve Our Historical National Symbols, But Cleanse Our Minds into a Positive Future" that was published in the July 2, 2014 edition of theperspective.org. While we find the discussion of our national symbols very important, on second thought, we considered it a distraction from the burning issues that confronts our country today, which includes the worsening economic inequality, growing youth unemployment, poor health conditions, an outdated educational system that is producing a generation of functional illiterates, and a host of other socioeconomic problems that has trumped this discussion. In other words, our people are more concerned with 'bread and butter' issues now than things that are abstract and they cannot connect with. If this debate was being held 10 years ago when the country was poised for a new political renewal, it may well have generated tremendous interest - but the newly-elected national leadership chose not to give it the necessary attention that it deserved.
The debate, however, still remains relevant to the future of our country. Both Judge Gladys Kiawion Johnson and James Thomas-Queh, though coming from different perspectives, presented some very valid points that are worth considering. Judge Johnson radical proposition that our national symbols, i.e., flag, motto, etc. should be changed to reflect our African or cultural identity has some merits as we are African people and we should be proud of whom we are. However, Thomas-Queh's central thesis that we should preserve our national symbols in its current state is also equally relevant insofar as these symbols have become an important part of our national identity for well over a century and the half. Wow, Liberia, 167 years old in a few weeks! What a history, a flawed history in many respects, but it is still a history we continue to honor. I think the real challenge is how do we find a balance that preserves this history, but at the same time expunging it of those elements that are not healthy for building a robust democracy. The Flag is a classic example; it is a replica of the flag of the United States of America, and the motto is very divisive.
The question is how does one preserve historical national symbols that are not inclusive, and at the same time cleanse one's mind into having a positive future? Is it true to say that because something is historical, therefore, it needs preserving?
We think not! If as Thomas-Queh argued that symbols or history should be preserved than the enslavement of African people should be celebrated. We argue the opposite; because something is historical does not mean it should be preserved and the truth about it not be told and corrected.
Apart from the flag and the motto, there are other very important national symbols that we can look for that can unite us in this discussion. For example, some countries have found unity in such things as a national fruit (Kenya, we believe uses Orange or Banana or Orchid); a national sport (South Africa has Rugby); a national dish (Ethiopia has the Injera meal); a national music; a national color; a traditional national language (Tanzania has Swahili-a language that is widely spoken in East Africa); and many more. South Africa, for example, took an important step during its post-Apartheid era to foster unity and reconciliation. One of the things Mandela and the ANC did was to preserve (accept) some of the symbols of the Boer Afrikaneers who had lived in South Africa for more than 300 hundred years and also controlled political and economic power in that land. They allowed the Afrikaneers, for example, to keep their national anthem, while the ANC introduced its own anthem- Nkosi sikelele (God Bless Africa). Both anthems are sung whenever South Africa holds major national events. Can we do such a thing as Liberians? Moreover, South Africa has adopted Rugby (originally played by Afrikaners, but now played by a lot of Black South Africans.  Of course, soccer will eventually outgrow this...).
In some enlightened Liberian circles, it is being suggested that at this point in our history, we ought to have several of our traditional native languages taught in the schools starting at the primary level. Out of the 16 or more languages spoken by our people, two or three of the languages that have established written scripts should be introduced. Those being suggested for consideration are Vai, Kpelle, and Kru.  Many more can be introduced with time. How about the "VAI" shirt as traditional national attire?
Another thing we ought to consider is how we name our streets, schools, holidays, public buildings, etc. In Liberia, the Tubman name and names of Americo-Liberian culture are almost everywhere as if no one of any significance has ever existed in Liberia prior to their arrival to the area known today as Liberia. This has to change! We need to develop a tradition of assigning names to our public spaces in honor of those who have made significant contribution to promoting unity, peace, and democracy. There are so many unsung heroes and heroines, both living and dead, who are yet to be given their well-deserving honor. Meanwhile, the national leadership continues to promote a tradition of honoring some distinguished Liberians with a national symbol called the "The Liberian Humane Order of African Redemption," or "The Most Venerable Order of Knighthood of the Pioneers of the Republic of Liberia" that has historically been divisive and should be discontinued.
There are other arguments that Thomas-Queh make, two of which we will address in this article. The first is:
….Whether we accept it or not, Liberia was founded by the American Colonization Society (a philanthropic NGO), and not the government of the United States. And if this humanitarian NGO was not farsighted enough to have associated the name of US President James Monroe to our national capital – Monrovia, and the flag and constitution crafted after those of the United States – probably there would not have even been a Liberia. France and Britain would have certainly absorbed our tribes into their protectorates. So there are no inconsistencies or contradictions, but mere pragmatism, farsightedness and common sense that we seem to lack today in finding for our nation a sense of direction and purpose.
In the first place, Thomas-Queh did not introduce new scholarship into the debate; he relied on the manner in which *"tales of the hunt is told by the hunter," or Columbus' discovery of America, an area occupied by the Native American population.
President James Monroe, like most white Americans of his era, was a racist and bigot who having benefitted from slaves' labor did not want them living as free citizens in the United States. Therefore, he and those who shared similar belief came up with the scheme to deport them out of America. We agreed with Thomas-Queh that there won't have been a Liberia, but there would have been a country with another name; so what is his point? What are the "inconsistencies or contradictions, mere pragmatism, farsightedness and common sense that we lack today in finding for our nation a sense of direction and purpose?"
Secondly, to refer to the American Colonization Society (ACS) as a philanthropic NGO or humanitarian NGO is like rewarding Lucifer for making SINS attractive to mankind. In short, the ACS was not philanthropic or humanitarian! Henry Clay whom Clay Street is named after, helped establish and became president of the American Colonization Society (ACS); the group that came up with the colonization scheme to remove freed blacks (African American) slaves to Africa, and to establish Providence Island in 'Dukor;' later named, Monrovia for the purpose of re-settling freed blacks. Such a scheme in today's language is called, 'forced deportation.' On the amalgamation of the black and white races, Clay is on record to have made the following statement: "The God of Nature, by the differences of color and physical constitution, has decreed against it" -- the removal of Blacks from North America so as not to intermingle with whites. Clay went on to preside at the meeting of the founding of the ACS. The meeting was held on December 21, 1816. The founding members were all white Americans. The meeting that was held at the Davis Hotel in Washington, D.C., was attended by Robert Finley, James Monroe, Bushrod Washington, Andrew Jackson, Francis Scott Key, and Daniel Webster.
This brings us to the MYTH of Matilda Newport in Liberian History, whose annual celebration – December 1st-- Thomas-Queh wants us to continue celebrating because of her alleged victory against the "16 hostiles (sic) tribes on the ground". Did the Battles of Fort Hill (the Gatoomba War of 1822) involve 16 hostile tribes? This is new to us!
Thomas-Queh's article is also replete with restatement of faulty accounts of the 'history of Liberia'. The two paragraphs listed below are examples of the restatement of faulty accounts of Liberian history without bringing to the debate new scholarship.
Thomas-Queh writes:
First, the assertion that the Americo-Liberians preferring to be called Congos is a "false label" is far from the truth; the denomination Americo-Liberian was the real false label. By acceptance of the label "Congo", it was to manifest the desire of the Americo-Liberians to assimilate into their African roots. And how could we question that when the Congos were their first important African immigrant community, with whom they had more affinities than the 16 hostiles (sic) tribes on the ground. In fact, our history has proven all along that the Americo-Liberians have assimilated other African immigrants much easier in order to reinforce the strength of their tribal grouping vis-à-vis the other existing 16 tribes. And this is a (sic) normal survival instinct in the pioneering of nations. So Liberia has 17 distinct tribes (well, unless the Liberian Congos object to being classified as a tribal grouping).
We do not understand Thomas-Queh's here; but let's move on!
When President Tolbert established the Commission to review our national symbols in the early 1970s, he underestimated the consequences of the resentment from his own Congo tribal grouping. And that was among the reasons for which the recommendations of that Commission never went beyond the renaming of the "Front Street" to Chief "Sao Boso Street" and abolishing of the famous "Matilda Newport Day" (December 1st). But even with this minimum gesture, the damage was already done; the confidence of his own group was gone for exposing them to ridicule. And were we thoughtful and objective then - as we still not today - we would have known that the Matilda Newport myth was serving mainly to honor the courage and bravery of all the women of Liberia. And without this myth, how could the hegemony of Liberian women be at the helm of power today?
Was the reason the Commission's recommendations "never went beyond the renaming of the "Front Street" to Chief "Sao Boso Street" and abolishing of the famous "Matilda Newport Day" (December 1st)" because Tolbert "underestimated the consequences of the resentment from his own Congo tribal grouping?"
We do not think Tolbert underestimated the reactions of the ruling class; he knew precisely what he was doing when he made the proposal.
In a piece written by this writer (Nyanseor, December 2003 & January 2004) December 1, 2003 and January 7, 2004, Siahyonkron Nyanseor, published in theperspective.org, two articles titled: "Putting the Matilda Newport Myth to Rest - Parts I and II", research refuted the claim that Matilda Newport performed the heroic task as written in Liberian History.
Find below an artist's version of Matilda Newport in action in the Battles of Fort Hill (Gatoomba War of 1822):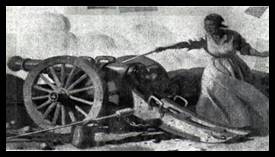 An Artist's View of
Matilda Newport in Action
The Matilda Newport Myth in the History of the Settlers
According to Jane J. Martin and Rodney Carlisle, Liberian history tells the tale of Matilda Newport and the Battles of Fort Hill (the Gatoomba War of 1822) and her famous deeds - similar to that of Joan of Arc. Reportedly, she fired cannon using a coal from her pipe and destroyed the Dey warriors. She has been characterized as "Liberia's Joan of Arc" and called "This Sainted Mother." In the annals of Liberian history, she is ranked among the likes of "Cleopatra and Queen Elizabeth I of England." In textbooks written by both Liberians and non-Liberians, Matilda Newport is described as "pipe-puffing, be skirted, widowed, occasionally as from Georgia, sometimes as a teacher. She was 'intrepid,' quick-witted, acting calmly and with complacency." (Jane J. Martin and Rodney Carlisle, "The Search For Matilda Newport" research study conducted in 1975 at the University of Liberia).
In fact, President Edwin Barclay continued the Matilda Newport myth by dedicating the poem "Silent Deeds" in her honor:
Silent Deeds

'Tis not the fame of blackest shame
That makes our neighbor's virtue less:
'Tis not great deeds proclaimed abroad
That can our vileness e'er repress;
But pure soul-searching principles,
A soul that's great, a heart that seeks
A mind from vileness free.
The mystic Trinity.

'Tis not the wealth of coin and health
That makes one man o'er others blest;
'Tis not earth's fill of happiness;
'Tis not good motives unexpressed:
But 'tis the wealth of sacred love;
Good thoughts in deeds expressed
A sweet commune with heavenly souls,
That give the spirit rest.

Full many a flower of sweetest fume
Oft wastes its sweetness midst the thorn;
Full many a bud of brightness bloom
Wakes not to see the light of morn;
But this makes not its sweetness less,
Nor shades its brilliancy:
It lives in silence, and alas,
It dies, but happily!
This list provided below supports the findings of the research conducted by Martin, Carlisle and Nyanseor. Between1820-1843, there were only three (3) Newports that went to Liberia; among them was Ralph Newport, who in 1820 was 17 years of age. Later, Ralph Newport married Matilda Spencer when her husband Thomas Spencer was killed in one of the battles that took place in 1822. The same 1820-1843 Emigrants Roll showed a 25 year-old Matilda Spencer, a wife of Thomas Spencer (32 years old).
Roll of Emigrants to Liberia, 1820-1843 and Liberian Census Data, 1843 - Tom W. Shick, Principal Investigator.
Based on available sources, Matilda Newport was a real person who resided in Liberia during that period. She came to Africa on the "Elizabeth" March 9, 1820 at the age of 25 as Matilda Spencer not Matilda Newport. Matilda was the wife of 32 years old Thomas Spencer. According to the records, she was illiterate (could not read nor write). She was no school teacher as she's portrayed in Liberian history books.
During the Battles of Fort Hill, Matilda Spencer was 27 years old. Had she performed the deed she is credited with, she would have been known as Matilda Spencer, and not Matilda Newport. Probably, her husband, Thomas Spencer was killed in one of the conflicts. According to the Emigrant List, Spencer died as a casualty in 1822. Matilda Spencer married to Ralph Newport her husband's friend sometime after 1822. Her story borne of the need to pass on the so-called victory of the Settlers over the natives, and it was nurtured through myth of larger-than-life proportions, passed on as a 'Griot' would do regarding family history.

The Matilda Spencer Newport story is woven in myth that is passed on as a tradition from generation to generation until it was discontinued as an official holiday by the People's Redemption Council (PRC). And it is our belief that history should be written in such a way that it will enable students to distinguish between those aspects of the subject which are based on facts, and those which lean more heavily on myth and fable.
Unlike African historians like Chieka Anta Diop, most early Liberian historians wrote history to glorify the past no matter how inaccurate the account of the past was. Diop sought to expand the role played by history in the day-to-day life of all people. He did not undertake the study of Africa's "past to generate a mere collection of data to be used for contingent reference, or a catalog of persons and places and a picturesque list of political events".
As a matter of fact, African Liberian history can be traced from their activities with Europeans - such as the Normans who visited the Liberian shores in 1364; Pedro de Cintra in 1461, the English in 1551, 1556, 1562, 1564 and 1567; a German-Swiss by the name of Samuel Braun in 1611, the Dutch in 1626 and 1668 and the French in 1725. Therefore, to suggest, "The cannon went off. The sound was so loud, it frighten (sic) the attackers who had never seen such a discharge of firing power before." It is not only a BIG LIE but a ridiculous portrayal of African Liberians. In fact, during this period, some of the natives were literate; they traded and interacted with the Portuguese, Dutch, French, and Germans prior to the arrival of the Settlers. Common sense tells us that in order to carry out these activities or transactions, some of them had to speak and understand some of these languages.
CONCLUSION
"Let sleeping Dog Lie" is how some Liberians want to treat lies uncovered, which is a typical Liberian behavior – "Your leave the people's thing alone" or "Mind your own business!" For example, when Dr. Martin discussed their research findings with one of her Liberian colleagues, it was condemned as a "futile exercise in scholarship, serving no useful purpose except to exhume attitudes and words better left buried with the past." (The highlight is ours).
The PAST as part of history cannot remain buried; especially the stories of a people who has had extensive interaction with Europeans prior to the arrival of the Settlers (Americo-Liberians), and who are portrayed as stupid, "savage, primitive, and belligerent people?" The portrayal of African Liberians in "Liberian history" written by these Liberian historians or so-called "scholars" and their contemporaries resembles some comic script out of Hollywood, which depicts Native Americans in similar vein - Cowboys/Scouts as smart and intelligent, always victorious in their battles with Native Americans. This is the same manner in which Liberian history was written.
Since new evidence has proven Matilda Newport's so-called victory to be FALSE, the People's Redemption Council (PRC) did the right thing to abolish a celebration whose aim it was to divide the Liberian people rather than unite them. To continue this type of 'scholarship' will only satisfy the segment of the Liberian society who find pride in promoting and celebrating antebellum southern cultural practices.
Therefore, as Liberians, it behooves us to make it our mission to base our account of history of the people of Africa, Liberia in particular on facts by applying that which modern technology has to offer in order to acquire the correct perspective on African history, culture and tradition so as to wrestle from the clutches of the distorters of our civilization and history - who are bend on keeping up such tale as Matilda Newport's alleged victory against the natives of Liberia. Instead, we should do as one patriot suggest, "to produce one people that shall see with one eye, think with one mind, feel with one heart, and work for one purpose – the building up of a strong and exemplary Negro Republic on this continent, small but elastic enough to accommodate all the sons of Africa who wish to become Liberians 'for the love of liberty'".
A wise man once made this profound statement: "He who cannot remember the past will be condemned to repeat it". This should be our mission! This exercise should be seen in that light. We certainly seek the Truth, and not to offend anyone group in particular but rather to do the right thing. We seek the Truth in the hope of effecting change of attitude. This is in no way an attempt to change history (what has already taken place) but rather to correct history and put Liberian history in its proper perspective.
*An African proverb reminds us that, "Until lions have their own historians, tales of the hunt shall always glorify the hunter".
Sources
Jane J. Martin and Rodney Carlisle, "The Search For Matilda Newport" research study conducted in 1975, published in the Liberian Studies Journal.
Honorable D. Twe (Didwho Twe) 1926 Matilda Newport Day Oration.
Thomas-Queh, James, "Preserve Our Historical National Symbols, But Cleanse Our Minds Into A Positive Future", theperspective.org, July 2, 2014.
Siahyonkron Nyanseor, "Putting the Matilda Newport Myth to Rest - Parts I and II," theperspective.org, December 1, 2003 and January 7, 2004.
Shick, Tom W., Roll of Emigrants to Liberia, 1820-1843 and Liberian Census Data, 1843.
Sawyer, Amos C., The Emergence of Autocracy in Liberia, Tragedy and Challenge, 1992.
Recommended Readings
Mohamedu F. Jones, Esq., "Matilda Newport and the Miracle at Crown Hill", published in the December 5, 2003 edition of theperspective.org.
Fred P. M. van der Kiaaij, "Matilda Newport (1822) and the civil war", posted on December 1, 2008 on Dr. van der Kiaaij's website.
Theodore Hodge, "The Controversy of the Legendary Matilda Newport", published in the December 1, 2003 edition of theperspective.org.
S. Jabaru Carlon, "Some Disturbing Voices Are Arising",
published in the January 7 2004 edition of theperspective.org.
J. Kpanneh Doe and Siahyonkron Nyanseor, "'Coups' & Building Tyranny", published in the April 17, 2001 edition of theperspective.org.
Siahyonkron Nyanseor, "A Cultural Legacy of False Starts", published in the November 16, 2000 edition of theperspective.org.
Siahyonkron Nyanseor, "Unraveling Our Past to Make Necessary Corrections",
published in the February 28, 2001 edition of theperspective.org, in celebration of Black History Month.
Siahyonkron Nyanseor, "Americo-Liberians: The 17th Tribe of Liberia - Parts I & II", published in the May 22, 2013 edition of theliberiandialogue.org.  
Siahyonkron Nyanseor, "Liberian History 101: The Man Called D. Twe",
June 11, 2014 edition of theperspective.org
About the Authors: Siahyonkron Nyanseor can be reached at: Siah1947@gmail.com; also J. Kpanneh Doe can be reached at: kpannehdoe@live.com
---
---