Harper - A city of Sunshine and Happiness
By Groba Leo Williams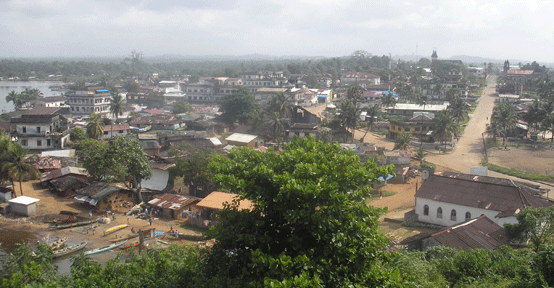 Harper City, Maryland County, Liberia
Harper City, the capital city of Liberia's Southeastern most county, is situated on Cape Palmas. It is a coastal town situated between the grand Atlantic Ocean and the Hoffman River. It has a population of approximately 20,000 persons.

Though the traditional homeland of the Grebos, it has established itself as a heterogeneous community where people from all walks of life come to work, live and stay in peace. For example, there are Old and New Kru towns. There is Bassa Community. There is Bunker Hill, where those who consider themselves as descendants of settlers reside. There is a large community of Marylanders with Togolese, Ghanaian and Nigerian background, and they are prominent sons and daughters of the County serving in Government and the private sector.

Activities

With the presence of Tubman University, the second public University in the Republic, Harper has now become a University-City, with all the attractions that come along with such a City. It attracts students, teachers, researchers, traders, visitors and tourists from the around the globe.

With its magnificent, unexploited beaches, Harper boasts one of the finest Natural sceneries in West Africa. There are lagoons, lakes, rivers, and Atlantic beaches. Fishtown Beach (different from River Gee's Fish Town) a town located west of Harper is home to the beach that attracts the most visitors to Maryland. Harper also has huge and magnificent buildings, some lying in ruins; and borrowing from the words of thesocial justice advocate, Thomas G. Bedell, Harper can be defined as 'Vestiges of life once lived'.

Its very shallow beaches allow kids as young as three(3) and four(4) years to go several yards into the ocean. Hiking, safari, fishing, boat-riding, sun-bathing, etc are all activities available for you.

Under day light, Harper is usually very quiet and passive. Students are in class, Business people are at their business shops, office workers are at their desks, and fishermen are at sea.

At night it is a sharp contrast. The main business avenue, known locally as the 18th, is alive with activities of all sorts. Though all in one straight line, all these shops exercise 'independence' by playing their own music, which makes the atmosphere very noisy and while this is happening, movements and 'transactions' of all sorts and shades are taking place. Men and women just from work can be seen drinking beer, Guinness stout, Calao, Mandingo bitter and other beverages and chatting the night and stress away.

Two banks operate in Harper; International Bank and Ecobank. They run shifts. EcoBank operates on Tuesdays and Thursdays and IBL on Monday, Wednesday and Fridays. Restaurants are dotted all over town, with a variety of Liberian dishes. Menu almost always has palm butter. Palm butter is a local delicacy. A good Cape Palmas palm butter is made with dry fish, 'country spice', etc.

Newcomers are easily noticed, which is typical of small towns. Gossips, lies, rumors, all come along with living in this small town.

In spite of what may appear to be a bad press for Harper out there, living in Harper will convince you that Harper is one of the safest cities in Liberia. Everyone seems to care about everyone else and people make other people's business their concern and worries. When there's even the slightest rumor that a dead dog was found, people will troop at the scene to find out how that dog died. This is the caring spirit of Harper.
So, if you're in search of a place to spend vacation with your family along the great shores of the Atlantic, Harper could be an attractive place.

Tubman University Presence
Harper has many public and private schools. The Government's Cape Palmas High School, the Catholic runs Our Lady of Fatima School, the Methodist's J.S. Pratt among others operate in Harper, but the biggest presence is The William V. S. Tubman University (TU). It was established as a full-fledged University by an act of the 52nd National Legislature in 2008.

TU, one of the only two public Universities, is seen as the educational hub in southeastern Liberia, and it attracts students from all of Liberia's 15 political subdivisions. With its spacious, green, clean and well laid out campus, it is a learners' paradise.

Even though it benefits all, it is a particular blessing to the people of Maryland, Grand Kru, Sinoe, River Gee and Grand Gedeh who have not had a University since the foundation of the Liberian State.

With six (6) Colleges and a lineup of highly trained foreign and Liberian instructors under the watchful direction of Dr. Dr. Elizabeth Davis-Russell, TU has established itself as an emerging educational force to contend with; a potential contributor to Liberia's growing public and private sectors. TU also has an economic arm called the auxiliary enterprise system.

Harper was sopping with celebrations on June 19, 2014, when TU had its inaugural graduation convocation. Eighty (80) candidates were cleared for graduation, but only seventy-nine (79) made it to the Promised Land. Sadly, one of them, Mr. Fred Batoe (R-I-P) died just before graduation.

With all said, you can bet that Harper City is truly a city of Sunshine and Happiness. Welcome.

---
---