Taking Charge of Our Health through Preventive Healthcare
By Ellen G. Cooper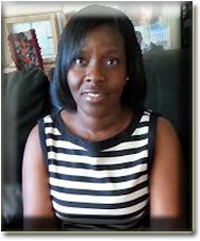 Ellen G. Cooper
While busying ourselves to celebrate Liberia's independence this year on July 26 at home and abroad, I thought that a good way to truly celebrate another milestone would be to take charge of our health by taking advantage of preventive health care services. Too often, many of us who are privileged to live in societies that afford us health benefits neglect to take advantage of preventive health and seek health care only when we have symptoms that are unbearable or a condition that worsens with time.  At that point, treatment is usually extensive and costly or sadly, the condition becomes chronic, and altering our quality of life if by chance we survive.  For those living in Liberia whose  main issue is not neglect but compounded by limited  health services and  poor health education, poverty, scarcity of medicine, medical   supplies, health care personnel, as well as  facilities, there  is still much more we can do in terms of basic preventive healthcare to save lives.         

                                         What is preventive health?   
Preventive health is proactive measures that are focused on averting illness or disease progression as opposed to those focused on curative only. Its purpose is to keep us healthy, prevent the burden of chronic disease and premature death. Preventive health operates on three levels which are primary, secondary, and tertiary.

On the primary level, preventive health consists of general measures that prevent illness from occurring in the first place. This is achieved by means of good nutrition-balanced diet, good hygiene, and infectious disease precautions.  For example, drinking clean water,   hand washing, and keeping your environment free from standing water reduces the risk of common diarrhea causing illness and malaria. A well-balanced and adequate diet decreases the risk of obesity and   malnutrition.  In addition, vaccination decreases the risk of diseases such as measles, hepatitis, tetanus, chicken pox, pneumonia, and others.       

Secondary prevention on the other hand, comprises of measures that intercept the potential for disease to become active or symptomatic through screening and management. Its aim is to detect disease early on and provide treatment or intervention to halt disease such as   hypertension, diabetes, and cancer progression. Secondary prevention also includes those strategies that contain, prevent, or limit the spread of infectious disease among at risk population or   those with infectious diseases such as HIV, syphilis, tuberculosis, and most recently, the deadly Ebola virus in Liberia.

Tertiary prevention focuses on rehabilitation to minimize the disability resulting from a disease or condition.  Its aim is to implement measures that help individuals return to functional capacity as best as possible. Such measures are usually employed in cases of stroke, amputation, blindness, pain, mental health conditions, and many others that limit one's functional ability.  

                                      Benefits of Preventive Health
The benefits of preventive health are numerous; (1)  in terms of personal wellbeing, it  keeps us healthy, improves our quality of life,  and   prevents us from dying prematurely from preventable diseases or chronic illnesses; (2)  economically, preventive health  makes  sense  because it is less  costly  to prevent than  to cure; (3) preventive  health prevents  the incidence  of wide spread of diseases; (4) preventive health prolongs life.

Thankfully, according to the World Health Organization 2013 report,   life expectancy in Liberia is 60years, up from 45 years over the past ten years.    An encouraging improvement since the war, much credit due to primary preventive health services provided by foreign NGOs in collaboration with local NGOs and the government of Liberia.  For example, since 2003, Médecins du Monde has been providing maternal and newborn preventive health services  in Bong county with astonishing success. The project goal is to reduce childhood diseases and maternal mortality. Additionally, the project aims to prevent the transmission of HIV from Mother to Child, Malaria, the effects of malnutrition, improve midwifery training and provide services to manage complications during labor.  As recent as 2013, the Safe Motherhood Project operated by Medical Team International has also been providing similar preventive health services in Sinoe county, Liberia.

Despite the gain, Liberian life expectancy is fragile and at risk of decline. This is because according to  NGOs statistics, government health institutions, which many Liberians rely  on  continue to operate below  the pre-war capacity  or in poor working order; subsequently unable to manage medical emergencies, chronic illnesses, or epidemic such as the Ebola crisis,  once the foreign NGOs funding dries out. 

For example, on July 27, 1971,   John F. Kennedy Memorial Hospital one of the finest in West Africa supported with a mixed funding of $6.8 million loan and $9.2 million in grants from USAID, and an additional $1 million contribution from the Liberian Government   opens   its doors.  The pre-war capacity was composed of 600 beds and four well-functioning subdivisions:  
John F. Kennedy Memorial Hospital.
Maternity Hospital.
Tubman National Institute of Medical Arts (a paramedical and nursing school).
Catherine Mills Rehabilitation Hospital (a psychiatric care facility).

Unfortunately,  according to  WHO 2013  report on Liberia health recovery,   JFK    has not   been restore to its pre-war  capacity,  as is the case with  many other  major pre-war  health facilities in Liberia such as Martha Tubman Memorial Hospital in Zwedru, J.J Dossen in Harper Maryland, Phebe Hospital in Bong County, and others.   Although,   some new medical  facilities  have been   added  to the  Liberian health care  delivery system, such as  the Jackson F. Doe Medical  Center in Nimba  county  however,  much needs to be done   in order to  cope with the growing population  health needs otherwise, the gradual gain in the population life expectancy might be reversed. 

Some Preventive Health Strategies
Preventive health is a holistic and collaborative process involving several strategies, but not limited to the following:
Physical exam:   cholesterol level screening for risk of heart disease, diabetes screening, colon cancer screening  for both male and female at age 50; prostatic exam for male at age 50; mammogram exam for female over 40, PAPS smear for cervical cancer screening.
Healthy Diet and Exercise:  engaging in physical activities such as walking, limiting sugar intake and fatty foods decrease the risk of obesity; a   major risk factor for diabetes, hypertension, and heart disease.  Contrary to the popular Liberian belief  that being "fat" is a sign of enjoyment and good health,  it is  actually a risk for  health complications.
Avoid Risky Behavior:  avoid  risky behavior such as smoking to decrease  the risk of lung cancer, avoid excessive drinking to decreases the risk of illness such as liver cirrhosis,  and avoid  illicit drugs use to minimize poor judgment that can lead to  risky behavior and bad choices that might expose one to STDs and other illnesses.
Practice safe sex:  Practice abstinence preferably, monogamous relationship, or use condom to prevent sexually transmitted disease especially, HIV/AIDS.  
Drive safely:  fasten seat belt, avoid driving when sleepy or under the influence of alcohol or drugs to prevent traumatic injury or premature death.
Use Salt in moderation to minimize the risk of hypertension and stroke. High intake of sodium is common in Liberia mainly because we use salt to preserve food or to make food tastier.  Studies by several medical professionals including Steven van de Vijver, Hilda Akinyi and Samuel Oti published in the Pan African Medical Journal of Medicine show that Africans, including Liberians are more prone to hypertension.
Practice Good Hygiene and Sanitation: Hygienic practice such as hand washing and properly deposing garbage and human waste prevents the spread of diseases.  

For a county  such as Liberia   where  services  are   rarely  available to manage   health complications  such as   kidney failure  requiring  dialysis, liver failure  requiring  transplant, and various  types of cancer requiring  chemo therapy,  focusing on primary preventive  health to  stop  diseases in the first place is  vital.  

If we do these things, we are bound to live healthier; prevention is less costly than cure. Preventions saves lives, so taking control of your health this Independence Celebration where ever you are, may help you live to see many more. 
About the Author:  Ms. Ellen G. Cooper, RN, is a New York State licensed Registered Nurse with over 16 years' experience.  Ms. Cooper holds a Bachelor degree in nursing and is currently pursuing a dual graduate degree as Clinical Nurse Specialist and Adult Nurse Practitioner at the college of Staten Island, New York.  She is an active member of Sigma Theta Tau International Honor Society of Nursing.       

---
---