The Elephant That Gave Birth to a Mouse: The Ellen Johnson Sirleaf Legacy

By Theodore Hodge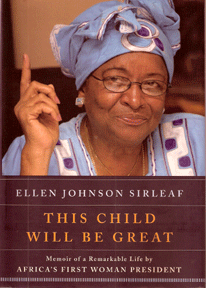 Ellen's Book
Ellen Johnson-Sirleaf has been called many nicknames to signify her greatness. Her favorite nickname is the Iron Lady. She loves to be praised and she is not modest when it comes to praising herself. She titled her memoir "This Child Will Be Great" and published it soon after she became President of Liberia. She appeared on radio and television talk shows around the world as talk show hosts called her "Africa's first female president" and she glowed in the spotlight as her praises were sung. She is at ease with the world's wealthiest and most powerful people. She counts many of her friends among some of the most well-known people of the world such as former President Gorge W. Bush, former US Secretary of State Condoleezza Rice, former US First Lady Hilary Clinton, South African Archbishop Desmond Tutu and the late great Nelson Mandela, just to name a few. She has such powerful friends that she was awarded the Nobel Peace Prize for no apparent justification; none was needed. She simply got it because she had friends in high places and powerful people get what powerful people want. The rest of us may huff and puff, but our protests fall on deaf ears; our consternation is ignored.
One thing is clear, the legacy of Ellen Johnson-Sirleaf is two-fold. There is Ellen the globetrotter who spends more time abroad with her circle of global friends, and Ellen, the President of Liberia. While her popularity abroad knows no bounds, her legacy at home is not so assured. Upon careful scrutiny, it seems to be that all the talk surrounding this political giant amounts to no actual significance. She is simply a political animal who knows how to talk a good game but is very short on substance.
She has had a long and successful tenure; perhaps a long and successful existence. Though she has had her critics over the years, but she has been great at manipulating the media. Through her own personable character and through paid lobbyists, she has managed to weather the storm and come up looking good. But a little known natural virus has exposed her for the fraud she is. Ebola has exposed 'Her Excellency' as being no better than her numerous predecessors, whom she has criticized bitterly over the years in order to lift herself higher and higher on the world stage. Now, as things come to focus, it easy for all to see that all she ever did for Liberia was to build a Potemkin Village. She has built a house of cards and now it is crumbling around her. She could be likened to the mountain who gave birth to a mouse.
The tale comes from Aesop's Fables, and here it is in modern translation.
A Mountain was once greatly agitated.
Loud groans and noises were heard,
and crowds of people came from all parts
to see what was the matter.
While they were assembled in anxious
expectation of some terrible calamity, out came a mouse.
Moral of the fable: Don't make much ado about nothing.
Ellen Johnson-Sirleaf has had presidential ambitions for a very long time now, decades perhaps. Evidence abound. In 1972, during a speech at her high school alma mater she criticized the Tubman administration for being wasteful and corrupt. She later went on to criticize the Tolbert administration and leaving the Ministry of Finance to accept a job at the World Bank, where she began to court and assemble her remarkable list of friends in high places. By the time the Doe administration emerged, her presidential ambitions could not be concealed anymore. She ran for the Senate and won a seat. But she refused to take the seat, instead, she openly criticized President Doe and went to jail for her boldness. According to her, she miraculously escaped with some inside help. She became an unofficial candidate for president and never stopped running for the job until she got it at the end of the 2005 presidential election.
She has been particularly hard on President William V. S.Tubman. This is what she wrote about him: "President Tubman had presided over our country for twenty-seven years, years of patronage and oppression, of Old World charm and iron-fisted control... He spoke well of unification, of ending the cleavage that had so long divided the country, but did little in the way of concrete actions toward those lofty goals. Tubman had led what was essentially a benevolent dictatorship... He had possessed the power, the money, and the capability to move our country forward along the path of real political and economic unity but failed to do so..."
In her memoir, referring to an occasion when she addressed a high school graduation exercise, she writes: "I told the students that the nation stood at the verge of a crisis, a crisis over which we might have no control. Tensions were mounting --- economically, socially, and politically. Yet within this tension existed the potential for change, but only if we, as a nation, were able and willing to push aside the curtain of fear and deceit in discussion of our national plight. It was time, I said, to stand up and speak the truth about who we were as a country." This was in 1972.
On President Tolbert's hosting of the OAU summit in 1979, at the time she was Deputy Minister of Finance, she writes further in her memoir: "To me, then, as to many others, it seemed unwise, if not downright dangerous, to be spending so much money hosting this exaggerated men's night out at a time when the Liberian economy was under such serious strain. In a nutshell, we simply did not have the money to host the summit. I found myself taking rather strong positions in opposition, both to the overspending on the summit itself and to the many blatantly inflated invoices being submitted to the government by contractors on behalf of the OAU project."
All along the way, EJS has told everyone who cared to listen that she was the most qualified to lead Liberia. She knew Liberia was a broken nation from its mismanagement by previous leaders. She knew that, but she was going to fix it. During the critical years that followed, Liberia experienced one catastrophe after another, culminating into a series of civil wars. The country almost ceased to exist as a sovereign nation as it was described by the international community as "defunct" and "failed". But Ellen was having none of that; she was going to fix it, she promised.
To justify her qualification she touts herself of being a financial and economic guru. After all, she worked as Liberia's Finance Minister before going on important stints at the World Bank and Citibank where she climbed the corporate ladder quite meteorically She reminds her readers that all this was possible because of her Harvard education. Again, in her memoir she writes:
"After completing my studies at Boulder, it was on to Cambridge. My year at Harvard was a tough but incredible experience I will never forget. Not only did I deepen my understanding of economics with challenging courses in subjects such as micro and macroeconomics, economic development, and quantitative methods, but I broadened my overall knowledge of government and governing with courses in leadership, strategic management, public policy, and data analyses...."
This is important to note. This child who was born to be great would not accept mediocrity at any level. Greatness was hers according to prophesy, and greatness she must achieve, by hook or crook. She continues her Harvard experience: "At the end of the year I was an A student in every course I was taking, save one: Econometrics... Econometric deals with the quantitative part of economics, the part in which one does formulas and graphs and curves and all those types of things --- the part which my education had not really prepared me for, despite my time spent at Boulder. I worked as hard as I could; still, by the end of the semester I had no idea what grade I might receive. Finally I telephoned the professor and said, "Look, I am an A student in every other course. If you fail me in econometrics you know you're going to ruin my transcript!" He laughed off my brashness and, in the end, gave me a B. I'm not sure I deserved a B, but I was happy to have it. The rest of my grades were A's, and so my record at Harvard was quite good." That's how she tells the amazing story of how she became a Harvard-trained economist... Now you know.
The 2005 national presidential elections were tough. Winston Tubman, a lawyer who once worked as a Minister of Justice under a previous administration and a career diplomat at the United Nations, was a candidate. Counselor Vannie Sherman, a career corporate lawyer who never left the country for "exile" was also a contender. Charles Brumskine, another lawyer who had once been Pro Tem of the Liberian Senate was also a strong contender. George Manning Weah, a retired soccer player turned out to give EJS the toughest competition. In the end, she had done it. She had faced the most formidable group of contestants the Liberian public could throw at her and she won what many considered a "free and fair" election. She had finally become Liberia's president.
During the election campaign, during her inauguration speech, and through many speeches and appearances made before and thereafter, she promised to fix our country. As mentioned earlier, she wrote her memoir and titled it "This Child Will Be Great" in which she tooted her own horn repeatedly; modesty has never been her strongest suit. To everyone who would listen, she willingly promised to fix the country's devastated infrastructure and restore it to international stature. She was even purported to have ordered Warlord Charles Taylor to "level the executive mansion, we will rebuild it" during a BBC interview. (Since coming to power, she has not even been able to repair the mansion, much less build a new one). The international airport is in such dire need of repair, international airlines have withdrawn commitments to fly into the country, refusing to put their passengers at risk.
The point I'm hammering home here is that long before EJS became president of Liberia, she was acutely aware that the country had gone through a devastation. She knew it coming in and she promised to rebuild the country because she had the requisite qualification. Additionally, she had the compassion and the desire to do so; it was her life's dream. She accepted the bold challenge with gusto. But she has simply bluffed her way.
For the last eight years, EJS has remained at the helm of power. But she seems clueless about policy. She overpays some people and underpays the majority. The vast majority remains jobless and the infrastructure continues to crumble. No new roads, no schools, no hospitals, no new clinics, no running water, no electricity... simply put, no nothing. Corruption she promised would be the nation's Number One Enemy, unfortunately, she has embraced Corruption and it has become a new partner. I could go on and on, but you get the point.
Now the Ebola Plague has uncovered her. She has been all talk and no substance. She claims to be a trained economist and financial expert. A small crisis has become her worst enemy: She has no clue how to run a country. The government has no money although it has spent billions since assuming power. It has no rainy day fund. The government is now appealing to international community once again to come to its aid. The government holds a cup in its hand begging, begging, begging. With such impressive credentials from the likes of the great Harvard University, one would expect more. What happened to all boastful talk about econometrics, governance and leadership and blah, blah, blah? The Big Elephant of Liberian politics has huffed and puffed for years. At a critical moment she has gone into labor and all she has brought forth is a mouse. That's the story the way I see it.
Is resignation a reasonable call to make at this crucial moment? You be the judge. Obviously, I do think so.
---
The Author: Theodore Hodge takes responsibility for all said in this article. He can be reached imthodge@gmail.com
---
---