Curfew Imposed and Waterside Shooting

Staff Writer
Monrovia, Liberia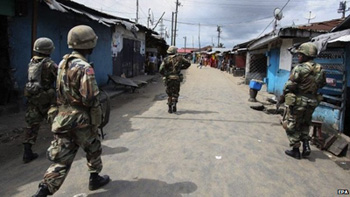 West Point: Quarantined, Militarized and Under Curfew
On Tuesday, August 19, 2014, President Ellen Johnson Sirleaf imposed a 9 pm to 6 am curfew in Liberia.  All video clubs are to close at 6 pm, while entertainment centers are ordered closed.  Many residents of Monrovia did not hear about the new measures until this morning.  As I pen this article, there are shooting incidents down Waterside, as police and army try to close down the West Pointer Market and to quarantine the whole of West Point.

The West Point Market does not only serve the people of West Point, it serves the entire city of Monrovia.  However, most of the people in West Point depend on the market to make ends meet.  So the militarization of the market coupled with its closure will things difficult for not only the West Pointers, but the residents of Monrovia. 

"Nowadays, there has been a spate of fare and price hiking in Monrovia.  The situation will make it much more difficult for us," responded a resident of West Point.
"The hardship in the country is worse than what we experienced during the Liberian civil war," he continued.


"Why do we have curfew today. The government just wants to give the appearance that they are serious about fighting the Ebola virus.  The hotline established by the government, controlled by Mary Broh, is a big failure.  Operators do not answer calls.  If you are lucky and your call is answered, they will not come until the bodies of the Ebola victims get rotten.  Amid complaints by residents, they will finally come and bury the bodies.  But, by that time the Ebola virus has already spread from the rotten corpses," stated a resident of Black Gina, Paynesville.

"What is the significance of this curfew? If it is Ebola related, why is it not imposed in only Ebola counties?  What is this Iron Lady smoking?" questioned an angry West Pointer.
---
---