It's Time to Eliminate Our Slums: Let's Start with West Point!
By  Kandakai Sherman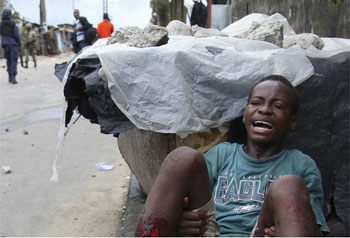 The pictures of West Point making the rounds on the internet as a result of the Government of Liberia's quarantine actions are not a work of fiction. Many of the homes, constructed of corrugated zinc sheets are crammed in close proximity to each other, as if there is no available plot of land left on earth.  To even begin thinking of modern sanitation amenities for most of the residents of the community is to indulge in fantasy. The beach is nearby.

The Ebola outbreak and the catastrophe it is visiting on the West African sub region, is again drawing renewed spotlight on an environment that has witnessed its share of political instability over the last decade.  The last time in recent memory that Liberia gained such notoriety was during its civil war.

The quarantine measures put in place by the GOL for the affected communities are intended to contain the virus from spreading unabated. In the case of West Point however, we should be thinking beyond Ebola.  The squalid conditions under which our people are living should appeal to our collective national psyche (that should have happened a long time ago).  And I did not intend to discriminate against "Buzzy Quarter", "Slipway", "New Kru town", "Soniwehn", or our other up and coming slums.  West Point just happens to be in a league all by herself.


The peninsula was created into a township in 1960. It is debatable whether its current layout was approved or not, but judging from the fact that we've allowed it to mushroom into its present form is reason enough to suspect either  gross negligence, or administrative ineptitude in enforcing zoning regulations on the part of successive national governments.

Where is the concerted national housing development plan to relocate West Point? Let's go a step further from the planning (if there's one), because we're very good at that. We're known to write excellent policy proposals the world over. We pontificate from the podium to champion our views in passionate presentations that would reduce great orators like the late Martin Luther King, Jr., or John F. Kennedy, Jr., to mere students.  Introduce implementation or execution of those plans, and we 'vanish in thin air.' The interesting paradox is that some of our custodians have worked in environments other than our own, and have performed well. Yet when it comes to the homeland, they fail to deliver.

The people of West Point deserve to live in better conditions than what we have now. Our national government needs to embark on an urgent housing development project to address this anomaly. When we contain and address the Ebola epidemic to allow us return to political campaigning for the midterm elections, our citizens in West Point need to demand of all Senatorial aspirants their plans on addressing the housing problem. Ask them for the road map and timeline of implementation. It is your right to live decent lives like some of the very folks that are requesting to represent you.
And so here are a few suggestions for our government to initiate as a good faith commitment to the housing problem in Liberia:
Allot funding for Research and Development (R&D) at our Universities & Colleges so that the young scientists can study how to utilize our logs for use in housing construction (beyond sawing the trees into planks for use in roofing).


Put up cash awards for Private Enterprises to compete to come up with the most durable and affordable housing materials derived from local resources.


Secure public land for the eventual relocation of West Point. Let the Architects at the Ministry of Public works come up with the renderings of the new West Point, to include well laid out streets, schools, parks, hospitals, libraries and entertainment centers. And by the way, the architectural designs should be made public.


 Make a public declaration to the people of West Point of the government's determination to relocate the community. Let's explain to our people the many reasons why it is in their interests to improve the way they live, how it contributes to their overall health, esteem, growth and development.
It's time to do the right thing. Let's eliminate our slums. Let's start with West Point!
About the author: Kandakai Sherman is a Service Desk Team Lead at Ascension Health, the largest Catholic & nonprofit healthcare system in the United States, whose mission-focused health ministries employ more than 122,000 associates serving in more than 1,400 locations in 21 states and the District of Columbia. He can be reached at: kandakaisherman@yahoo.com
---
---