Ellen Johnson Sirleaf Unconsciously Supported Charles Taylor

By: James Sirleaf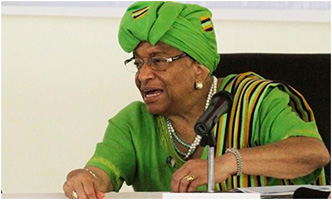 Sirleaf Gave $10,000 to Taylor

Editor Note:
In an interview with The Perspective, Ellen Johnson Sirleaf stated that she supported the war efforts of Charles Taylor by giving him $10,000. She said:

"We must all stand accused in some measure - those, like I, who provided some measure of support for Mr. Taylor, at some point in time; those who voted for him; those who have joined and have remained a part of his regime. That said, I reject categorically the notion that we created Taylor and provided the resources that have led us to what we are today. As you have reported before, a few of us, members of the Association for Constitutional Democracy in Liberia (ACDL) then operating in Washington DC, with the strong persuasion of one of our members, Tom Woewiyu, did try to be of assistance to Mr. Taylor when his rebellious activities seemed headed in the direction of a strong response to protect people in Nimba County from an overreaction of the Doe regime to their invasion of the country. Anyone who knows what is involved in fielding an army and conducting a war on the scale Taylor did knows the costs run in many millions of dollars. Those millions didn't come from us. You'll have to look to Libya and elsewhere for that. We raised the grand sum of $10,000, hardly an amount that could do very much. In fact, it was a mere drop in the bucket. The fact that the sum was so paltry explains why we had so little leverage over Taylor and why he paid so little attention to us, especially when we started raising questions about reports of human rights violations by his troops. Initially, we had committed ourselves to try to do more. But within six months or so, i.e. around the middle of 1990, we had withdrawn any support and any connection with Mr. Taylor and his group on account of the serious atrocities which were taking place, some affecting long standing political allies of ours."
But the President's son, James Sirleaf, is now saying that Mrs. Sirleaf unconsciously gave the money to Taylor. Read his rejoinder to "Sirleaf's Economic Policy: "Chicken Comes Home To Roost"" article:
Since 2006, Liberia has now recently emerged to join and become a full-fledged part of the credible nations of the world (under Ellen Johnson-Sirleaf's leadership). During the 1980s, 1990s and early 2000s, this country had serious problems with monstrous levels of corruption, mismanagement in government and public corporation circles and bad governance. There were no attempts made by any previous government to rein it in. Over the past 3 years there has been a virtual turnaround in public finance and nation development. Things would not not be rosy perfect...just yet. (we've had a national crisis like Ebola for example) …mainly because of the many years of destruction of life, of culture, infrastructure and so forth. It will take some time to focus on the most vital elements that will make the difference for benefitting the majority of the people. In order to properly develop the education, health and agricultural sectors, this government has had to start from scratch. It is going to take some time and it will cost much more money. I am frankly relieved and as most Liberians would rather take my chances with her.
I was incarcerated and made desolate by the evil undertaken by the Liberian security officers and military in 1985, led by the late Jenkins Scott and others. I was falsely imprisoned and humiliated and at one point almost lost my life as a consequence of "zero hour." I was not charged with any crime and indeed was with my Mother on the 12 of November 1985 at our place of family residence. At the time I was Head of Credit at Citibank, N.A. Monrovia, Liberia on Ashmun Street and not playing any major role in Liberian politics. I spent over two months in prison without charge and was taken to military tribunal (after civil elections) without any substance. Ask yourself why?
I want to say here that I want those people who continue to place my President and my mother's name in a line-up with the iniquitous elements such as the former warlords in Liberia, to immediately desist. I am the proof as I was there with her November 12, 1985. I can assure you not one cent of mine was spent supporting Charles Taylor or any other warlord. No conscious effort was made by any family member to support war or killings or I would have most certainly been a part of it. Let this be made very clear. She has won the Noble Prize and I can say that she deserves it more than any other Liberian for certain. I stand firm in my assertion.
She reacted to the scandalous mayhem in Liberia as most intelligent but palliated other people would. The TRC or no other Group constitutes enough authority to make the "charge-less" "charged-for."
By:James Sirleaf (formally of Citibank, N.A. Monrovia, Liberia-1981-1990)
Manager, Citibank Regional Africa Office, ARO, Nairobi, Kenya 1991-1994
Resident Vice President, Citigroup London 1994-2001)
General Manager, Corporate & Institutional Banking First International Bank (FiBank) Liberia
Vice President, Corporate and Private Banking, UBA
CCO and MD, United Africa Trading Corporation, UATC
General Manager, Monrovia Oil Trading Corporation
Director& Board Member Blue Cross Insurance Company
---
---
---