Liberia's Tragic Ebola Circus: The Virus That shamed Our Government And Ruined Our National Image
By: James Thomas-Queh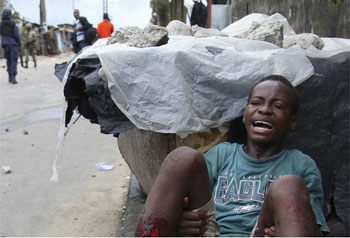 Shaki Kamara (A West Point recently gunned down to death by the Liberian Army in West Point)
Once again our Republic and people are going through some of the saddest and darkest hours of our history.  And we cannot keep silent any longer when officials and Legislators run away in panic; an entire nation abruptly quarantined; the horror image of young Shaki Kamara in pain, making the headlines of both local and international media; Ebola patients still running amok in our national capital; dead bodies abandoned in homes; and when, before this tragic Ebola circus of the government, the people have lost all hope and confidence in their national leadership.  No doubt, the virus has shamed our Government and ruined our national imagine.
Yet, it could be true that the government may not have had the capacity  to stop the entry of the virus into the country, but it is also equally true that most of the decisions and measures  taken since then to fight the disease, have created more confusion, disorder, incomprehension and suspicion on the mind of the public. As a result most, if not all, are ineffective and even inapplicable, unfortunately.
Now, because some of these measures have already been largely scrutinized by others before me, I will only do a catalogue listing of them here for the sake of posterity. Then I will move on to give my opinion on a related pertinent question: A government, having proven beyond all reasonable doubt of its incompetence to manage effectively the deadly Ebola crisis and the country, should merit songs of patriotism and praises or a popular uproar for a  regime change?
The Source of the Ebola decisions and measures
According to the re-make "Liberia Operational Plan for Accelerated Response to Re-occurrence of Ebola Epidemic", the first epidemic began on 22nd March and ended April, 2014. You better believe that; so the Ebola started and ended abruptly by itself. But then the second wave suddenly came as of May 25th, 2014. This ridiculous misrepresentation of the events will be the main source for the multiplication of decisions and measures   to purportedly combat the epidemic – that is, every decision or measure only serves as a smokescreen to cover up one error of incompetence after another from the start.
And let me also bring to the attention of my readers that there is already another campaign of denial on the horizon. It has been reported that the President rejected WHO's prediction that the current Ebola outbreak could infect more than 20,000 people before it is brought under control (www.allafrica.com/stories/20140901084.html?aa_source=ardn-f0).  Anyone would have thought that the most logical or rational thing to do, was to use those very alarming figures to keep our population on the alert, vigilant until the Ebola epidemic is totally eradicated. But Madam President refuted the prediction in grand style, undermining the very WHO we depend on for support on the crisis.
It is my impression that the government does not have a concrete exit strategy or any clue as to when the Ebola crisis will end. The strategy therefore may be to start de-dramatizing the crisis in order to slide out of it honourably, relinquish (as usual) the responsibility to our "partners" and put the next blame (as usual) on the Liberian people. The lifting of the quarantine on West Point without any explanation to the public is a typical example; and so too, little by little, all measures will disappear unbeknown to our people. And when the US$20 million Ebola Fund is depleted (because there will be no more free money to distribute around), then government will declare Liberia as Ebola-free. Then we should not be surprised again to hear in the near future that a third wave of the Ebola epidemic has reached town. I would therefore admonish Liberians to remain fully on their guard against this deadly virus.
Ah, hear this latest news. To cover up the President's remarks refuting the catastrophic prediction of WHO, the government has now changed tune and reorganized to vigorously combat the virus.  The new structure put in place is called the "National Ebola Fight Strategy."  But it is still headed by the National Task Force and has three key parts: health, security and outreach (www.liberianobserver.com/news/taskforce-adopts-coordinated-strategy-fight-Ebola).  So there we go again; all the noise of Ebola combat has been only a big state show and incompetence at the most tragic level.
Thus below is the very impressive catalogue listing of some the anti-Ebola measures to which the new strategy has now been incorporated.
National Public Emergency Task Force (NPETF) – March 2014.
Declaration of National Health Emergency – July 26, 2014.
National Task Force (NTF) – 26th July 2014.
Official Wash-Hands order launched – July 26th July 2014.
Ban on eating any bush meat – July 2014.
Ban on sexual relation – July 2014.
Ebola National Action Plan launched – 30 July 2014.
The US$5 million government contribution to Ebola Fund – 30th JULY 2014.
30-day compulsory leave – non-essential staff of Ministries and Agencies – 30th July 2014 and extended on 1st Sept. 2014.
All schools ordered closed – 30th July 2014.
All Markets at border areas ordered closed including Foya, Bo Waterside and Ganta – 30 July 2014.
All borders that are to remain opened are to be directly supervised and controlled by the Bureau of Immigration and Naturalization whose duties it shall be, working with the assigned health authorities, to ensure strict adherence to announced preventive measures including preliminary testing for fever – 30th July 2014.
All video clubs and entertainment centers ordered to restrict opening hours, and the number of individuals permitted to enter them, but under the same breath, all citizens were seriously advised to avoid "public amusement and entertainment centers" – 30th  July 2014.
The Ministry of Health and relevant agencies  ordered to consider the cremation of all victims of the deadly Ebola virus – 30 July 2014.
Government travels restricted and limited to only those that are determined to be absolutely necessary and critical – 30th July 2014.
Friday, August 1, declared a non-working day and intended to be used for the disinfection and chlorination of all public facilities – 30th July 2014.
The security forces, under the directive of the Ministers of Justice and National Defence, ordered to enforce all of these measures announced by the National Task Force – 30th July 2014.
State of Emergency (90 days) – 6th Aug. 2014.
Nation put under a virtual military quarantine – 7th Aug. 2014.
Police assault and closure of the Chronicle Newspaper – 14 Aug. 2014.
God -The Ultimate Solution (National Fast and Pray – Aug.  6-8, 2014).
Official Travel Ban – 11 Aug. 2014.
National Consultative Group (NCG) launched – 12 Aug. 2014.
Army and Police assault on West Point and quarantined – 19th Aug. 2014.
Nationwide Curfew declared – 19 Aug. 2014.
Abrupt de-quarantine of West Point – 30th Aug. 2014.
Outsource (Legislative proposal –19th Aug. 2014).
National Technical Team (NTT) – Aug. 2014.
National Response Center (NRC) – Aug. 2014.
Call and Logistics Centers – Aug. 2014.
Office of the Special Controller – Aug. 2014 – Aug. 2014.
National Ebola Fight Strategy – 7 Sept. 2014.
No wonder this jungle of measures was condemned to failure.  The latest update on the number of Ebola victims in the three main countries is very revealing: Guinea – 517, Sierra Leone – 491 and Liberia – 1,089  ( www.bbc.com/news/world-africa-29296405).  So, how come these three countries, with the identical social, political, economic and cultural related problems, Liberia (the third recipient of the virus in the group) has the highest casualties in such a short time? Did Guinea and Sierra Leone also put into place such confused and disorganized measures? Did their Ministers and Legislators abandoned in panic? Are Ebola patients still running amok in their capitals? Are dead bodies littering around their capitals? And are their health workers still demanding better pay? If not, then why Liberians have not the right to demand some accountability or even an out regime change? And frankly, can anyone imagine the enormity of the situation, a total disgrace and dishonour were it in Europe or the United States, where some Ministers and Legislators would quickly abandon the government in the face of an epidemic, and not even a real war? Well, that was exactly what happened to Liberia. What a devastating humiliation for a government with the highest international financial and military support that Liberia has ever known. And thanks be to God, or else, this government would have long since probably fallen flat on its face.

So, a Government, having proven beyond all reasonable doubt of its incompetence to manage effectively the deadly Ebola crisis and the nation, should merit songs of patriotism and praises or a popular uproar for a regime change?
Let me first re-capitulate briefly what is already known. When the NPFL encircled Monrovia in 1990, we campaigned patriotically for Doe (an elected President) to quit. Then again the same NPFL and Charles Taylor were raining sophisticated missiles on the interim administration of Dr. Amos Sawyer in 1992, in a congested Monrovia - again, we demanded patriotically for his immediate exit from power. Ah, I know not of any official who ran away here. When the MODEL and LURD closed in on President Charles Taylor in 2003 (then also an elected leader), we patriotically begged the US President George W. Bush, jr to please get the warlord-turned-President off our backs. And finally, it reached President Ellen Johnson-Sirleaf, whose Ministers and Legislators abandoned in disarray;  an entire nation paralysed; an economy in shambles;  US$20 million, and still there is an acute  shortage of everything to effectively contain the Ebola; and officials are still receiving hefty pay (and doing nothing), while the Ebola centers and hospitals are underpaid and understaffed.  And all this chaos is taking place in the midst of only a virus and not a war. And in the face of this huge national humiliation and total despair of our people, Liberians who dare to demand a regime change are considered unpatriotic and insane. Yes, for this regime everyone should remain in a marching order like some zombies and wait for 2017, when democracy shall have taken its full course. Well, I take note as it would seem that Liberians have now acquired a very high degree of political maturity and a general sense of national unity.
However, patriotism is another matter; it is much more profound. Apart from national interest, it goes also with   one's self-honour and dignity as a leader. And the example that comes to my mind is the unexpected resignation of Pope Benedict XV1 in 2013. This was a man elected for life to lead the  millions of Christians around the world, but had the dignity, will and courage to tell the faithful that he had no more energy to serve them and his God; age had token its toll.  And you better believe it, the new Pope Frances is not any younger, but he has brought to the Roman Catholic Church a spirit of renewal and dynamism, overshadowing even the fact that there is a first retired Pope in the Vatican.
Under the same token, our country is at a crossroad, and it is only President Ellen Johnson-Sirleaf that has the power to save her own honour and legacy, and at the same time save our democracy and the Republic.  She has every right to stay on until 2017, to complete her constitutional mandate. Time could still be on her side. Notwithstanding,  if I were her, I would take a lesson from Pope Benedict XV1, and with great dignity, will and courage,  proceed to  an unexpected smooth constitutional transition by transferring power to my Vice President - acknowledging that age has taken its toll, and that the energy is no more to effectively serve my country and people.  And such a gesture will reinforce further our emerging political maturity, patriotism and good governance, and Liberia will resurrect again, with the touch of her legacy, among the community of nations. This is a period of great uncertainty in which Liberians are eager for a political renewal and reassurance going into 2017 and beyond.
I accept to be crucified as some secret agent of the Vice President, but though I am not. I am only a Liberian, fervent democrat and patriot. And relying on history and experience as my guide, I  try hard to stay ahead of events in order to avoid unpleasant surprises. I know that the grievances and discontent of our people are too profound to be ignored, and the road to 2017 - though only 36 months away - could become a million mile unending. The jobless masses of energetic youth are already thinking beyond the tragedy of the Ebola – that is, if hard time  was already rampant before the Ebola, and it became deadly during the Ebola, then how worse would it be, if and when, the Ebola goes away?  And here is  a worst case scenario I foresee: That if the "business-as-usual" mentality is not quickly changed, and  the right decisions are not taken now or immediately after to establish the credibility of the Government, then we could get into 2017 and beyond,  with an uncontrollable social turmoil.
So, Madam President, the cards are all yours – for the better or for the worst.
---
---