Wimpy President Sirleaf Fires The Moisquitoes, But Not The Elephantine Officials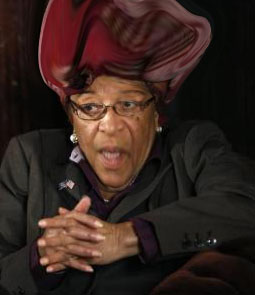 Wimpy President Sirleaf Fires The Moisquitoes, But Not The Elephantine Officials
On August 11, "... The Liberian leader… instructed officials currently out of the country, whether on government or private visit, to return home within a week or be considered as abandoning their jobs. She is urgently urging all government officials of the Executive Branch to take due care of this directive," the press release stated. But nothing has happened to the senior government officials who were out of the country at the time. Additionally, the rate of government officials traveling out of the country has increased significantly, implying that the president is just a wimp who cannot do a thing to them. In fact, the flippant president also modified her statement, saying that most of those officials had medical and other excuses to travel out of the country. However, pressured by the press and the international community, the president has now decided to leave the elephantine government officials along and fire the mosquitoes.

Cashing in on Ebola or the spoils of Ebola continues with the President and her cryonics taking a lion shares. It is reported that President Sirleaf Office spent $100,000 of the money set aside to fight Ebola, while the Liberian Ministry of Defense received $352,000.36 to, perhaps purchase bullets to gun down the people of West Point as the army did to 15 years old Shaki Kamara. It is also reported that some of the officials of the Sirleaf administration who have received thousands of dollars have surreptitiously left the country for the United States and other countries.
Please read the press release from the Sirleaf government, about the dismisal of some Moisquitoes within the government:

As a follow-up to her directive regarding restrictions on travel of government officials, including their return within a week for those who were out of the country without an excuse, President Ellen Johnson Sirleaf has dismissed ten government officials with immediate effect and instituted several measures on those officials of various agencies, commissions, and parastatals not subject to presidential travel approval.
According to an Executive Mansion release, those dismissed include:
1. Dr. Othello Gongar, Commissioner, Governance Commission
2. Ms. Kona Beysolow, Commissioner, Public Procurement and Concessions Commission
3. Cllr. Wheatonia Dixon-Barnes, Deputy Minister for Administration and Public Safety, Ministry of Justice
4. Ms. Victoria Sherman-Lang, Deputy Minister for Economic Affairs, Ministry of Justice
5. Mr. Hilary Sirleaf-Siakor, Assistant Minister for Prisons, Ministry of Justice
6. Ms. Ardia Kaikai, Assistant Minister for Afro-Asian Affairs, Ministry of Foreign Affairs
7. Ms. Lauretta Reffell, Assistant Minister for Administration, Ministry of Public Works
8. Mr. James H.R. Cooper, Assistant Minister for Administration, Ministry of Post and Telecommunications
9. Ms. Meapeh Gono-Glay, Assistant Minister for Administration, Ministry of Labor; and
10. Mr. Ebenizar Z. Gibson, Assistant Minister for Trade Union, Ministry of Labor
The Liberian leader said these government officials showed insensitivity to our national tragedy and disregard for authority.
For members of various Boards not subjected to direct Presidential travel approval, they are to forfeit salaries, compensation, benefits and Board fees until they return home.
Those who fall in this category include:
1. Ms. Jackie Khoury, Member of the Board of Directors, NOCAL
2. Ms. Massa Roberts, Member, Monrovia City Council
3. Mr. James P. Cooper, Member of the Board, Liberia Telecommunications Corporation
4. Ms. Miata Beysolow, Chairman of the Board, National Social Security and Welfare Corporation; and
5. Mr. James Thompson, Member of the Board, Liberia Water and Sewer Corporation
Moreover, junior officials who are also not subject to Presidential approval will forfeit all compensation and benefits until they return home to join in the fight against the Ebola virus disease.
Those in this category are:
1. Ms. Christine Norman, Mayor, Bensonville City, Montserrado County
2. Mrs. Ade Jones Captan, Commissioner, Congo Town, Montserrado County
3. Ms. Alexine Howard, Commissioner, Caldwell, Montserrado County
4. Ms. Annie Dillon, Commissioner Dixville, Montserrado County
5. Mr. Amos Forkay, Commissioner, Bolloh District, Grand Kru County
6. Mr. J. Kaydio Wreh, District Superintendent, Grand Kru County
7. Mr. Moses O. Z. Reeves, District Superintendent, Rivercess County; and
8. Mr. Nathaniel During, District Commissioner, Rivercess County
It is noted that for senior and junior government officials, including those from various agencies, commissions, and parastatals who have claimed serious, sometime, life-threatening medical conditions, they will be examined on a case by case basis.
In another development, in accordance with an updated report received from the Liberia Anti-Corruption Commission on September 5, also posted on its website, President Sirleaf has suspended on the job for one month three eligible officials who have not declared or re-declared their income, assets, and liabilities. They are to forfeit their salaries and have been directed to file their income, assets, and liabilities within one week.
Those affected include:
1. Dr. Antoinette Weeks, Minister of Public Works
2. Mr. Claude Langley, Deputy Minister for Technical Services, Ministry of Public Works; and
3. Mr. Francis Okai, District Commissioner, Margibi County
Part X-10.1 of the National Code of Conduct Act states: "Every Public Official and Employee of Government involved in making decisions affecting contracting, tendering or procurement, and issuance of licenses of various types shall sign performance or financial bonds and shall in addition declare his or her income, assets and liabilities prior to taking office and thereafter at the end of every three years; on promotion or progression from one level to another; upon transfer to another public office; and upon retirement or resignation."
A total of 321 government officials who are eligible under the Code of Conduct Act have declared or re-declared their income, assets and liabilities.
Additionally, those government officials suspended earlier and have declared or re-declared their assets in categories B and C, are to provide to the Ministry of State for Presidential Affairs evidence of payments into government revenue their fines and penalties as directed by the Liberian President. Failure to do so, within a week, the Ministry of Finance and Development Planning will be authorized to automatically deduct two months' salary.
Source: Liberian Government

---
---
---