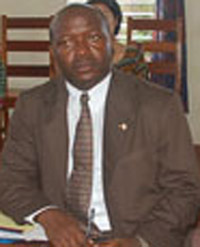 Foreign Minister Ngafuan
Generally I try not to get involved in the arguments that others are having as I assume that they can take care of themselves in their arguments and/or expose themselves to the reading public. Mr. Hodge has been in the thick of it all and, for a long time, involved in these arguments quite intelligently even though sometimes with, not-very-necessary, acerbic name-callings that take away from the salience of his arguments. We need the Hodges of this world to make us think, sometimes like in the devil's advocate, even though we may not agree with them. They provide us with ways of thinking and re-thinking issues. We don't have to agree with them but we should listen.
In the case of the response of Foreign Minister Ngafuan, in his CNN interview with Dr. Fareed Zakaria, I agree with Mr. Hodge. Not only did Mr. Ngafuan not answer the question directly but, in trying to exculpate the government, he introduced a questionable cultural artifact. Liberia is not an isolated country. Many of the ethnic groups in Liberia are also found in Guinea, Ivory Coast and Sierra Leone. Unless the particular ethnic group that the Foreign Minister has in mind is only found in Liberia, the effects of that particular cultural artifact should be found also in those countries. If so, then the effects should be the same.
But it is not so. The Mano River area includes Liberia, Guinea and Sierra Leone. The total population is about 22 million with Guinea 12 million, Sierra Leone 6 million and Lberia 4 million. Thus Liberia constitutes just about 18% of the total population of the Mano River area. But then take a look at the Ebola deaths. According to the September 22, 2014 official report(and remember these are just the official reports; the unofficial reports are much higher), of the 3154 reported Ebola deaths in these three countries, Sierra Leone had 564 deaths, Guinea 668 and Liberia 1922. Liberia accounts for about 61% of the deaths from Ebola in the Manor River area. So, Liberia which accounts for only about 18% of the population of the area, accounts for roughly 61% of all the deaths. These should be sobering figures to all Liberians; sobering enough for intense and honest soul searching.
Why is this so? We should look at ourselves seriously and assign the blame where it belongs and stop blaming the victims. We should be honest enough to blame ourselves for the things we should have done but did not do and the things we should never have done but did anyway. Let us put the mirror squarely in our faces, if we are truly honest, and admit what we see and make the needed efforts to correct our mistakes. If what the Foreign Minister said is true in Liberia it should also be true in the other affected countries and the death effects should have been about the same; but they are not. We have very serious problems on our hands. Let us acknowledge them, acknowledge our part in creating these problems, put our heads and hands together and solve them for now and for the future.
Mr. Hodge is right even though I would have avoided the name-calling. His point is crystal clear without the name-calling.
Mr. Hodge is right and I agree with him on this issue.
  Igolima T. D. Amachree  is an emeritus professor of Sociology. He can be reached at it-amachree@wiu.edu.