Liberian Foreign Minister Blunders Again
By Theodore Hodge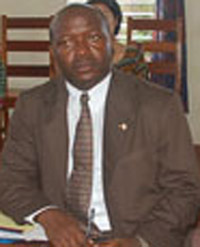 Foreign Minister Ngafuan
In a recent article I brought to light what was an unpardonable statement by the Liberian Foreign Minister, Augustine Ngafuan, on a CNN show. On that show, he blamed the hapless victims for the uncontrollable spread of the Ebola virus. To be exact, he blamed the rapid spread of the virus on a cultural practice supposedly common among Liberians. According to him, some Liberians participate in a ritual that requires them to wash their faces in the same water used to wash or bathe a corpse being prepared for burial.
I found the information shocking and expressed the opinion that even if such a practice does exist in Liberia, it was not necessary for the Foreign Minister to so causally discuss it when the question was about the poor healthcare system in the country. I protested in a personal article penned under the title: "What's On My Mind: When Diplomats Forget Diplomacy". I took the minister to task on the validity of the statement; many Liberians have concurred with me and have written to say so. It became obvious what the so-called diplomat's game plan was: Deflect the blame from government and blame the victims themselves, even if it meant telling lies to the international community. I found the tactic abhorrent and pathetic, and I said so as bluntly as I could.
The honorable thing to do, in my view, was for the government to accept full responsibility for the handling of the crisis instead of blaming the rapid spread of the virus on some obscure culture in Liberia. It was, in my opinion, the government's failure to provide and make available a viable healthcare system. The country, though relatively rich, is running on an antiquated system that left the citizens and inhabitants vulnerable to this epidemic. A robust healthcare system would have been able to effectively minimize the spread of the deadly virus. Imagine a country that had only three ambulances to its credit! Now, instead of the government accepting responsibility for its failed policies, its lack of vision, it sent out its chief spokesman to deflect the blame. That was dishonorable and undiplomatic.
Apparently upon his return to Monrovia, the Foreign Minister was taken to task on radio as well. But he has yet to find something productive and intelligent to say after committing the gaffe; he has miserably failed in his feeble attempt to recover from the goofiness. In his recent attempt to salvage his reputation, he thinks the best way to do so is to unleash personal attacks against me. In about twelve pages of tautology, the minister tries very hard to deliver the message that I am not in the same league with him. I consider that fair enough; it has never been my aspiration to be in the same league with him, whatever that means. But he goes further. He uses a strange phrase over and over again: "Hodge and his likes"... What exactly does he mean by that? Does he mean he's Foreign Minister for a certain group of Liberians and people he refers to as "Hodge and his likes" have no place in the national dialogue? I think it is a pity that we have such a so-called diplomat who simply doesn't understand the craft of diplomacy. Let me make this perfectly clear, Mr. Minister: I am a Liberian, pure and simple; there is no class of Liberians to be referred to as "Hodge and his likes". I consider the remark offensive and that's a blunder on your part. Another blunder in the series!
Here is one thing I find puzzling: Why did the Foreign Minister go to so much trouble to write this rejoinder and pretend as if someone else did? Who is Benjamin Seah and why did he put the poor fellow to the task of putting his name on this rejoinder? Here is what we know: This document was created at the Ministry of Foreign Affairs through the offices of the Foreign Minister. If Mr. Benjamin Seah had been just a fan, an admirer, or even a protégée of the Foreign Minister writing to express his admiration and support for the Foreign Minister, why would he be using the Foreign Ministry offices? This is one of the clues that gave them away. In the rejoinder, the author writes:
"If you want to get details on the profile of this humble, professionally astute and multi-dimensional Liberian called Augustine Kpehe Ngafuan, I would suggest that you click on the following link to read his profile and interview as captured by Sando Moore's Images magazine (Horatio: provide the web link here)."
Read the parenthesis. (Horatio: provide the web link here). Do you know who Horatio is? He works directly with the Foreign Minister as a sort of personal assistant. The document was saved by Mr. Sillah. But who is Mr. Sillah, another MOFA employee? The question becomes, if Mr. Benjamin Seah were some outsider as he claims to be, simply writing to support the "illustrious leader" he admires, why would he be ordering the Foreign Minister's secretary to perform a task? The real answer is the Foreign Minister himself wrote this garbage in defense of himself and is hiding behind the pseudonym of Benjamin Seah. Maybe from now on we should address him as Honorable Minister Benjamin Seah, Foreign Minister of Liberia. If this is not pathetic, then please tell me how to describe it. Using government resources and taxpayers dime to boost your ever enlarged ego...
But here is more proof: Our Chief Technology Officer was able to trace the origin of the published document. It actually originated from the Liberian Ministry of Foreign Affairs, no doubt about that. See for yourself below:
Is Mr. Seah a staff member of the Foreign Minister's office? If so, why didn't he disclose that material fact? Why is he writing as a supposed outsider, one who simply admires and respects the minister? The fact is, the minister went to all this trouble to disguise himself. Minister Ngafuan loves Minister Ngafuan so much he could not refrain from heaping hefty praises upon himself. He talks about being a valedictorian of his high school class all the way to becoming a poet, a banker, a diplomat and a scholar who even got a certificate from Harvard. We are so impressed, Mr. Minister.
All this talk about oneself reminded me about a complex I once read about. I had to look it up and this is what it says about the Narcissistic Personality Disorder (NPD): "A personality disorder in which a person is excessively preoccupied with personal adequacy, power, prestige and vanity, mentally unable to see the destructive damage they are causing to themselves and to others in the process... People who are diagnosed with a narcissistic personality disorder are characterized by exaggerated feelings of self-importance. They have a sense of entitlement and demonstrate grandiosity in their beliefs and behavior. They have a strong need for admiration, but lack feelings of empathy."
After reading what the Foreign Minister wrote about himself, is there any doubt the kind of character we are dealing with here? The Honorable Minister is a suspected narcissist, although in all fairness, we must await clinical diagnosis; I do not claim expertise in the area. (As they say Liberia, 'dat not my area').
The Foreign Minister insists that a small tribal group in Rivercess County practices this ritual he so boldly announced to the world. If that is so, several questions come to mind: If this ritual takes place among a small group of people in Rivercess, how could it be responsible for spreading the Ebola virus in Lofa County and Monrovia (the two places hit the most in the country)? Did it ever occur to him that most of the victims of Ebola actually are urban dwellers in Liberia's capital city? Is there any evidence to support this ridiculous theory that people washing their faces in the water used to bathe the dead bodies actually caused the spread of the virus? How many people does he know from Riverscess that live in Montserrado, Lofa, Bong and Nimba Counties? If the rapid spread of this epidemic can be attributed to this obscure cultural ritual among the people of Rivercess, then how come Rivercess accounts for one of the lowest death rates from Ebola in the country according to the Ministry of Health? This runs counter to logic, one would say. But that's the minister's assessment, and he's sticking to it, unfortunately.
I don't have time to dwell on the many unrelated and irrelevant issues raised by the minister. I have to work in the interest of brevity; after all, my readers have other things to do instead of reading endless rebuttals. However, one last thing: It is unfortunate that Minister Ngafuan quotes my heroes Malcolm X and Bob Marley out of context. Perhaps he doesn't understand what an Uncle Tom is. How could I be anti-establishment (anti status quo) and an Uncle Tom in the same breath? Shows a lack of understanding. Minister, you are the epitome of an Uncle Tom. You are the one running errands for the Big House. They send you on errands from one master to another, to deliver messages and entertain the bosses when called upon. I work in the fields; I'm no Uncle Tom. Get it? There's a difference and you're not even aware of it.
As for the issue of mental slavery, it could safely be said that you are helping the rogue regime in Monrovia to perpetuate mental slavery in Liberia. Liberia is rich, but its citizens are poor. Who's keeping them in mental slavery? The government of which you find yourself as the chief spokesperson. Who bargained Liberia's new-found oil away? Who's giving away the oil palm industry to the Malaysians for a few dollars? The government. Who continues to give away the rubber and the iron ore in exchange for a few favors while the masses suffer? The government. Who refuses to build roads, clinics, hospitals, schools and water plants? The government. And you are telling me about mental slavery? You're the one boasting about your knowledge as a financial guru and expert in banking and other industries, but what good does it do for the average Liberian who earns less than $2 a day? Again, who's keeping the masses enslaved while you enjoy the wealth of the country? You and your kind are not doing us any favors by enjoying the sweat of hard working Liberians why playing the game called "Monkey work baboon draw". That's a perpetuation of mental slavery, Mr. Minister... in case you didn't know that.
Let me give you a little Bob Marley.
Don't forget your history
Know your destiny
In the abundance of water
The fool is thirsty
Rat race, rat race, rat race....
Mr. Minister, what you are running in Liberia is a rat race. You have the people thirsty in the abundance of water because you lack vision. Your great expertise in Banking and Finance and your so called renowned public speaking ability mean nothing to the average Liberian burdened under perpetual economic misery. Until you can help to re-structure the government in such a way to provide for the common man in society, you will be guilty of what Bob Marley referred to as "in the abundance of water, the fool is thirsty". You are running nothing but a rat race in Liberia, sir. There is enough to go around but you and your boss and other colleagues are only concerned about grabbing and running to your banks. Until you make Liberia a livable place, your boasts will fall on empty ears, Mr. Benjamin Seah.
Let me leave you with another Bob Marley classic:
Them crazy, them crazy
We gonna chase them crazy
Baldheads out of town
Chase them crazy
Baldheads out of town
---
---
---