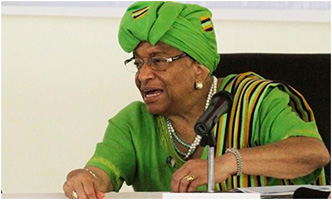 Ellen Johnson Sirleaf

In Galatians 6:7, the Holy Bible tells us, "Be not deceived; God is not mocked: for whatsoever a man soweth, that shall he also reap".  Liberia is heading for the worst leadership ever under Madam Ellen Johnson sirleaf; should members of the legislature grant her additional emergency powers. If granted, this would make Samuel K. Doe and Charles Taylor the angels Liberians missed. I see her request as an unscrupulous attempt to completely crush oppositions, outspoken media institutions and to put an end to the people questioning the Unity Party led government credibility on transparency and accountability. From all indications, we should now understand Ellen deceptive motive of going to meet with our so called Law Makers and promised "Special Package."  My interpretation is bribe by the executive to law makers to consider her request. It can't get any simpler than that. I therefore, call on our law makers to unequivocally resist all temptations to accept the so called "special package" to allow President Ellen Johnson Sirleaf to subvert democratically enacted laws to misuse and abuse our constitutional rights.

 President Ellen Johnson Sirleaf request for additional emergency power is repugnant, diabolical and her sole intend is to rule Liberia as the most powerful dictator, with the suspension of provisions within the Liberian constitution.  Ellen is aware that taking such unpopular decision would be met with strong resistance from the many suffering people of Liberia and that is why she brought in over 1,200 Nigerian Army men to defend her should there be an uprising. Liberians are aware that the Nigerian Army has such a horrific reputation for torture, murder and looting during the Liberia civil war. Let us not forget the late President Tolbert took similar action by bringing to Liberia Guinean Army to protect him.

 Ellen Johnson Sirleaf presidency greatest achievement is opening corridor to allow the Industry of Corruption where she serves as the CEO, Chief Executive Officer and blindly back by few devotees and beneficiaries. Laws are openly violated by her friends and family members and justice brazenly denied. A case in point, her stepson, Fumba Sirleaf the head for the National Security Agency  stole US$247.500.00  from some Korean business men and Madam President swept it under the carpet by asking Cllr, David A. Jallah to investigate her son and not a grand jury for possible prosecution. Another case, her buddy Minister  Antoinette Weeks of failed Public Works Ministry, intentional and willfully went into a House of God during  Sunday service and violently destroyed private property with impunity. All Madam President said, touch not my anointed and she will openly apology but, girlfriend refused to openly apology to the church members or pay for properties destroyed. It is not hidden secret that   Minister Antoinette Weeks has woefully failed to execute her functions and obligations at the Ministry of Public Works without any physical justification as she continues to receive monthly salary of US $ 16,000.00 including other benefits. This is how Ellen is running Liberia.

When the people rights are constantly violated, the response is likely to involve aggression and hatred against the government and do not be surprised that Liberians are no longer afraid of civil disobedience  to  make a corrupt  government listen. This government is dangerously and blindingly evading the root causes of  the April 14, 1979 rice riot, April 12, 1980 coup, the execution of the 13 government officials and the Liberian civil war. I honestly believe that Liberians will not want another civil conflict but, with Madam President has no desire for a moral change and the people are facing the thunder storm of abject poverty and massive corruption, I cannot rule out the possibility for an uprising that neither the notorious Nigerian Soldiers can overrun. 99.9 percent of comments posted by Liberians on line newspapers, accuses the president of being incompetent, pathological liar and running a criminal government. Ellen did tell the world that she would be a one term president and it was a lie told.  Notwithstanding, Ellen clearly stated  that corruption was to be her major public enemy number one and again told another boldfaced lie as she is now the head of the Industry of Corruption. Ellen went on to promise that the entire City of Monrovia would be electrified within six months and has been in power for over eight years and many of our poor people are now having hearing problems due to the loud noise of  generators.


But first, it will be useful to list the elements of bad governance that have been so egregiously put on display by the Ellen Johnson Sirleaf's Unity Party led administration at every level of government institution. Consequently, qualified individuals who do not support Ellen encouraging corruption are constantly resigning from her administration and expressing their complete dissatisfaction with how the Old lady is running the country. Example, Dr. Antoinette Sayeh from the Finance Ministry, Samuel Kofi Woods a lawyer and human rights activist and recently Justice Minister Christiana Tah. Liberia's former Auditor General, John Morlu service came to an end when President Ellen Johnson Sirleaf could not accept the AG exposing corruption in her administration.  In the midst of the fight against Ebola, the Liberia Anti- Corruption Commission discovered $25,000USD disbursement that was made by the National Oil Company of Liberia to the national legislature for what is referred to as payment for service fees.  As the Administration of Ellen Johnson is begging the world for assistance in dealing with the deadly Ebola outbreak, US$5 million to fight the deadly virus was mismanaged and to date, law makers are awaiting the president's report as self-appointed head of the Ebola Task Force.   Why can we not refer to Ellen as the CEO of corruption in Liberia when she is the front runner? The Act establishing the Public Procurement and Concessions Commission (PPCC) gives the credible institution an oversight responsibility to police and monitor all forms of public procurement and concessions practices in Liberia;  but  recounting on events in recent days has brought the institution under  serious scrutiny; revealing that the Commissioners of the PPCC have recalled two corrupt former employees in the persons of Joseph S.D. Suah, Sr. Director of Finance and Administration and Anthony P. Tarbah, through the intervention of President Ellen Johnson Sirleaf. They are not only being reinstated but, receive pay for the nine months they were sitting home.

Another corrupt activity demonstrated by this Unity party led government was the lease agreement signed between the LTA and a Chinese Landlord committing this government owned agency to pay US$385 (Three hundred eighty five thousand dollars) per year and this government agency (LTA) will pay for three years upfront totaling US$1,155,000.00 (One million, one hundred fifty five thousand dollars) to Chinese Landlord. It is a damn shame for the Government of Liberia under the failed leadership of Ellen to become a tenant on their own land with government dilapidated buildings all over the city including the Executive Mansion that could have been renovated. It will be unfair to my readers not to discuss another buddy of EJS, racketeer Adelaide Gardner who used threat and intimidation, using the President name to obtain a catering contract at the Liberian National Police Academy even thou the contract was previously awarded to a qualified dietitian who charged far less than the US$1.2 million per year for this Ellen kitchen cabinet member, Adelaide.  Ellen is running Liberia on bribery, cronyism, nepotism, patronage and embezzlement.

To be an active member of the Unity party led government, never tell the truth, lies should be consistent, loot the country resources and do not hesitate to take legal actions against media institutions.  Therefore, Liberia has become is a dangerous place to live in. Not because of the people who do wrong things, but because of the people who let wrong things happen are all members of the Ellen Johnson Sirleaf's Government. Despite tears rolling down from the eyes of the people like a water fall, Ellen continues to run the country on favoritism, high unemployment, forgery, hypocrisy, indiscipline, inefficiency and incompetence. Corruption has destroyed the legitimacy of Ellen Johnson Sirleaf government and been written off as inept because of the magnitude of corruption in the administration, and its lack of policy direction. I add to the many voices for Ellen to resign.
All those who are saying Ellen is doing a good job in Liberia, may God do for them exactly as she is doing for Liberia. Amen!