Ellen Johnson Sirleaf: The Welfare Queen Comes Begging Again

By Theodore Hodge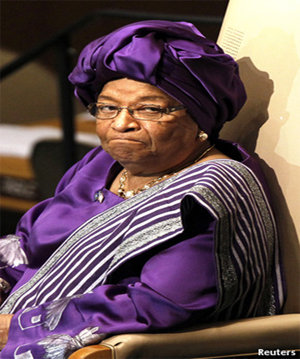 Ellen Johnson Sirleaf
Since the emergence of the Ebola crisis in Liberia, one policy has remained constant for the Ellen Johnson Sirleaf administration: Begging her friends and counterparts for donations. Does the nation deserve help from our foreign friends? Absolutely. Should the global community come to the aid of Liberians? There is no doubt. But should our government solely rely upon foreigners not only to assist but to carry the entire burden upon their shoulders? If outsiders were to bear the entire burden of relieving us of this deadly enemy, doesn't that undermine our supposed sovereignty?
When the severity of the crisis finally hit home, after a period of denial and self-deception, the Liberian president turned to the United States government to plead for help. Her letter requested help for such things as building bridges and clinics and testing centers and other major undertakings. That's quite understandable, but the government was also requesting help for such things as rubber gloves and soap and sanitizers, infrared thermometers and personal protective equipment (PPE). Perhaps one could sympathize with the government for its inability to provide essential infrastructure, but what's the excuse for not being able to provide such essential and inexpensive items like soap, sanitizers, bed sheets and personal protective equipment (PPE) for health workers?
But say what one may about the Liberian president, one thing is most certain: She is a pretty good letter writer. Put in less elegant terms, she is a very good beggar. One wonders whether she didn't take a course at Harvard titled: How To Beg Your Rich Friends For Money". But let's lay aside the commentary and admire our president at work, in her own words. She wrote to US President Obama:
"Mr. President, as you know, the outbreak has overwhelmed the containment and treatment measures we have attempted thus far. Our already limited resources have been stretched to breaking point and up to now only a private charity, Medecins Sans Frontiers (MSF), has responded robustly in all the affected countries. But they too have reached their limits. Without more direct help from your government, we will lose this battle against Ebola. A WHO investigation conducted with other partners and our own Ministry of Health and Social Welfare projects thousands of cases over the next three weeks."
One has to admit that our begging queen uses eloquence in conveying a point across. She makes an excellent case in grabbing the US president's attention. Again, say what you may about this lady, one can't dismiss her intelligence in the art of communication. Some may call her a con artist, but perhaps that would be too harsh... at least the thought comes to mind. After getting Obama's attention she slowly moves in for the kill. But she does so softly. She continues to build sympathy to the point where her request must not be denied. She continues:
"The virus is spreading at an exponential rate and we have a limited time window to arrest it. Mr. President, well over 40% of total cases occurred in the last 18 days. Our message has gotten out and our citizens are self-reporting or bringing in their relatives. But our treatment centers are overwhelmed. MSF is now running a 160 bed-unit that will expand even further. This is the largest ever Ebola Treatment Unit in the history of the disease and even that is inadequate. To break the chain of transmission, we need to isolate the sick from their families and communities, but this is impossible because there is nowhere to take them. We are been forced to turn back the sick. We are sending them home where they are a risk to their families and the communities. I am being honest with you when I say that at this rate, we will never break the transmission chain and the virus will overwhelm us."
Like a good con artist does, she feels the moment has arrived to move in for the kill. After arousing guilt, s
he lays it on heavily. This is what she writes: "We need to provide up to 1500 beds in Ebola Treatment Units in Monrovia. We also need to create 10 additional sites in the outlying affected counties. This is beyond anything we are able to address on our own. Unless we significantly increase our capacity to isolate infected persons - their families and communities remain vulnerable and the transmission chain remains unbroken. With our own resources, we can only support and manage one (1) one-hundred bed treatment facility. Medecins Sans Frontiers will scale up to 400 beds, leaving a very significant gap."
But why stop there. After all, she's on a roll and she feels it. The lady knows how to go big, and she does as she writes: "I am directly appealing to you and the American people for the following:

"A) That the US government sets up and operates at least one Ebola Treatment Unit (ETU) in Monrovia. Mr. President at the current rate of infections, only governments like yours have the resources and assets to deploy at the pace required to arrest the spread. Branches of your military and civilian institutions already have the expertise in dealing with biohazards, infectious diseases and chemical agents. They already understand appropriate infection control protocols and we saw these assets were deployed in Aceh after the tsunami and in Haiti after the earthquake. It is in appreciation of the difference in kind of disaster, that we requesting assistance from units with expertise in managing biohazards.

"B) That the US government assists in restoring regular basic and secondary health services at least 10 non-Ebola hospitals. We have been told by healthcare workers on the frontline that only 80% of patients presenting symptoms at ETUs are infected with the virus. The other 20% need to be treated at non-Ebola health facilities. However, we need appropriate infection control protocols and testing facilities to protect health care workers and non-Ebola patients in these facilities. Currently, in Monrovia there are 8 hospitals, ranging from 50 to 418 beds. Across the rest of the country we need to reopen at least one large public health facility to prevent deaths from treatable diseases and prevent maternal and infant mortality.
Maintenance of air bridges during the course of the response. With airlines servicing the country down to two from a pre-Ebola total of 11, movement of personnel with expertise and equipment into the country is becoming increasingly difficult. Until private air service returns, we will require assistance with air bridges to respond to the crisis."
Can't you tell by now this lady, this our Nobel winning-president actually specializes in begging? She uses intelligence to appeal to the other's emotions; make them feel sorry for you. Then make your plea; but remember in doing so, go big. Ask for as much as you can and settle for what they're able to spare. For someone begging, she made quite an impressive case and she was specific in the assistance being requested. People should study this masterpiece letter in the art of 'How to Beg For Assistance'.
To show you how effective the letter was, it barely had time to reach the White House before the request was fully granted. Everything the president asked for was delivered without much debate, if any, in the US legislature. It was a rare moment for Republicans and Democrats to come together on a crucial foreign affair. The winner, once again, was the Begging Queen of Liberia. Ellen Johnson Sirleaf had proven herself right again: Use all the national resources for yourself and your cronies and carry a big plate around and solicit assistance from your global partners. That has proven a solid policy. Did she learn the techniques at Harvard, Citibank or the World Bank? No wonder she holds such an impressive curriculum vitae.
Psychologists and psychiatrists who study con artists will tell you that these sociopaths and psychopaths always capitalize on their achievement and victories. Once a con artist records a victory in an endeavor, the tendency is to go for a bigger catch. In line with that, what's the next move for our con-artist-in-chief? She is attempting to score bigger. Last time she appealed to the United States, now she's taking her con game to the world. She writes a letter to the world, appealing for global sympathy. She writes:
Dear World
In just over six months, Ebola has managed to bring my country to a standstill. We have lost over 2,000 Liberians. Some are children struck down in the prime of their youth. Some were fathers, mothers, brothers or best friends. Many were brave health workers that risked their lives to save others, or simply offer victims comfort in their final moments...
That's the setup. She then goes for the emotional appeal. She writes as brilliantly as ever:
"The virus has been able to spread so rapidly because of the insufficient strength of the emergency, medical and military services that remain under-resourced and without the preparedness to confront such a challenge. This would have been the case whether the confrontation was with Ebola, another infectious disease, or a natural disaster..."
Then she passes the hat around, as if to say 'Drop your dollars, pounds, yens, euros, marks or whatever you've got here.' She writes further:
"This fight requires a commitment from every nation that has the capacity to help – whether that is with emergency funds, medical supplies or clinical expertise." But the lady is not limiting her appeal to nations and the great leaders of the world. She includes everyone, from kings and queens, and presidents and ministers to the lowest of the commoners, including cab drivers and house keepers... she'd take a dollar from anyone she can con as she intends to keep what she has and use other people's money. She writes brilliantly as she once again appeals to our collective emotion:
"From governments to international organisations, financial institutions to NGOs, politicians to ordinary people on the street in any corner of the world, we all have a stake in the battle against Ebola. It is the duty of all of us, as global citizens, to send a message that we will not leave millions of West Africans to fend for themselves against an enemy that they do not know, and against whom they have little defense."
Now, isn't that a great finish? Makes you want to borrow some money to throw into the hat or bucket. It is almost impossible to resist such eloquence calculated to appeal to one's emotions. I'm quite sure many will fall for this scam; the money will flow again. Ebola will be defeated, but in the meantime, the con artists in Liberia will simply laugh on their way to the bank as their leader does what she does best: Appeal to the world with hat in hand.
I've got one question for the madam: Are you willing to donate your share of the Nobel Peace Prize take? Have considered donating at least a year's salary towards the Ebola Fund? Have you asked your high-salaried cronies to do the same? (Did I say one question?) That would be a nice way to start the rally. But knowing the reality, I'm not counting on that. The con game works best with other folks' money.
One more thing, Madam President or Africa's Jewel, You have a son who is a medical doctor. You are now appealing to Americans, Cubans, Chinese, French and German doctors to come help Liberia fight this deadly virus. Where is your son, Dr. Adama Sirleaf? I heard he said it's too risky an undertaking; he has precious young children. As a matter of fact let's quote your son directly: 'the symbolism of me going here and potentially getting Ebola when I have a nine and a seven-year old at home isn't worth it just to appease people." The quote comes from the Wall Street Journal. One wonders whether this Dr. Sirleaf knows how many young doctors with children of their own are enlisting for the fight. Isn't that a selfish statement to make?
Madam President, you also have a sister who is a nurse. Does she dare put on a glove now and go near a commoner afflicted with Ebola? No, she wants to run JFK Hospital, but she's way beyond being enlisted for the national fight against Ebola. Right? Your family must really make you proud and you think no one is noticing.
Madam President, you talk about your belief in the Almighty. I'm sure you've read the Good Book, the Bible that is. Do you recall it says somewhere in there that "Charity begins at home"? A word of advice: Before you go carrying that hat or bucket around begging for funds and writing all those fancy letters to your foreign friends and strangers alike, start with what you've got. And God Almighty knows you've got a lot. Give a little of yourself and ask your family to lead by example. Charity begins at home.
---
---
---