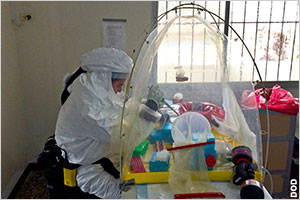 U.S. Navy Lieutenant Jose Garcia inactivates the Ebola virus in each specimen in a process that renders the virus safe for analysis at a Naval Medical Research Center mobile laboratory on Bushrod Island, Liberia. The lab can test 80 samples per day.
A mild "EBOLA OUTBREAK "occurred in Reston Virginia, November 1989 at a monkey facility, Primate quarantine Unit.  The Filipino monkeys came down with Ebola which the military named Ebola _Reston15, 28,  29. While the cleanout of the facility was in progress, two of four individuals caring for the monkeys got sick. One of the sick individuals had cardiac conditions and "the other had high fever and Nausea." Did the two individuals have EBOLA?  Were the monkeys infected with Ebola while in the Philippines or was something done in lab in Reston that caused them to develop the disease?

All documentations on Ebola point to Central African Republic, which has a common border with Zaire as the origin of EBOLA.  According to a document on the web, a rural village school principal in northern Zaire displayed symptoms of the disease upon returning from a visit near the Central African Republic border with Zaire on August 26, 1976. Since then, most outbreaks of the disease have been confined to that region of sub-Saharan Africa.    
So how did the disease suddenly appear in West Africa? Here are some of explanations: (a) consumption of bush meat and bats by locals, (b) infected bats flew to West Africa from central Africa, and (c) a research gone awry. (a) West Africans normally overcook their meat for consumption with respect to chefs in western countries. These people have been eating bush meat and smoked bats for hundreds of years and have never developed the disease according to my knowledge.  On October 18, 2014 a British Broadcasting Corporation's (BBC) reporter asked an expert why is it that people currently eating bats in Ghana are not being stricken with EBOLA.(b)  As for Ebola infected  bats flying from Central African Republic to West Africa, it borders on the comical.  Consider the distances from central Africa to :(1) Guinea (2) ,Sierra Leone ,and (3) Liberia. The distance from Central African Republic to:  (1) Guinea is   miles 2100    (2) Sierra Leone is 2200   miles and (3) Liberia is   miles 2000.  If the bats actually flew these distances, for some mysterious reasons they not did directly cause outbreak in Cameron, Nigeria, Togo, Ghana and the Ivory Coast.

Finally the explanation of Ebola outbreak in West Africa been linked to research gone awry has generated  a lot of conversations on the world wide web but not in the main stream press, be it electronic(CBS News, NBC News, ABC News , Fox News  or CNN) or print ( New York  Times, Washington Post or the Wall Street Journal).    However on the World Wide Web, Robert Wenzel of EconomicPolicyJournal.com, writes to say that "Before ItIs News" website claims that the Kenema Government Hospital in Sierra Leone has a U.S. biosecurity level 2 weapon research lab in house. He also claims that according to Global BioDefense (GBD), the U.S Army Medical Research Institute of Infectious Diseases (USAMRIID) has been operating in the area since 2006.  So is the Ebola outbreak in West Africa the result of (a) consumption of bush meat and smoked bats (b) Bat migration or (c) BioDefense weapon research gone awry? Well mainstream press, you have the resources to investigate.

Note that from 2009 to 2010, H1N1 flu killed 12,469 Americans and no travel ban was imposed. Also there was no "SARS passenger screening at U.S. airports when other countries were doing it."

By: G. Konah Ballah, Cranston, Rhode Island