A Rejoinder to George Fahnbulleh's letter to FPA


By Scott Mandeh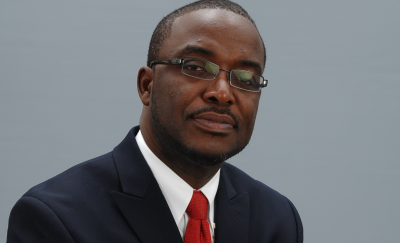 George Werner (Appointed Minister of Health, but rejected by the Senate)
Mr. George Fahnbulleh writes the FPA Editor to assert that Mr. George Werner, the Health Minister designate, is not qualified to serve as minister. His letter comes few days after the Liberian Senate rejects Mr. Werner based on the criterion that Mr. Werner lacks the qualification to confirm him as Minister of Health.

To me, the issue is not worth the debate anymore as to note the consolation Mr. Fahnbulleh has received that Mr. Werner has been denied by the Liberian Senate. But if "qualification" in Mr. Fahnbulleh's opinion was the litmus test for performance in public service, one may wonder if Mr. Fahnbulleh's assertion is not fueled by some inherent bias or double standard he has entertained toward Mr. Werner. While the public may not be fully aware of the details of the terms and conditions that informs the decision to confirm a nominee to public office, historical precedence convinces us that the senate has often been liberal on issues of confirmations.  I believe it has always been the judgment of the senate to use the wisdom of discretion when it comes to confirming presidential nominees because of the need to break the barriers of ethnic, social, religious and political cleavages that once characterized the body politics of Liberia.

Mr. Fahnbulleh should, therefore, not be unmindful to the fact that the archive of political appointees by past and present governments is loaded with names of people with diverse qualifications, some as weightless as mere high school diploma and others with PhDs.

It can then be surmised that Mr. Werner's rejection by the senate is untimely or at worst pure "bad luck" as we would call it back in Liberia. This is because the senate has confirmed others with either questionable credentials or no experience for the positions to which they were appointed.

For example, let us reflect on the history of Mr.  Robert L. Kilby who was appointed to head the General Auditing Commission of Liberia: Kilby, as we all know presented fraudulent credentials, but was still reconsidered by the senate based on other considerations. Clearly, the Kilby's nomination created a circus of emotion in our communities. His confirmation claimed the attention of the general public. But where was Mr. Fahnbulleh and what was his position?
Let us fast forward to recent appointments in government by President Sirleaf. The President appointed a number of Liberians along with Mr. Werner. Mr. Fahbulleh did not call out any of the appointees' credentials or work experiences except Mr. Werner. This makes me to deduce that Mr. Fahnbulleh has something under his sleeves toward Mr. Werner.

For the sake of clarity I want to cite Mr.  Gyude Moor as reference:  Mr. Moore was appointed as Minister of Public Works at the same time George Werner was appointed Minister of Health. His job among other responsibilities is to plan, design, execute, test, and supervise public infrastructure development – bridges, roads, buildings, etc.

Typically, one may argue that a Minister of Public Works should be a technician, well versed in the practices and theories of   engineering or related fields. I believe the president defied the tradition of relying solely on specific credential to appoint Mr. Moore due to recent experience at the Ministry of Public Works. Minister Weeks, the former Minister of Public Works was seen as credible based on her credentials. But she probably fell short of expectation not on the basis of qualification but on the basis of the lack of tender will to make a difference.

Sometime we let the so called "requisite qualities" or experience get in the way for   us to see other essential managerial qualities that far outweighs the "requisite qualities".  In Fahnbulleh's Republic, I strongly believe that the former minister, Kofi Woods, for example, could not have been the rightful person to head the Ministry of Public Works. But Minister Wood's tenure at the ministry is considered by most Liberians and President Sirleaf as valuable. As a result of this, I am made to believe that the moral test we face in our political transition is how we treat those in the dawn of public service.

I, therefore, encourage Mr. Fahnbulleh to dig his heels from the sand of sentiment and focus his attention on issues of practical evidence. Mr. Werner has served in government with dedication.
Mr. Werner was at the Civil Service Agency two (2) or more years as head of the Scholarship Program prior to becoming the Director General of the Civil Service of Liberia. He has an advanced degree in Social Work, which is one of the essential components of the health delivery system of Liberia, as it is called the "Ministry of Health and Social Welfare". Mr. Werner has a direct work experience providing social services for many years in the United States. A further research with Mr. Werner coworker proved that he worked as lead "Clinician Therapist" for AVS - Allegheny Valley School - under a licensed Clinician Therapist supervision.

What Mr. Fahnbulleh needs to understand is the Liberian Health System has experienced one of the worse tragedies due to the Ebola epidemic. Therefore, it calls for transformative leadership that accounts not only for the physical health of the state, but also the social values, research, ethics and best practices that will restore confidence in the system and its people. We believe Mr. Werner stands at a vantage point of providing active direction for the Ministry of Health in meeting all of these considerations.
Unfortunately, Mr. Fahnbulleh has not acquired the knowledge base to appreciate the credential of Mr. Werner. As such it is worth the time to digress a little to enlighten Mr. Fahnbulleh what makes Mr. Werner's qualify for the job. For the record, Mr. Werner's Qualification enables him to serve as Minister of Health given that he has been trained to effectively understand the issues of rights and justice, assist, support and enable Liberians who have suffered from the negative effects of Ebola and other diseases and inequalities in the health care delivery system. His training also equips him to deal with issues of systematic failure by advocating and advancing policies to correct risks to which the health of the state is currently exposed. Mr. Werner is also poised to act as leader because his training has positioned him to understand the context of the diverse communities and the necessary approaches to locate the needs of the members of those communities in the context of their social and economic lives.

I will caution Mr. Fahnbulleh to be guided by history and examples. That way, he will be careful to render judgment on the merit of profession. Mr. Fahnbulleh should remember that even in the great United States, the Secretary of U.S. Department of Health & Human Services (Sylvia Mathews Burwell) - the equivalent of Liberia Ministry of Health - is not a Medical Doctor. But she brings a wealth of managerial skills to the position. She is described as "A results-driven manager."  Her Bio can be found here - http://www.hhs.gov/secretary/about/biography/index.html.

I can't resist asking this question in closing: I understand that Dr. H. Boimah Fahbulleh, Jr. is Mr. George Fahnbulleh's brother. If that is true, then I believe Mr. Fahnbulleh has a good memory of his brother's political profile. What direct educational experience did his brother, Dr. Henry Biomah Fahnbulleh, Jr. possessed when he was appointed Minister    of Education in the early 1980s? Technically, we can all say "zero, nada, zip, nothing" He was simply a lecturer at the University and a political activist. Don't get me wrong.  Dr. Fahnbulleh is an astute and well respected statesman. But at the time of his appointment, he has no requisite experience or credential in the discipline of Education.

I, therefore, call on Mr. Fahnbulleh and others who share similar view to give Mr. Werner the chance to fulfil his calling. It was not naive on the part of the president to repose confidence in this young Liberian. There is no greater satisfaction than to test the worth of a simple, regular citizen, chosen among the young people to make a difference.
Scott Mandeh: smandeh@hotmail.com

---
---