A Commentary on the President's Annual Message

By Theodore T. Hodge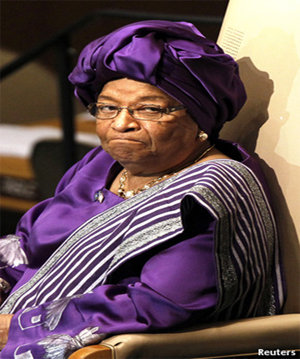 Ellen Johnson Sirleaf
On January 26, 2015, President Ellen Johnson Sirleaf addressed the Liberian nation yet again for the purpose of delivering her annual speech. After offering grand salutations to her "honorable" friends and colleagues --- Honorable This, Honorable That, Honorable Mumble, Honorable Jumble, Honorable Blah, Blah, Blah --- she looked   right into the glaring camera and spoke these words into the open microphones: "…our nation has remained strong…"

It is my opinion that in trying to dissect the president's speech, little else matters what was said before or after that simple declarative statement: "Our nation has remained strong…" Is the Liberian state indeed strong? Pause and consider it for the moment. Me, I respectfully beg to differ.

Was it not just about six months ago, perhaps even as recently as within the last three months that the Liberian nation faced its most serious challenge as it teetered on the abyss of extinction? Did the president not tearfully announce and appeal to the world the fragile and unstable state of our nation? Did the president not institute begging as a national policy with hat or bucket in hand? Did she not shamelessly announce our penniless condition to the comity of nations when she begged for relief and donations in dollars, euros, marks, or yens? She would even take a naira here, a rand or a yuan there…  Now, mysteriously, the state of the union is strong? How come?

The president uttered a lot of gibberish to appease and impress her "honorable" colleagues and criminal partners who collaborate with her to run the criminal enterprise respectfully referred to as the Government of Liberia. Serving no productive purpose, we shall ignore the verbiage, or more correctly, the garbage. Instead, let's focus on Health and Education, two essential and fundamental building blocks for national reconstruction and development.

We all know by now the devastation the virus Ebola caused in our country; how it wreaked havoc and caused Liberians both at home and abroad to panic. Yet the president stood before the cameras to gloat about the competence and contributions of her team. She said, "We ignored the local and international criticism and went to work establishing leadership and incidence management structures; increasing social mobilization by engaging and empowering community volunteers…" If this is not simply verbiage and extreme embellishment, then what is?


For the sake of emphasis, just read it one more time: "…establishing the leadership and incidence management structures; increasing social mobilization by empowering community volunteers…" Is this woman jiving us or what? As for me I say, "Lady, please don't give me that jive." I remember what went on and so does everyone else. We remember the government being paralyzed, confused, immobile, disorganized, and broke…

The president's speech writers wrote and had her deliver this sentence: "Liberia has 404 public health facilities, supplemented by 252 private facilities…" It is pathetic and quite unfortunate that anyone would have the audacity to lie so effortlessly. Does Liberian really have over 650 health facilities? Where are they and who runs them? We know we've been told that the country barely boasts two hundred medical doctors who serve a population of nearly 4 million citizens. The fundamental question is, what exactly is described as a "health facility"? If delivering that one line does not bother the president's conscience, then maybe she doesn't have one.

One would have to wonder why the president and all her cabinet members and other big shots in her inner circle rush to the United States or Europe, or even Ghana and South Africa to seek medical attention on a regular basis. Why not use those facilities she mentioned in her speech? The answer is simple: They don't exist, except perhaps in her imagination.

On Education, the president said: "Education remains a number-one priority in the development of Liberia and the most difficult to show positive results in the short term. Statistics for the year 2013 show that there was [sic] 5,181 schools (3074 public and 2107 private) with enrollment [of] 1,500,000 students (800,000 boys and 700,000 girls) throughout the country. We have thus succeeded in the achievement of quantity goals by increasing enrollment, but quality of education has declined even further, evidenced by the failure in the entrance exam to the University of Liberia and in the WAEC exams which have been set at a substandard level for Liberia. The problem of education goes deeper and beyond the lack of quality teachers, the lack of facilities and supplies, and the lack of incentives."
The preceding is quite a loaded paragraph. Let us give it a closer scrutiny in order to dissect it more meaningfully. "Education remains a number-one priority in the development of Liberia", the president boldly announces. Let's examine the logic here. If education remains the number-one priority and yet the president openly declares it a dismal failure, are we not to conclude that this administration has failed, or, is at least failing? I reiterate: If you have failed for two terms to achieve or accomplish your number-one goal, have you not failed?

This administration has been at the helm for almost ten years now and students graduating from high schools across the country can barely pass university entrance exams. In one recent year, all candidates sitting the exams failed. I don't know if this has ever happened anywhere else in the world, or if the experience is unique to Liberia; I suspect it is. It says a lot about our standards.

Again, one has to wonder what the president means by "in the short term". President Sirleaf will have spent twelve years in office by the time her term expires in 2017. It takes twelve years to go from the first to the twelfth grade. That means that children who were just finishing kindergarten and entering the first grade will be seniors in high school and ready for graduation by the time her term ends. It is even fair to say that some of the fast ones will have already graduated. So in this context, what does "short term" mean? The period covers an entire generation of learners who will have been lost to wasted and unproductive lives while this administration steered aimlessly.
But why are Liberian students taking a substandard version of the West African Exams sponsored and administered in the region? Has this question ever crossed your mind, as it does mine? How long does the country expect to remain in this substandard condition? What policies, if any, have been instituted and implemented to help alleviate or solve the problem?

Once again, as asked about the inflated number of "health facilities", are there really over five-thousand schools in Liberia. I guess the answer will depend on the definition of a school. I believe the government is being disingenuous by making such an outrageously false claim. It is unconscionable to lie so expediently.
The government, through its chief spokesperson, the president, admits that the system, (if one can call it a system), faces real problems:
Lack of qualified teachers
Lack of facilities and supplies
Lack of incentives
Now let's consider some practical solutions: The Ministry of Education, along with the University of Liberia, needs to put in place a serious program of teacher development. The way you get "quality teachers" is by building and running teacher training facilities and programs. It may even require training teachers abroad. The government has a responsibility to develop a track record for the short and long terms; none seems to be in place

The government needs to put policies in place to build new structures and modernize existing structures referred to as "schools". Simply constructing a building with four walls does not make it a "school".  Modern schools must have such things as science and computer labs, libraries and reading rooms, and even sporting facilities.
As for the lack of incentives… It must be obvious that the president recognizes the glaring inconsistency and disparity of salary distribution in the country. What other country in the world pays its teachers and nurses as lowly as Liberia does? None, according to my recollection.

Our legislators and cabinet members and other high profiled civil servants and advisors earn salaries comparable to or even higher than their global counterparts. For example, Liberian legislators make salaries comparable to US lawmakers. Some cabinet members in Liberia make even more than their US counterparts. Then why should Liberian teachers and nurses earn less than janitors in America or Germany?

It is time to address these fundamental issues of salary disparity and other gross inequalities. We must consider and apply practical and equitable solutions to the problems that face the nation and threaten to divide us even further.

I once described Liberia under Ellen Johnson Sirleaf as the typical Potemkin village. I believed the situation to be true then and I believe it is true now. When President Sirleaf mounted that podium and declared that the Liberian nation is strong… that there are over 5,000 public and private schools and over 650 health facilities in the country, she left no doubt that she is engaged in some devious plan to hide the truth and deceive the public. The Liberian nation is fragile and its economy is in shambles; its infrastructure is dilapidated and its leadership lacks vision. Let's call a spade a spade; it's time to boldly state the obvious.
Theodore Hodge can be reached at imthodge@gmail.com
---
---