PREZ SIRLEAF SAYS: LIBERIA OWES USD $759M, AFTER $4.7B DEBT  


By J. Yanqui Zaza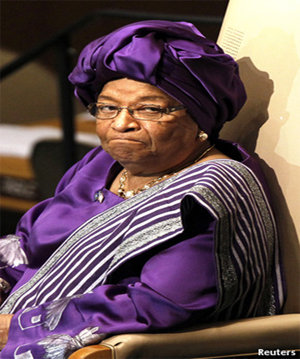 Ellen Johnson Sirleaf
When a country's economic policy is based on "get rich quick" mentality, it is difficult to institute sustainable economic rules and regulations, even if prior violation of those same rules and regulations had resulted into unwarranted results. How should a leadership change that mindset is Liberia's conundrum.
Will Liberia meet the challenge? When the Liberia National Oil Company (NOCAL), headed by Robert Sirleaf, President Ellen Johnson Sirleaf's son, spends $138m, 20% of the Liberian National Budget ($138m/$566) without accountability; when President Sirleaf, guided by the World Bank, allocates $1.2m as consultancy fees for our lawmakers to perform their official duties; when President Sirleaf, supervised by the World Bank, borrows $290 million from the National Bank of Liberia in violation of the 2009 MPF Budgetary Law; or when President Sirleaf, guided by the World Bank, awards sweet heart deals to big business, etc., the answer is no.
Alternatively, the answer could have been yes, had President Ellen Johnson Sirleaf not embraced the "get rich quick" mentality employ by big business and followed well-established managerial principles. This is because anti-principles of "get rick quick" mentality do encourage superior to recruit independent or non-family subordinate, institute parity in salary, reduce bribery, minimize rosy revenue projection or avoid providing optimistic achievements. These principles would have also helped us to reduce our $759 million debt, announced by President Sirleaf.
The 759m debt, which reminds the country about the debt $4.7b debt, just canceled in 2009, is not good for Liberia. This is because, in many cases, the totaled debt is not used for development. For example, in the case of the $4.7b debt, only the $1.8b received in 1989 was available for development. Theft, interest, and other charges accounted for the $2.8b difference because Liberia became ineligible for loan after the war started in 1989. (World Bank) (http://www.indexmundi.com/facts/liberia/external-debt-stocks)
Now, let us review few of President Sirleaf's managerial styles in order to understand why some Liberians think that our debt will continue to go up. Analyzing the performance, family connection, and inexperience of her advisers, it is fair to conclude that President Sirleaf did exercise undue influence over her subordinates.  In short, she did follow the practice of business and appoint loyal subordinates, rather than independent or patriotic subordinates.
Hiring subordinates who cannot offer critical views to their superior is not good for government. This is because a country and its residents must live with any, and all mistakes, while big business can relocate, re-organize or dissolve. Rightly so, big business needs loyal subordinates in order to make huge profit. For example, it can earn huge profit by keeping its patent secret away from its competitors, thereby denying its competitors from imitating it. Additionally, government must operate in daylight since its policy should protect the interest of everyone, including big business and its customers.
President Sirleaf has not only hire dependent advisers, but also pays excessive salaries to her loyal advisers, another managerial policy employ by big business. Consequently, budgetary appropriation for wages and salary related expenditure is now 69% ($363.5 million) of the totaled expenditure of $517 million. In her own words, President Sirleaf said wages continues "...to crowd out the fiscal space required for capital expenditure…"  
Again, while it might be a good idea to reward loyal advisers with excessive salaries in big business, such a practice does breed corruption in government. For instance, Liberia is rampantly corrupt because the government rewarded excessive salaries to advisers hoping that the incentives would discourage them from receiving bribes. Rather, had the government instituted parity in salaries, our lawmakers might not have sought additional compensation for performing their duties. Instead, since attitude is contagious, our lawmakers have gone beyond appropriating excessive salaries, but are now searching for consultancy fees.
To the credit of the Liberian lawmakers, a Committee of the House of Representative tried to discourage President Sirleaf from going ahead with the idea of paying a few advisers USD $10,000 to $15,000 per month, but to no avail. The Liberian local news media carried articles decrying the idea of paying excessive salaries at a time Liberia was begging our partners to cancel the $4.7b debt. Again, the President did not listen.
If the idea behind paying excessive salaries to our economic advisers was to discourage bribery, then why did President Sirleaf give each lawmaker a white pickup on behalf of Mittal Steel? Or why did she direct Clemenceau Urey to bribe our lawmakers; why did she approve $1.2m as consultancy fees for our lawmakers to perform their official duties?
Again, big business or the likes of President Sirleaf, prefers to use bribes and "grease the wheels of business." The practice is regular and legal in the business world. This is because big business bribes in order to make huge profits. For a government, a leader  should discourage bribery in order to create a level playing field for everyone.
Bribing bureaucrats to win favors, inflating revenue projection or exaggerating deliverables promotes dishonesty. Instead of discouraging the practice of misleading, President Sirleaf's recent annual speech had too many inflated reports. For example, the President stated that Liberia has over 404 public health facilities. If true, how come our government failed to curb the Ebola disease? Also, her report on revenue projection and economic growth was also misleading. For instance, she said "…the decline in economic activities resulted in reduction in domestic revenue collection…  and, "…revenue was revised downwards by US$86 million (from US$559 million to US$473 million)…" In the same speech, she added, "…In spite of the numerous challenges revenues of US$517.2 million was collected representing 4 percent increase in Tax Revenue…"
Sadly, if President Sirleaf continues to inflate optimism and institute the "get rich quick" principles (i.e., the cutthroat principles), Liberia might not create the economic environment conducive for big business and ordinary citizens to prosper. This is because Liberia will become cash-trapped and insolvent to liquidate its debt since its cash cow, lucrative resources, might have been mortgaged.
Jyanqui@aol.com                                    
---
---