Why Obama Praised Corrupt Sirleaf Of Liberia?



By: J. Yanqui Zaza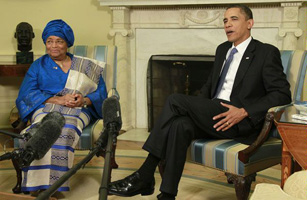 President Sirleaf & President Obama
The U.S. President, Barack Obama, during a White House meeting held on February 28, 2015, did characterize President Ellen Johnson Sirleaf of Liberia as a reformist, contrary to reports, including Global Witness'. The international non-governmental Agency has and continues to accuse President Silreaf government as one of the most corrupt governments in the world. In fact, Sirleaf, calling corruption as a vampire, has admitted that she has failed to reduce corruption. Yet, President Obama did praise Sirleaf and said "...she has worked steadily to solidify democracy, to reduce corruption, to deliver basic services to a very poor country…"
Awarding sweet heart deals in exchange for bribes, an economic arrangement that undermines democracy, is rampant within the Sirleaf government, her critics say. One of those critics, Global Witness, stated in a recent report, called "Liberia has burned the furniture to warm the house, that the government has sold off valuable oil assets in what appears to be a very bad deal for Liberia." Warning President Silreaf not to doctor her records, the NGO stated this: "…President Johnson Sirleaf will be looking to demonstrate to President Obama that Liberia has made efforts to reform its oil sector, including moves to indict allegedly corrupt officials…Yet this news is unfortunately offset by a slew of recent scandals, including the award of a valuable oil contract to two dodgy companies, the mysterious death of a whistle-blower, and a suspicious payment of US$ 31,000 to a lawmaker."

With such a damaging corruption report about President Sirleaf, why did President Obama praise her, critics are asking? Critics, rightly or wrongly, have surmised that President Obama did not invite President Sirleaf to the first US Africa Summit, all because of President Sirleaf's poor record on fighting corruption. This is because, they assumed, with the exception of corruption, Sirleaf has an impressive resume, including an economic degree from Harvard University Graduate Program, former minister of finance, former employee of the World Bank, former employee of the United Nations, an entrepreneur, former chief executive officer of a bank, first female president of Africa, etc.
Was President Sirleaf successful in spinning her records on corruption? Or has President Obama changed his yardstick on corruption because Sirleaf is America's ally in the war against China? Did President Obama not promise to reject corruption, no matter whatever form or shape corruption takes? Wouldn't Liberians view America as a supporter of corrupt officials, rather than a country that will assist in creating a level playing field for everyone?
While it is true that President Obama did not hold up to his promise, let us look at Liberia's history and understand why America will continue to support corrupt dictators in Liberia. In 1942, Liberia signed a Defense Pact with the United States and assured the U.S. and its allies of all the natural rubber they needed. Also, Liberia allowed the U.S. to use its territory as a bridgehead for transports of soldiers and war supplies and construct military bases. The country's huge natural resources were awarded to American investors in exchange for bribes. In response to corruption, anti-corruption advocates demanded a change, but America sided with big business, the recipe for the current instability.
Upon Sirleaf's ascendancy to the presidency, America is once again dictating Liberia's policies through the World Bank, the premier economic adviser to Liberia. Video interview of Robert Sirleaf, President Sirleaf's son as well as published reports of the National Oil Company indicate that the World Bank is involved in writing many of the fraudulent concessionary agreements. For example, four of the ten concessionary agreements signed between 2006 through 2009 were considered fraudulent, according to Global Witness. Interestingly, the American companies, including, but not limited to Chevron, Exxon Mobile, Liberty Petroleum, etc. are benefiting from this bribery scheme.
In the view of proponents of privatization, deregulation, market liberalization, etc., awarding sweet heart deals to Firestone, Mittal Steel, Exxon Mobil or Liberty Petroleum Corporation is good for business; hence President Sirleaf is good for business; and by extension, she is a good president for Liberia. Therefore, good government means deregulation, privatization, market liberalization, even though these policies "…actually exacerbate corruption," according to Ms. Sarah Chayes, in her book called "Thieves of State-Why corruption Threatens Global Security."
So, for those Liberians who are disappointed with President Obama because of his perceived change in attitude towards dictatorship and corruption, please understand that America is obliged to protect profits.  And if Liberians think that President Obama's praise for President Sirleaf is bad, they should read about the war on corruption in Egypt, Afghanistan or Tunisia in Ms. Chayes' book.  She stated that some Afghans believe that America is promoting corruption because the U.S. Central Intelligence Agency (CIA) is paying some of those Afghans who should be prison for corruption. In the case of Liberia, the World Bank is involved in writing fraudulent concessionary agreements. Therefore, is it realistic for President Obama to question the World Bank's economic policies that create an economic environment conducive for American companies to generate more profits, even if the policies are inimical to society?
Bribing or greasing the wheels of business might be inimical to society, but it is one of the business practices that generate huge profits for big business. In short, any entrepreneur will use the proceeds of lucrative assets to donate contribution, lobby or bribe for more profits or to protect his/her interest. And, chief executives are obliged to protect the interest of its shareholders, even if it means violating labor laws, violating environmental laws, abrogating concessionary agreements, offering bribes in exchange of favors, etc.
Liberians can win the war on corruption, not only by electing leaders, but also by enacting laws, that make it difficult to award lucrative resources to investors; thereby removing the incentives (i.e., huge profits) to offer bribes.
---
---