Revenue: Liberia Sirleaf Versus Zimbabwe Mugabe




By: J. Yanqui Zaza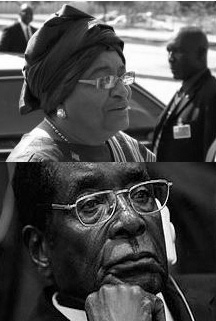 Sirleaf and Mugabe
The birth of democracy about 2,500 years ago was intertwined with progressive taxation, wrote David Cay Johnston in his book called "Free Lunch." Adequate revenue or progressive taxation implies that the greater one gained economically from living in society, the greater one's duty to maintain society by paying taxes. And, "…Every classic worldly philosopher-Aristotle, Plato, Adam Smith, Karl Marx, David Ricardo, John Locke, etc. has endorsed this moral principle," he stated.
I guess the philosophers were stating that taxes from elites don't only benefit lazy citizens, but without revenue there will be no road/bridge for investors to transport their goods; teachers will not teach because of the scarcity of school materials and supplies; lower literacy rate drives away good-paying investors; higher unemployment rate and higher poverty rate attract extremists; etc. Subsequently, when the masses get scared, and with no sense of control over their economic destiny, violent change becomes inevitable.
Ugly experiences of violent revolutions continue to remind every leader and electorate of the need to generate adequate revenue in order to prevent a violent change. In Russia, where the government is receiving miniscule revenue from oil, President Vladimir Putin has cut his U.S. $90,000 yearly pay by ten percent (10%); the leftist leader of Greece is fighting to reduce the harsh austerity measures imposed by European countries; economists have asked the President of Venezuela to raise the price of petroleum products in order to get more revenue; U.S. police officers in Ferguson, Missouri are raising revenue by illegally ticketing poor black residents, for actions and, or inactions that do not warrant fines or tickets, etc.
Mother Africa, collectively, has not only failed to generate adequate revenue, but it is losing more than $50bn (£33bn) from its resources every year, according to a report issued by the African Union. (http://www.gfintegrity.org/press-release/au-un-high-level-panel-report-prioritizes-curbing-trade-related-illicit-flows-calls-sdgs-follow-suit/) The African Union's Report, stated between 1970 and 2008, about $217.7bn was illegally transferred out of Nigeria, while Egypt lost $105.2bn and South Africa more than $81.8bn. The Report stated big business uses (1) mispricing of goods or services and, or payments between parent companies and their subsidiaries; and (2) profit-shifting mechanisms designed to hide revenues from countries such as Liberia, Mozambique, etc.
How come other countries are receiving gigantic revenue from their natural resources, but Africa is receiving minuscule revenue? What is the economic policy that is causing Africa to lose billions in revenue? That is the story of this article. Back in the 1900's, big business sought profits, but reasonable, thanks to the role of government. For example, government did not only own and, or manage those entities (light, water, education, etc.) that benefited society in general, but it designed and implemented regulations. After World War 1, leftists in America concluded, based on the successful wartime experience, that central planning (i.e., the economic system of China) by government was the best way to plan economic policy, stated Carlos Lozada in an article called the "Economics of World War 1 published in the National Bureau of Economic Research. Government involvement in economic affairs did not last long, according to Kervin M. Kruse of the NY Times. He said that prominent business names such as Harvey Firestone, Conrad Hilton, E. F. Hutton, Fred Maytag, Henry R. Luce along with the United States Chamber of Commerce and the National Association of Manufacturing pumped huge money in order to restore the good name of big business. The image of big business did plummet after the 1930's financial debacle.
To restore the image of big business and at the same time diminish the role of government, big business sought the help of religious leaders. Rev. Billy Graham, whom a London paper called "the big business evangelist," informed his congregation, "The Garden of Eden was a paradise with no union dues, no labor leaders, no disease;" that all government restrictions or involvement in economic affairs should be considered socialism or evil, Kruse added. Cognizant that government's ownership would increase revenue, but of course reduce corporate profits; big business has and continues to insist that government's interference is inimical to business. Former U.S. President, Ronald Reagan did label government as the problem and not a partner in solving economic problems, because it is corrupt and inefficient.
President Robert Mugabe of Zimbabwe, in spite of the issue of human-rights problem, has promoted government's role. First, he redistributed the lucrative land among Zimbabweans, which brought condemnation and sanctions from big business through Western countries. Beginning in 2011, Zimbabwe became a partner in owning and managing many of its natural resources. Yet, Zimbabwe's role in the economy has increased revenue. In fact, "…Zimbabwe's economy is growing despite continuing political uncertainty…Zimbabwe's economy recorded real growth of roughly 10% per year in 2010-11…" according C.I.A. Facts Sheet. Also, Zimbabwe has the highest rate of literacy in Africa, thanks to Mugabe for increasing the number universities to 9, just from one at independence in 1980.

Yes, without adequate revenue, government can't finance social programs such as education, etc. Revenue collection in Liberia is poor even though it has sold vast resources. Not generating adequate revenue from Liberia's resources, President Sirleaf is contemplating on privatizing the education industry the same way it has and continues to privatize lucrative resources. One of her advisers, endowed with the philosophy of limited government role, is indicating that Liberia should introduce the voucher system in Liberia. Give vouchers to parents, which students will use to pay school fees. This approach will shift the cost of hiring and training teachers or school maintenance to third-parties. So, you see, President Sirleaf and her advisers are not only saying government's role in the economic is wrong, but that government should also get out of the education industry.
President Sirleaf says government's role is inimical to society. She believes in Graham's view that Liberians will live in paradise, when there is no regulations, no union dues, and no labor leaders, all because dividends will trickle down from big business.
---
---