"Remembering April 6, 1996 . . .": Alhaji G. V. Kromah & Charles M. Taylor

By Bai M. Gbala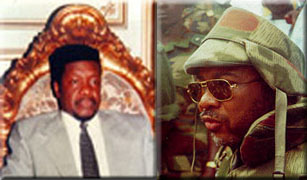 Warlords Kromah & Taylor
Indeed, Mr. James Torh "remembers April 6, 1996 in the heart of Monrovia" poignantly with Milton's poem, "No light, but rather darkness visible . . . ";  we remember that day, vividly, and the men who brought it to pass in prose.
On April of 1996, Alhaji G. V. Kromah and  Mr. Charles Taylor of the NPFL, in collaboration with Alhaji G. V. Kromah (a Mandingo!!) undertook a deadly attack upon the late, General David Roosevelt Johnson, leader of ULIMO, an effort designed to silence the-then capable resistant, military voice led by Krahn and Mandingo people against the NPFL. Although this objective failed, but the city of Monrovia was, on "April 6" , as the day was called and remembered to this day), an armed camp of brutality, human suffering and death, with several homes and public buildings looted; and  many innocent citizens, including the wounded, fled the city and country, some on the famous Buck Challenge, a Nigerian freighter.
We wrote of and about these two men during and after tragic nightmare of the civil war. Of and about Alhaji G. V. Kromah, our article entitled ON ULIMO'S ETHNIC FEUD, New Democrat Weekly, April 28-May 4, 1994. It was in answer to the newspaper's editorial thus:
Bai Gbala, Sr.
On ULIMO'S ETHNIC FEUD
By Bai M. Gbala
New Democrat Weekly, April 28-May 4, 1994
"We do not understand the basis of this feud . . . is it . . . based on dividing the spoils of war? Are the Krahns, loyal allies of the Mandingoes, aggrieved for being left out in the allocation of key positions within the bureaucracy? Or are the Mandingoes, having ascended to the key leadership positions in the organization determined to prove their supremacy over a loyal ally"? -  Editor, New Democrat news.              
These are profound questions seeking to discover what went wrong, why it went wrong and how it may be put right again for peace and unity in our troubled land. For an insight into the sources of our present problems, we present a brief history of the United Liberation Movement for Democracy in Liberia (ULIMO), with observations and attempted answers to the Editor's questions, and the deadly process leading to the split of ULIMO into ULIMO-J (for Roosevelt Johnson of the original ULIMO) and ULIMO-K (for the Alhaji G. V. Kromah of the Muslims).
Background of ULIMO
ULIMO is the original idea of one man, the late Major General Albert B. S. Karpeh of the Armed Forces of Liberia (AFL) and former Minister of Defense of the Republic of Liberia and, later,  Ambassador of Liberia to the Republic of Sierra Leone. A prominent member of the Krahn Tribe (of the Sarpo-ethnic group) against whom the insurgent NPFL declared and fought a genocidal war. With the NPFL invasion of the Republic of Sierra Leone in pursuit of the Krahn People, General Karpeh became convinced that a response was necessary not only for defense and protection of the Krahn People, but also to protect the people and country (Liberia) from a creeping military dictatorship by the NPFL.
Thus, ULIMO was organized not as a political party; not as a revolutionary movement seeking political power by force of arms; and not to capture Liberian territories with which to bargain for political recognition or inclusion in political accommodation, but rather, ULIMO was formed and organized as a liberation movement by Liberians united in a common cause dedicated to the freedom of the Liberian people and nation from potential shackles of the INPFL/NPFL-imposed military dictatorship. ULIMO was formed, also, to influence, peacefully, national policies towards the democratization of our national life and institutions. It was for these fundamental, basic reasons that ULIMO recognized, "with immediate effect", the ECOWAS Peace Plan and the Authority of the-then Government of Liberia as the legitimate government of the Republic. However, ULIMO held that the Movement reserved the right to utilize and, indeed, utilized political and military strategies and tactics, against the illegal NPFL, in order to achieve its stated objectives.
During the heat of the war, a delegation of ULIMO founders travelled (from Free Town, Sierra Leone) to Conakry, Guinea, and invited Alhaji G. V. Kromah, the leader of Liberian Mandingo refugees in the Republic of Guinea to join forces against the NPFL. The Alhaji rejected, flatly, the invitation, but proposed a union under the banner of the Movement for the Redemption of Muslims (MRM) which he heads. The Alhaji indicated, further, that the MRM is poised to undertake a mujahedeen operation in a jihadist war against those, notably the NPFL, who slaughtered Liberian Muslims. The delegation returned to Freetown in disappointment but went ahead and launched ULIMO.
With ULIMO's military successes against the NPFL and the NPFL-backed RUF rebels forces (of Sierra Leone), the Alhaji (G. V. Kromah) decided and requested to join the Movement (ULIMO). His request was granted and he was appointed Press Spokesman. In this capacity, Alhaji G. V. Kromah gained access to ULIMO frontlines and contacts with the fighting men and women. It was here that the first problem developed. It began with disagreements over policy statements made on BBC Focus on Africa by Alhaji Kromah. The late General Albert Karpeh, founder of ULIMO, then Military Chairman of ULIMO forces, accused the Alhaji, G. V. Kromah, of attempts to introduce Islamic doctrines (Muhjahadeen and jihad) into the ULIMO Movement.
Not long thereafter, General Karpeh was assassinated, brutally, at 9:00 AM on the morning of May 1, 1992, in the City of Kenema, Eastern Republic of Sierra Leone. Several persons were arrested, among whom were ethnic Mandingoes; some confessed, implicating Alhaji G. V. Kromah as the master-mind and brains behind the planning and carrying out of the assassination of General Albert Karpeh.
Since that time, the struggle for ULIMO Chairmanship began and, indeed, intensified with ULIMO's arrival on Liberian soil. Before the ULIMO leadership, then based in Freetown, could move to its new home at Tubmanburg, Bomi County in Liberia, after the capture of Po River Bridge, Alhaji Kromah'agents – Mocktar Sherif, Mohammed Domouyah, Seku Dorley, Jomandy Kamara, etc., infiltrated the fighting men. They moved in swiftly to the Executive Mansion introduced and installed Mocktar Sherif and Mohamed Domouya as the sole representatives of ULIMO in Liberia, thanks to inside connections and manipulations.
Immediately thereafter, on November 27, 1992, at Tubmanburg, Bomi County, Mocktar Sherif, flanked by Mohamed Domouya and company, announced the removal or over-throw of the elected chairman and his corps of administrators then still in Free Town, Sierra Leone. Mr. Sherif further announced, on behalf of ULIMO High Military Command, the "appointment" of Alhaji Kromah not only as Chairman, but also as "Supreme Commander of ULIMO Forces". This action, clearly a military coup d'etat, began the process of militarization of ULIMO; it also began the contradiction of ULIMO policy and, indeed, the very name of the Movement by the imposition of a military dictatorship. Alhaji G. V. Kromah moved immediately and named himself a Major-General. Now, he is Lieutenant-General, Supreme Commander of ULIMO Forces and National Chairman of the ULIMO Movement, all positions held by and in one person. This action completed not only militarization of ULIMO, but also dictatorship of the Movement and a philosophical departure from or abandonment of ULIMO's original policy of liberation.
 It is no wonder, then, that the Peace Process has gone the way it went with power-seekers by the gun. Mr. Charles Taylor (NPFL) and the Alhaji, G. V. Kromah (MRM, ULIMO-K), constituting about two-thirds of the "negotiated" or "accommodated" LNTG? The ULIMO that was organized by a broadly-based, Liberia partisan-refugees – Krahns, Mandingoes, Lomas, Krus, Greboes,  Gios, etc. – is, now, not the ULIMO "under and led" by Alhaji G. V. Kromah, Lt. General/Supreme Commander/Chairman. This brings us to the present, deadly "ULIMO ETHNIC FEUD".
The Internal Conflict
When Dr. El Mohamed Sherif, a Mandingo and direct, ULIMO-K appointee to the nation's interim Council of State, failed to win election as Chairman of the Council, hell broke out in ULIMO and the nation. Because of this development, "Lt. General" Alhaji G. V. Kromah, also a Mandingo, "Supreme Commander" of ULIMO Forces (ULIMO-K), "Chairman" of the ULIMO Movement, took three crucial actions:
First, "General" Alhaji G. V. Kromah announced the removal/replacement of Honorable Thomas Ziah, a Krahn, not only as an elected member of the Council of State, but also, a duly, elected Vice Chairman, an officer of a national body having presidential powers and authority.  Moreover, it is important to note and recall that Honorable Ziah was one of three eminent Liberians nominated for selection to the Council of State. With Counselor David Kpomakpor, Honorable Ziah was elected to Council out of nine (9) nominees at the Cotonou (Benin) Conference of all parties (government of Liberia, the Rebel NPFL and Warring Factions) to the Liberian conflict. It is also important to note and recall that, subsequently in Monrovia, the five-member Council of State elected Honorable Ziah as Vice Chairman of the Council in an open, free, fair and competitive election.
Second, without consultation/coordination with and confirmation by the "Military High Command of ULIMO", "General" AlhaJi G. V. Kromah, unilaterally, nominated candidates for appointment (they were appointed) to cabinet, Council and related positions in government, allocated to ULIMO. Protests against these appointments were made and submitted to the chairpersons of ECOWAS, OAU AND LNTG.
And Third, "General" Alhaji G. V. Kromah ordered that all Krahn and non-Mandingo members of ULIMO be disarmed by his Mandingo loyalists because, he claims, that their Krahn compatriot, Honorable Ziah, must be held responsible for the defeat of El Moamed Shrif for chairman of the Council of State. Since these actions were taken, Mandingoes in ULIMO have been engaged in carrying out unprovoked, indiscriminate, armed attacks and murder upon ethnic Krahns and non-Madingoes in ULIMO. Escaped, eyewitnesses report that armed bands of Mandingo fighters are roaming the Vai/Gola towns, villages and diamond mining camps and bushes in Grand Cape Mount and Bomi Counties, searching for Krahns and non-Mandingoes for elimination. Summary executions and acts of genocide against unsuspecting, unarmed and defenseless Krahns, including innocent women and children were undertaken simply because of their ethnic origin.
These cruel acts of murder, banditry, destruction and human suffering planned and committed against Krahns and non-Mandingoes in ULIMO by Mandingo fighters constituted the reasonable basis for defensive response after some forty-five days of several failed attempts at a ceasefire and reconciliation.  Perhaps, one of the most revealing of the "Krahn-Mandingo" ULIMO Feud was the BBC interview on FOCUS with "General" Domouyah, General Alhaji G.V. Kromah's "Field Commander" at Tubmanburg. On that program, a Mandingo area Commander stated that Mandingoes planned the eventual elimination of Krahns from ULIMO. For this reason, he said, that he replaced all Krahn fighters in strategic positions under his command with Mandingo fighters; he sent the Krahns "to my farm where they are as my slaves". This statement or revelation is as profound as it provides an insight into the Mandingo onslaught.
Given these conditions, it became the compelling duty and right of the Krahn and other non-Mandingo groups to defend their pride, manhood, integrity and humanity. It has become a matter of life and death; anarchy, injustice and suspicion or peaceful co-existence and justice.  In 1990, almost an overwhelming majority of the Liberian people rejoiced, danced and marched in the streets of Monrovia to the chant "Charlie come, Charlie come" because (Charlie's) NPFL was coming to "kill all the Krahn people". Today, history appears to repeat itself in western Liberia, but no one seems to care. Similarly, the southeast – Maryland, Grand Kru, Sinoe and Grand Gedeh Counties – has been under military occupation by the NPFL with most of the inhabitants dead, hiding in the bushes or in refugee camps in La Cote d'Ivoire and other, neighboring countries.
Between Grand Kru and Sinoe Counties, there are three undeclared and declared, presidential candidates, but we have heard nothing from these eminent Liberian politicians on the plight of the Southeast. On the issue of "bureaucratic positions" (in government), please note that "General" Alhaji G. V. Kromah unilaterally nominated candidates for appointment to positions allotted to ULIMO only on the basis of loyalty to him (Kromah), excluding other, major elements in the ULIMO organization. In this connection, the demands made by General Roosevelt Johnson (Commander of the founding group of ULIMO) seeking to include ULIMO loyalists from the Johnson group to fulfill the requirement of the principle of "inclusion" as adopted at Geneva and Cotonou. This principle formed the basis for the organization and establishment of the Liberian National Transitional Government (LNTG), a negotiated government.
The principle (of inclusion) mandates the inclusion of the parties – NPFL & ULIMO – in the LNTG, because it is the discontent of these parties, arising from an apparent inability to secure their vital interests formed the grounds for the continuation of the national conflict. The principle, moreover, provides the political and economic empowerment of the parties necessary to secure and protect the vital socio-economic and political interests of their members.  Empowerment, as a major objective of inclusion, compensates, as well as provides guarantee for complete, comprehensive disarmament which will lead to democratic elections and the final resolution of the national conflict, as provided by the Accords or agreements.
Procedural arguments advanced against inclusion cannot stand and must give way in the face of the compelling, supreme national objective of disarmament, peace, free, fair elections and reconciliation.    
Observations and Conclusions  
The foregoing, deadly activities complete the division of ULIMO into two groups – ULIMO-J (the original movement) and "ULIMO-K (MRM, Alhaji G. V. Kromah).
We are concerned that the tough-talking, arrogant Alhaji G. V. Kromah may be distorting or has distorted the distinction between Mandingo Ethnicity and Islam; that he, also, may have beclouded the minds of unsuspecting, less-informed, true believers by his martial rhetoric subtly disguised in, but apparently grounded on Islamic, political violence. The little that we know about Islam, however, indicates that Islam abhors violence, particularly, the taking of innocent, human life, let alone the lives of thousands of unarmed, innocent men, women and children. We are concerned, also, that Alhaji G. V. Kromah may have sought and gained a platform or constituency in ULIMO from which to launch his brand of Islamic fundamentalism in Liberia by force of arms.
While we have no problem with the Religion – any religion – we are not persuaded nor convinced of religion in politics. Being a very personal matter, we believe that religion should and must be kept in churches, mosques, synagogues and temples, consistent, indeed, with the doctrine of "separation of church (mosques, etc.) and state". The Alhaji's MRM position Statement appeared to be a call to arms "against the infidels", in the classic, Islamic tradition.
It is clear that Alhaji G. V. Kromah is responsible for the rift in ULIMO, its devastating consequences and must be held accountable for the enormous human right violations committed by his "ULIMO-K" faction. It is also, now, clear that the Alhaji lacks the capability, desire and interest to manage and unify the ethnic diversity in ULIMO; he did not, does not enjoy the trust and confidence of all Mandingoes, Krahns and others in ULIMO.
And finally, Alhaji G. V. Kromah has become dictatorial and polarized ULIMO's ethnic/tribal groups by his overly aggressive, political ambition to the extent that he attempted, but failed, to reverse ULIMO policy objective of Liberation to Political Power by force of arms, thereby, reducing the Liberation Movement to the category of a "rebel faction". In this connection, Alhaji G. V. Kromah has become, in fact became, reasonably, a threat to peace, security, stability and democracy not only in Liberia, but also in the sub-region.

---
---