Xenophobia in South Africa: A Recipe for Continental Disunity
By Martin K. N. Kollie
Monrovia, Liberia
People gather to listen to Zulu King
Photo: Courtesy of AFP
Africa is sitting on a time-bomb that may soon explode if all of us remain reticent and reluctant about finding a permanent resolution to the ongoing hostility, cruelty, and brutality in South Africa. As Africa gradually moves towards the compass of globalization and modernization, the spirit of continental solidarity and regional harmony is becoming extinct simply because a certain group of nationals has embarked on a callous expedition of disintegration. The seed of discrimination, division, and repression is germinating very fast from the innermost cities in Southern Africa as violence and atrocious attacks against innocent immigrants and foreigners intensify. It is a serious disappointment for our continent to host another gloomy occurrence that poses irreversible threat to peace, security, and stability in Africa. The prevailing intolerance in South Africa is costly and detrimental to our destiny as a continent and it must provoke all of us, especially key stakeholders to derive an urgent remedy to this horrendous quagmire.
We cannot afford to live on a continent where South Africans are cutting off the necks of Nigerians. We cannot live in an Africa where South Africans are burning Zimbabwean immigrants to death. We cannot cultivate a new Africa of mutuality and brotherhood when the properties of foreigners in South Africa are being vandalized and looted by muggers and assailants. It is totally unfair for Malawians and Mozambiqueans to be harassed and persecuted by Zulu men even though they are neighbors. The greatest form of discrimination in human history is for a Zulu King, Goodwill Zwelithini to instruct all foreigners to pack their bags and go home because they are taking jobs from his citizens. Is this the kind of Africa our forefathers fought for during their time? Is this the Africa Nelson Mandela, Kwame Nkrumah, Robert Mugabe, Kenneth Kaunda, Amilcar Cabral, Sekou Toure, Samora Machel, Thomas Sankara, and others envisaged? Of course, not!
A divisive Africa will only exacerbate our existing predicaments and relegate us to a shameful status of extreme poverty and mockery. An Africa of vandalism is not an option and must never be during our lifetime. A xenophobic Africa is a recipe for endless hostility and gangsterism. The continent has had enough of traumatizing situations and it makes no sense for its inhabitants to begin another poisonous war. Why other continents are making genuine progress in all sectors of life, Africa still lies in shambles and shackles. The solution to joblessness in South Africa is not to excommunicate foreigners and immigrants. It goes beyond just asking non-South Africans to pack their bags and leave. The socio-economic disparity will even worsen if foreigners evacuate. Why must Nigerians, Malawians, Zimbabweans, Mozambiqueans, and other nationals be held responsible for unemployment in South Africa when they are operating in conformity with the laws of South Africa? 
I think South Africans worldwide have a national duty to demand socio-economic change from their government, instead of transferring their misery and frustration on peaceful foreign inhabitants who have done nothing wrong.  The need for all South Africans to access equal opportunities is a fundamental right that must be pursued without harassing and discriminating against other Africans. The days of reducing dissatisfaction into brutality and bloodletting are gone and South Africans must redefine their struggle in this time and age. The struggle in South Africa yesterday is different from today. The struggle yesterday was to liberate Black South Africans from a regime of oppression, segregation, and despotism. The case of political censorship and enslavement is no more as democratic inclusion remains in tight. After 48 years of white dominance, blacks can now assemble to decide their destiny.
The best way to finding solution to unemployment in South Africa is for the government to promote local interest over foreign control. The government of South Africa must invest more resources to empower its citizens in all disciplines. The implementation of basic socio-economic policies and public programs is crucial to mitigating insecurity, indiscipline, and public discontent. The macro-economic policy of South Africa needs to practically reflect a masses-driven identity. What impact is the Growth, Employment and Redistribution (GEAR) plan making on ordinary South Africans living in slum communities? The Reconstruction and Development Programme (RDP) needs to be strengthened in order to speedily address competing economic priorities. 
I am wondering whether this is the South Africa we knew few years ago especially during the lifetime of Nelson Mandela. It is too soon for South Africans to forget their past as a nation. History is meant to re-examine our present by using our past as a mirror. When vast majority of South Africans were compelled to succumb to a cruel system of racial segregation enforced through legislation by a brutal regime from 1948 to 1994, the entire Africa stood up and championed a common cause to ensure black inhabitants were unchained from repression and isolation. When the inalienable rights of the majority were curtailed by a minority class (Afrikaners) in South Africa, friendly nations in Africa acted with one voice to unshackle their brothers and sisters from decades of injustice and inequality. The determination of all nations to put an end to racial segregation in South Africa and beyond was uncompromising as African Solidarity took center stage. Nigeria, Zimbabwe, Malawi, Angola, Mozambique, Liberia, and other countries could not sit to witness the genocide of black comrades who were fighting to gain self-autonomy.
Nelson Mandela, Walter Sissulu, Oliver Tambo, and other men of valor did not achieve a new South Africa of inclusion alone. The struggle to ensure a South Africa of freedom and equality was won through African Unity and Harmony.  A multi-racial South Africa was fought for by progressive forces from different regions. South Africans today must understand that foreign nationals soldiered on with them to end a longstanding journey of oppression. I know Nelson Mandela and other freedom fighters are restless in their tombs today because of the increasing intolerance South Africans are embracing. Freedom Fighters Mandela, Oliver Tambo, Walter Sissulu, and other outstanding revolutionaries did not sacrifice their life, time, and energy to build a nation of xenophobia. They never envisioned a xenophobic South Africa. After 20 years of majority rule under the democratic supervision of the African National Congress (ANC), some South Africans are expediting a ruthless campaign of hatred, division, disunity, and discrimination. The anarchic action of some citizens to persecute immigrants and foreigners is unjustifiable and unacceptable especially in this modern age.
Aren't South Africans residing and working freely in other countries in Africa and around the World?  Aren't those countries experiencing unemployment, inequality, and poverty like South Africa? Foreigners and immigrants living in South Africa are not and can never be the problem for joblessness. Therefore, no one must pursue them for a crime they did not commit. The adverse trend some South Africans are taking is putting their country in a tight spot of predicament. This pitiless crusade is causing serious embarrassment for South Africa. It is a big disgrace for a brother to kill his own brother. Why must an African burn another African to death? This is wickedness to the highest degree!  It is time for African Heads of States to promptly arrest this situation before it gets too later. The African Union must intervene immediately in order to avoid continental chaos.
The major challenge facing Africa right now is hatred.  If only we (Africans) can begin to demonstrate a true sense of brotherhood through deeds, our continent will rise above darkness to a pinnacle of paradise. We have all it takes to make our lives better by ensuring unlimited access to socio-economic opportunities for all, but our greatest obstacle has been unpatriotism. Africa is endowed with variety of natural resources, but it remains the world's poorest and most underdeveloped continent. Corruption, nepotism, poverty, and patronage are increasing public anger and violence in Africa as vast majority of State actors embellish themselves in greed and deception. The most unique way to create more jobs in Africa is to localize the economy and invest more resources to build a strong middle class.  The dark age of Africa must be discouraged from resurfacing; otherwise, we stand to risk a lot.
Our comrades in South Africa have greatly surprised us by instigating a nasty campaign they once fought against. If segregation was wrong yesterday, it is also wrong today. If discrimination was unacceptable yesterday, it must also be unacceptable today. If injustice was a bad precedence during the era of Apartheid, it is also a bad precedence during a multi-racial South Africa.   The revolutionary legacy of Black South Africans is being questioned momentarily by those who believe in a free and just society. If all Africans become xenophobic, there would be no space for anyone to exist. In fact, the will be no continent call Africa. Xenophobia in South Africa is becoming a common way of expressing public disenchantment.  
Historically, xenophobia is not a strange phenomenon to South Africa. Between 1984 to 1993, there were attacks against Mozambican and Congolese immigrants seeking refuge in South Africa. These immigrants were denied access to economic resources, primary health care, and other social entitlements.  According to a 2004 study published by the Southern African Migration Project (SAMP), xenophobia in South Africa is perceived to have significantly increased after the installation of a democratic government in 1994. 21% of South Africans were in favor of placing a complete ban on entry by foreigners and 64% were in favor of strict limitations on the numbers of foreigners allowed. According to a 1998 Human Rights Watch report, immigrants from Malawi, Zimbabwe and Mozambique living in Alexandra township were physically assaulted over a period of several weeks in January 1995, as armed gangs identified suspected undocumented migrants and marched them to the police station in an attempt to 'clean' the township of foreigners. The campaign, known as "Buyelekhaya" (go back home), blamed foreigners for crime, unemployment and sexual attacks
In September 1998, a Mozambican and two Senegalese were thrown out of a train. The assault was carried out by a group returning from a rally that blamed foreigners for unemployment, crime and spreading AIDS. In 2000, seven foreigners were killed on the Cape Flats over a five-week period in what police described as xenophobic murders possibly motivated by the fear that outsiders would claim property belonging to locals. In October 2001, residents of the Zandspruit informal settlement gave Zimbabweans 10 days to leave the area. When the foreigners failed to leave voluntarily, they were forcefully evicted and their shacks were burned down and looted. Community members said they were angry that Zimbabweans were employed while locals remained jobless.

In the last week of 2005 and first week of 2006, at least four people, including two Zimbabweans, died in the Olievenhoutbosch settlement after foreigners were blamed for the death of a local man. Shacks belonging to foreigners were set alight and locals demanded that police remove all immigrants from the area. In August 2006, Somali refugees appealed for protection after 21 Somali traders were killed in July of that year and 26 more in August. The immigrants believed the murders to be motivated by xenophobia, although police rejected the assertion of a concerted campaign to drive Somali traders out of townships in the Western Cape. Attacks on foreign nationals increased noticeably in late 2007 and it is believed that there were at least a dozen attacks between January and May 2008. The most severe incidents occurred on 8 January 2008 when two Somali shop owners were murdered in the Eastern Cape towns of Jeffreys Bay and East London and in March 2008 when seven people were killed including Zimbabweans, Pakistanis and a Somali after their shops and shacks were set alight in Atteridgeville near Pretoria.
On 30 May 2013, 25-year-old Abdi Nasir Mahmoud Good, was stoned to death. The violence was captured on a mobile phone and shared on the Internet. Three Somali shopkeepers had been killed in June 2013 and the Somali government requested the South African authorities to do more to protect their nationals. On 7 June 2014, a Somali national, in his 50s, was reportedly stoned to death and two others were seriously injured when the angry mob of locals attacked their shop. In April 2015, there was an upsurge in xenophobic attacks throughout the country. Armed locals attacked immigrants in general, including Pakistani and Bangladeshi shopkeepers. As of April 19, at least six people have been killed in the attacks.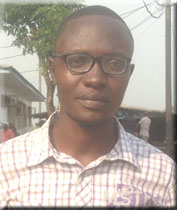 With these frequent attacks against foreign nationals by South Africans, I am wondering where does the African Continent stand. I thought South Africa should be a shinning emblem of tolerance in Africa. Sadly, some of the world's deadliest human rights violations of recent can be attributed to South Africa. Xenophobia is the same as racism!! If you were against racism yesterday, you must also be against xenophobia today. The government of South Africa has a responsibility to discontinue xenophobia and reunite all inhabitants of South Africa. The most appropriate remedy to this nightmare is for the government to create more jobs for its citizens and promote local dominance through investment and transparency.

The carnage in South Africa has to stop now. Africa must unite by defeating XENOPHOBIA and defending Pan-Africanism. Unity in Africa is crucial to ensuring a prosperous continent.

---
About The Author: Martin K. N. Kollie is a Liberian youth activist, student leader, an emerging economist, and a young writer. He is currently a student at the University of Liberia reading Economics and a member of the Student Unification Party (SUP). His passion is to ensure a new Liberia of socio-economic equality and justice for ALL. He can be reached at: martinkerkula1989@yahoo.com
---