Lousy Minister Brown's Sleeping Giant is Still Sleeping


By James Torh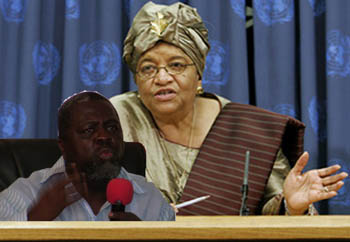 Minister Brown and President Sirleaf
I am not crazy about Lewis Brown, the current Minister of Information of the Ministry of Information, Cultural Affairs and Tourism. He is empty and lousy dudu bird. I had rather share a beer with Cletus Sieh or glass of red wine with Lawrence Bropleh, the past Ministers of the Ministry under this Government who he (Brown) has vilified and mocked than with Mr. Brown. This one-time self-styled superhero under the Taylor's brutal regime strikes me as a guy with little sense of humor and even shockingly boring, uninspiring and comically lousy with hollow and meaningless talk. He is like a mouse that roared and you have got to admire him because he's able to lie with perfectly straight face.

The sheer animosity of many of our colleagues including some political gossip mongers and employees of the Ministry of Information amazes me. They genuinely found him as arrogant and self-center and indeed fear and loathe him. One of them unblushing compares him with his ''god father'' Charles Taylor-style and sees him as cruel opportunist who lacks emotional intelligence.'' I wince and look the other way whenever the jerk decides to talk'', the employee declared.

He is caught in the time warp of changing and transforming the sleeping giant (the Ministry of Information) to wakeful and alert unicorn. Since his ascendency as Minister of that great entity, he sits behind microphones bang, rant, shout, yell and scream on top of his voice  and extorts us to rhetorical clichés or heights and indeed does not comprehend in the slightest reality the functions and activities of the Ministry of Information.

After his appointment and ascendancy as Minister of Information from the shelter of horrible and rotten political group called ''Democratic Alliance'' where he took refuge and vilified President Sirleaf of desecrating the Liberian Presidency-when he was engineering a solid comeback in government, he descended and made slobbery claim before the Liberian senate during his confirmation hearing that the Ministry of Information was a ''sleeping giant'' and promising a new dawn with cheers and applause and that he was going in to reawake the Ministry and put life into it. But on this front as we religiously followed him and reflect, he is pathetic and chillingly indifferent or outright dismissive. There's a name for people with that sort of personality-though it is usually used in the context of mass propagandists.

The Minister of Information of any country is, not just a job. It is an honor-a very real distinction that carries a special merit and marks the individual who has reached that height with special status. He or she launch, interprets and articulate government's politics, programs and policies to the public or citizenry. That's why portraits of past Ministers of that entity are created and hung, and why they live on in paint and frame for future admiration and regard.

We are all disgusted and ashamed that the New Liberian newspaper, the Government of Liberia owned newspaper is dead, has gone down the drain and witnessing the disappearance of the Paper on the news stand under Brown's leadership. Yet he has resorted to writing commentaries and circulating same to local media houses. Brown maybe needs to be told or reminded of his so-called reform agenda that he promised so he can wipe the drool off his chin and have another nap. His incompetence should not be forgotten and been deemed unsuitable for this job.   

The Liberia News Agency (LINA) should be decentralized with assigned journalist filing in reports from various counties on activities and development programs of government. That could be one of the traveling salvation medicine show for the effective function of the Ministry after your confirmation.

It boggles the mind and more shameful to know that the Cultural and Tourism attachment to the Ministry are just bad news. No program on the two entities side of the ledger. Look around and see the beautiful beaches, waterfalls, rain forest, wildlife, etc. we have in the country.  What are his core conviction and aspiration for this job? He has exploded his own credentials, if there are any.

The promise to remodel the Ministry from ''sleeping Giant'', to seek transformation in the tone and substance of public life as mouth piece of government, is seen now, as empty. There are now questions about his effectiveness.   Nowadays, no government entity can place advertisements in the local dailies without the entity going through Brown.  Is this the reform he promised to the Liberian people?   

This is a man who has repeatedly demonstrated his ignorance of association and history and who has had time during his tenure in Liberia's highest office as Minister of Security, a predominant-politico celebrity figure in the heyday of Taylor reign.  This is the man who supported Taylor's terror machine, when he was pounding the hell out of Liberians (like shooting fish in the barrel), that slaughtered more than 250,000 people. Strange world we live in! 
Related Articles
Liberia: "One baby, One Car Government"
Free Speech And Expression Are Basic Rights Guaranteed...
---