Liberians Forced to Sell Land: A Serious Recipe for Future Uncertainty
By: J. Nhinson Williams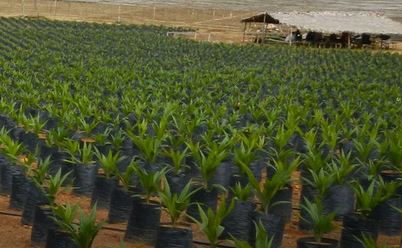 Oil Palm Companies, Preesident Sirleaf, Gol Officials Harass Poor Communities To Give Away Their Brokerage Rights (Land)
It was recently reported in the BBC News that Liberian communities are being pressured, or forced, to sell their land to make way for palm oil plantations. Global Witness, an organization existing to expose corruption and environmental abuse, has reported extensively on this issue. We have also heard directly from affected Liberian victims.
In a recent item Global Witness reported on the abusive treatment endured by Liberians when they take a stand against the Golden Veroleum, one of the world's largest palm oil plantations. To make matters worse it appears that state officials are said to be helping Golden Veroleum (GVL) intimidate and threaten communities until they sign over their land. The sad truth is the national royalties from these concessions only benefit a few people (about 0.1% of the country's 4 million population) in the Liberian government and their cronies through organized corruption and public theft. What is also very troubling about these practices are the repeated erroneous judgements and historical dumbness with which the political leadership and its few Liberian economic beneficiaries of these shady concession deals harbored. For example, Firestone went to Liberia and bought 1 mm acres of land at 6 cent an acre in 1926 to plant and export rubber used to make tires for western vehicles and other products. In an era of fair trade 90 years later, Liberia and President Sirleaf's administration are making the same mistakes that impoverished our people in perpetuity. The mistakes made in the Firestone and other past deals were made by Liberian leaders who thought and acted the same exact way the leadership of the current Liberian government thinks and acts. And sadly, some foster descendants of those who made those bad deals for Liberia in 1926 and forward are also part of the current process.
What we know is that during the 2014 Ebola breakout GVL accelerated their efforts, taking advantage of poor citizens while they were preoccupied trying to stop the spread of the deadly disease. GVL's plantation nearly doubled in size during this period. There are several questions that come to mind in view of such criminal practice: How does GVL expect future patriotic Liberians, or Liberian administrations to honor such deals when they are criminal in nature? Does GVL expects a peaceful business atmosphere when it terrorizes, abuses and enslaves the communities in which it operates? Is GVL a legitimate business or just another vast international criminal enterprise out to exploit Liberia's resources and its citizens in conjunction with rogue officials?
The promises made by not only GVL but also the Liberian government have not been kept; evidence of the benefits offered cannot be found. More troublesome is that the current government's development strategy is centered on agriculture and its repeated assurances that the palm oil transaction would lift communities out of poverty have so far remained unfulfilled. What has been consistent is the bullying and pressuring of communities to effectively hand over their land. The Liberian President has gone so far as to call those who speak out against GVL as 'unpatriotic". Really!!!
Since Liberia's devastating civil war many land deals were made with the government's blessings but without the consent of the people who lived on the land. Rather than alleviating poverty, as the government promised, these deals appear to have made situations worse for individuals and communities. Many communities complain that food is scarcer than before and fertilizers have polluted fishing ponds and drinking water; residents have been displaced and sacred sites have been destroyed. This is not only a threat to food security; it is also a very serious threat to human survival in Liberia. Yet, when the victims complain their president call them unpatriotic. Really!!!!
Liberia needs to employ its rule of law to assure communities and residents are not being taken advantage of. It needs to make certain that it's elected officials, national and local, put all Liberians first and not the large corporations and to make sure that it investigates all acts of violence and intimidation. Where the appropriate law does not exist, one must be passed. We need to make sure that Liberians and their communities are protected and receive the just rewards for any deal they are a part of.
Lastly, we believe frequently calling for austerity without opposing open-ended exploitation is unthinkable. We therefore urge the International Monetary Fund (IMF), The World Bank Group and all western nations that frequently blame victims in Africa and successive African administrations for underdevelopment to step up and oppose these types of criminal exploitation of the continent's resources because this is exactly why Africa is under-developed, always in debt, and poor. The IMF and the World Bank should not sleep when Liberian resources are being exploited only to wake up later and call for austerity when the country and its people find themselves with a struggling economy.
________________________________________________________________________
Jones Nhinson Williams is President & CEO of the New Liberia Foundation, an organization dedicated to improving the lives of all Liberians and to make Liberia a better place to live, work and invest.
---