My LAMCO Buchanan Experience
(Liberian American/Swedish Mining Company)

By Siahyonkron Nyanseor
I graduated from Laboratory High (Lab High) in 1966. I did not attend college in Liberia due to the injury I sustained to my left eye on March 15, 1963 (President Joseph Jenkins Roberts' birthday holiday). In the latter part of 1966, the Liberian American/Swedish Mining Company (LAMCO JV) published an ad in one of the local newspapers seeking candidates to undergo nine months intensive training in the areas of Ore Handling and Pelletizing Plants Operations in Nimba County. The training was for the Ore Handling and Pelletizing Plants in Lower Buchanan, Grand Bassa County. Examination was administered in Monrovia; I was among those that passed the exam, and was selected to attend the training in Grassfield, Nimba County that year. The institute was called LAMCO Vocational Training School (LVTS); it was located in Grassfield, Nimba County. There was another technical institute located in Yekepa named Vocational Training Center (VTC). This institute was similar to Booker Washington Institute (BWI) in Kakata, Liberia.
For some time, I thought on writing about the experiences Liberian employees had in LAMCO Buchanan, but for some reason I never got to doing it until I watched the program aired about the Firestone Plantations operations in Marshall, Liberia. The program motivated me to tell my LAMCO Buchanan story.
We were about one hundred and fifty that took the LAMCO exam in Monrovia, and only sixty-five of us passed and were recruited to participate in the program in Grassfield, Nimba County. After six weeks of intensive training, the number was reduced to 57, which was LVTS Campus, Grassfield, Nimba County – Courtesy of Dr. J. Gbaba     divided into four working groups.
The groups consisted of the following disciplines: Electrical, Mechanical (Ore Handling/Pelletizing Control Operations), Pluming and Welding Technology. I was placed in the Mechanical (Ore Handling/Pelletizing Control) along with Jacob "Jake" Willis.


My Personal Experience
Right out of high school (Lab
High), Laboratory High which later became Tubman High; I enrolled at the LAMCO Vocational Training School (LVTS). That was my first time living outside of Monrovia. I was nineteen years of age!
Photo from my archive - I am 5th from the right in the back roll
LVTS taught mechanical technology, welding, electricity, Iron Ore Handling Plant Operations, and many other technical skills. After the nine-month intensive training, we graduated, and we were assigned to LAMCO Buchanan, Grand Bassa County. Our group was part of the "Liberianization scheme", whereby we were to replace gradually the European/American expatriate employees. I was assigned along with my classmate Jacob H. Willis III (now residing in Minnesota, USA) to "Station 8" Ore Handling Control Room as Control Room Operations Technician I.
LAMCO '65
While in Nimba, I played on the LAMCO Vocational Training Center (LVTC) – Grassfield team, and LAMCO 65, an All-Stars team that consisted of players from schools within the concession, i.e., Area E School, VTC and LVTS. The League was organized by the sports director Steve Daniels. There were four of us who were selected from LVTS: Lee Davis, Hilary Harmon (goalkeeper), John Kiazolu Diggs and myself. My soccer name then was Cha, Cha. I earned the name due to my ball handling and defense skill.
Prior to taking up my assignment at Station 8, there were two expatriate Control Room Operations Engineers assigned on each shift and two alternating Liberian Operations Engineers; they were Lance Dillon and Charles Kellens.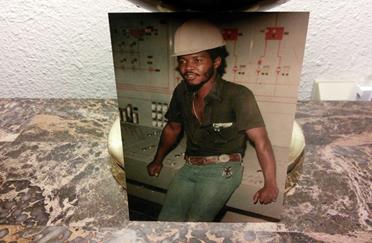 Ralph Kofi Wollo, Sr. in the Control Room of the Pelletizing Plant with the ocean in the background
However, when the all Liberians crew took over the operations of the Control Room, amenities such as the drinking water cooler, icebox (refrigerator), toilet facility (portable toilet), etc. were removed from the station. We had to call for relieve, to get a drink of water and use the toilet.
When I left LAMCO in December 1968 to come to the United States, I was earning 40 cents per hour, whereas the expatriates that we replaced, were making somewhere in the neighborhood of $2,500.00 to $3,000.00 US dollars per month; in addition, their benefits package included, one-month paid vacation for they and their families to go to their country of origin; free housing in the company's residential area, which included healthcare benefits, company supermarket, private school for their children, mess hall, recreational privileges, etc. The benefits provided for Liberian workers were substandard, at best, inferior.
The Liberian management's justification for paying Liberian workers such low wages was one of the STUPIDEST REASON I ever heard. "You are young people; your need to work a while longer to be able to earn higher wages". One human resources manager told this to me. I was almost 20 years of age. Equal work for equal pay was never the case. Can you imagine what I could have done with my money? I could have helped in the development of the country.  But these same human resources managers when presented with "Green Letter" out of Monrovia, they would bend the rules for the "Green Letter" presenter; creates a position with high salary for him/her. In almost all cases, individuals with the "Green Letter" from Monrovia were guaranteed jobs with high salaries than trained Liberian workers. These "Green Letter" presenters' salaries were comparable to the European/American expatriate workers.
The employment system practiced by LAMCO's Liberian management was not based on merit system; as such some of us had to make future plans. My plan included traveling aboard to further my studies. When my plan was finalized; my airline ticket (Pan American) purchased, and I got my visa to travel to the United States; I came up with a strike plan. I told my 'Station 8' co-workers for us to go on strike for higher wages. They had no idea of my travel plan; only one person, Jake Willis agreed for us to go on strike.  We telephoned management of our plan to go on strike because we were being paid less than our counterparts performing similar tasks at other mining companies; we cited Bong Mining Company as the example. We planned the strike at a time when there were several iron ore ships at sea waiting to be loaded, and without the two of us, it meant our co-workers had to overworked - twelve hours shift, and management had to pay the overtime. This was in December 1968.
Earlier that week, Monday or Tuesday we were asked to report to the head office to meet with Personnel in the Human Resources Department. At the meeting, we were lectured on how LAMCO had trained us, and that we were making a bad mistake if we went ahead with our strike plan; when we insisted on striking, management came up with a proposal to increase our wages from 40 cents to 65 cents; an increased by 25 cents. We left the meeting with the promise to give them our answer by Thursday. On December 24, 1968 I left Liberia for the United States. On Monday the following week, my fiancée delivered my letter of resignation to Personnel. When Jake Willis heard that I had traveled to United States, he resigned and got employment with Bong Mining Company as a Junior Staff – salary staff member in similar position as in LAMCO.
Growth without Development
The low wages LAMCO and these international corporations paid Liberian workers contributed to the underdevelopment of the country. Sanford J. Ungar, made reference to it in the book titled: Africa, The People and Politics of an Emerging Continent. According to him:
"…[William V.S. Tubman] established an 'Open door policy,' attracting foreign capital to Liberia under unusually favorable conditions.  Investors could obtain eighty-year leases for tracts of undeveloped land, and the flow of profits and dividends out of the country was not restricted.  Machinery imported for industrial use was exempt from customs duty, and other taxes were low. This did little for the improvement of agriculture, and while the policy did have some beneficial effects in the countryside, overall it intensified the contrast between the industrialized coast and the backward Hinterland. In the long run, the open door policy produced what outside analysts (Robert W. Clower et al, Growth Without Development: An Economic Survey, 1966) called 'growth without development'".
Nothing has really changed since that time; similar practices are going on today, even worse than the era of which I am referring.
LAMCO, a Liberian-Swedish American Mining Company was a joint venture company.  The company's Iron Ore Palletizing and Washing Plant were located in Lower Buchanan, Grand Bassa County. The national government that was supposed to represent the interests of the Liberian people demonstrated total disregard for the health of the people and the safety of the environment. In short, they represented their own selfish and shortsighted interests.
For example, prior to the construction of the Palletizing and Washing plants, beaches along the Atlantic Ocean were places that those who lived near the coast took pride in. These beaches were not only used for recreational purposes, they served as a major source of food. Fish which is part of the Liberian diet was drawn from the waters of the Atlantic Ocean. Whatever arrangement or agreement LAMCO and the Liberian government had - unfortunately did not include the protection of the Atlantic Ocean and the environment, nor even the safety and health of the people. LAMCO was given 'carte blanche' to dump the waste from the iron ore into the ocean.
Over time, the Atlantic Ocean became polluted and the natural oceanic environment destroyed. In addition, tons of sands were removed from the shores by LAMCO and the local residents for construction purposes. The adjacent communities suffered from the erosion of the beaches. Perhaps, had studies conducted they would have been able to find out what effect fish consumed from the ocean had on the population; I believe the result would have been very alarming.
My LAMCO experience is similar to what happened in Bomi Hills to which the Liberian people referred to as "Bomi Holes". Bong Mines, South Beach, West Point, Point Four, parts of New Kru Town, and Public Health Pound, commonly referred to as PHP, suffered similar fate. These areas were affected by erosion caused by the removal of sand for construction purposes. Both the government and these companies failed to examine the impact of beach erosion had on the overall environment. Due to the government's failure to put in place plan that would have addressed the effect erosion had on the residents, they could have prevented the destruction of lives and properties in those areas. Currently, there are other major environment issues like deforestation of the tropical rain forest, soil erosion, loss of biodiversity, pollution of rivers from the dumping of iron ore tailings and of coastal waters from oil residue and raw sewage in the country.
There are other public health issues in Liberia, which the government has yet to address. Many of these public health issues are driven by traditional practices and the lack of proper health education in a country where most citizens are either uneducated or undereducated. These issues could be reduced by education and training if there were enough public health nurses and para-nursing support in the country. Two of such issues for example are: the sale of cold drinking water and communal eating. The drinking water used to be dispensed from a bucket, but now it is in plastic bag. That too, is unsanitary!
"No Germs in Africa"
"Everything about the African Cultural tradition isn't good," says A. Flama Kai. There are some good and bad things in our culture that we need to do away with and some that need improving upon.  This reminds me of some of the things we did when we were growing up in Monrovia. Unfortunately, in many homes and households today, these situations still exist. The first is the way and manner "cold drinking water" is sold in the streets of Monrovia. Back then during the summer, "Herenow" boys/girls would sell water, carried in buckets (containers) on the streets for sale. The water was served in a cup. The same cup was used to serve everybody who purchased water. Their method of sanitizing the cup was to have it rinse off in another container to serve the next customer.
Another practice is the Communal Eating - eating from the same bowl with either one's hand or spoon. In the urban community or up country, it was a practice to serve the food for the boys or girls in a big bowl from which 3 to 4 persons ate, either with spoons or with their bare hands. Adults also ate communally.
Back then, we used to say, "There are no germs in Africa". This excuse was made in order when one's "Karla" (a kind of hush puppy) or groundnut fall on the ground, for it to be picked up from the ground, wiped either on your shirt or pants, and then consumed. The communal eating, drinking from the same cup and wiping Karla off after it had fallen on the ground and consumed can create serious health problem. No amount of rinsing the cup and wiping off food that has fallen on the ground will keep the food from containing bacteria. For example, Denise Mann of WebMD says, "Everyone has millions of germs on their hands. Most of the bugs are harmless, but some can cause illnesses such as colds, flu, or diarrhea".
In another article: "When Clean Isn't Clean Enough" written by Roxanne Nelson, she says, "Mom was right when she told you to wash your hands before eating. Hands carry a lot of germs, which can be spread to both you and others. In the medical world, proper hand washing has long been known to be a powerful factor in reducing the spread of infections. However, sometimes good hand washing may not be enough, as a research team recently discovered" (WebMD: Sept. 6, 2000).
While these practices may seem harmless, they were major contributing factors in passing on diseases and other bacteria in Liberia and most developing nations. With proper education, these practices or habits could be broken. It is a matter of LIFE or DEATH.
One would think that with the level of success against common diseases in the past, the Liberian government would develop programs that will yield success. Instead of putting in place policies to address the problems, the government provides very little attention to the acute health care problems in the country. The recent Ebola crisis is a good reminder; still the government is not showing serious concern for the country's health care system and the environment. In many countries in the world, health care is considered a human rights issue while in Liberia it is carelessly considered. 
Honestly, I believe there are two major reasons why policymakers (the president and lawmakers) do not place high premium on health service delivery in the country; they are: 1) the lack of concern for ordinary citizens, and 2) policymakers can afford health trips abroad for themselves and their families.  While this has not helped due to the inattention given to health care, yet when policies were considered, they turned out to be less than adequate and, in most instances, create health hazards for citizens who lived in communities that are poverty-stricken, depressed, and marginalized. This was quite evident during the Tubman era with the 'Government Public Toilet' program that is discussed below.

The Government Toilet Fiasco
In the 1960s, the Tubman Administration embarked on a scheme in the name of development. The Government Toilet Fiasco was a health hazard. During this period, the government built several public toilets facilities. These facilities were commonly referred to as "Government Toilets." These Government Toilets were constructed in urban and poor neighborhoods. Whatever process was conducted in selecting the sites to build these toilets never included the residents of the areas in the planning phase. Moreover, these facilities were supposed to improve the health and living conditions of the residents in these communities; in fact, it did more harm than good. The Government Toilet development scheme was a health hazard. For example, each toilet had a separate area for male and female. However, the toilet was built in such a way that it did not provide privacy for the individual. Each area contained about four stalls without toilet seat covers. And it was not uncommon for four persons to occupy all four stalls sitting side-by- side while several other persons stood in line waiting their turn. Whenever there was a problem caused by a backup in the sewer system, it took forever -- sometimes 3 - 7 days -- to have the problem fixed. During the breakdown period, residents of the community had to put up with the "Pupu" smell (feces smell). To add insults to injury, the water the residents used for cooking and drinking was taken from pumps located outside of the toilets. Due to the proximity of the toilets and the pumps, the water is easily contaminated by germs and bacteria transmitted through the air by flies and other insects that frequented the open stalls.
With all of these unhealthy conditions, the government took pride in portraying the Government Toilets scheme as major development designed to improve the lives of the Liberian people. Nonetheless, the hypocrisy about the whole scheme is that none of these Government Toilets were located in the community where those who made the decisions to have them built resided. Even after 50 years, since the construction of these public toilets, there are reports that these health time bombs still exist in some communities and no attempts have been made to get rid of them.
Recommendations
Over the years, several individuals who once worked in the LAMCO environment contacted lungs related illnesses and eventually died. I suspect some of these deaths could be attributed to the poor environmental conditions they worked in. Some of the individuals that readily come to mind are: my cousin Rodney Togba Davies, Sr., my older brother, A. Wleh (Roberts) Korlah Nyanseor, Charles Wilson, Levi Wilson, Mustapha Kamara, John Kiazolu Diggs, Stanley Swaray, Jacob Bawn, Harmon Johns, Charles Kellens, and more recently, Dennis "Lorma Korlor" Sizi Ford, Sr. who died in Atlanta, Georgia.

The health care delivery system of Liberia can only be improved if the Liberian government realizes that health care is a human rights issue, and address it as such. The government should also allocate higher percentage of its resources in the areas of health education and health care service delivery. In addition, it should include in its policy considerations pre-natal care, adequate nutrition for pre-school age and school- aged children, improve the environment, provide safe drinking water and enact strong legislation to promote comprehensive health care, safe environment and educational programs that would support these initiatives. By so doing, Liberia will be heading in the right direction. The recent Ebola epidemic should serve as a wakeup call.
---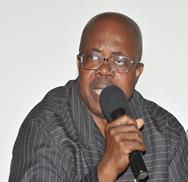 About The Author: Mr. Siahyonkron Nyanseor is a retired Mental Health/Developmental Disability (MH/DD) Clinical Team Leader and QMRP (Qualified Mental Retardation Professional) employed by the Georgia Department of Human Resources - Georgia Regional Hospital at Atlanta. He has over 30 years has experience working as Clinical Instructor, Behavior Specialist and Administrator. Currently, Mr. Nyanseor is the Chair of ULAA Council of Eminent Persons (UCEP), Inc. He is the historian of ULAA; a founding member and the organization's 11th President (1986-1988). Also, Elder Nyanseor is an ordained Minister of theGospel. Also, he is a poet, Griot, journalist, and a cultural and political activist. He can be reached at: siah1947@gmail.com
---