A Final Goodbye to George Sackor, a Liberian Football Legend

By Benedict Nyankun Wisseh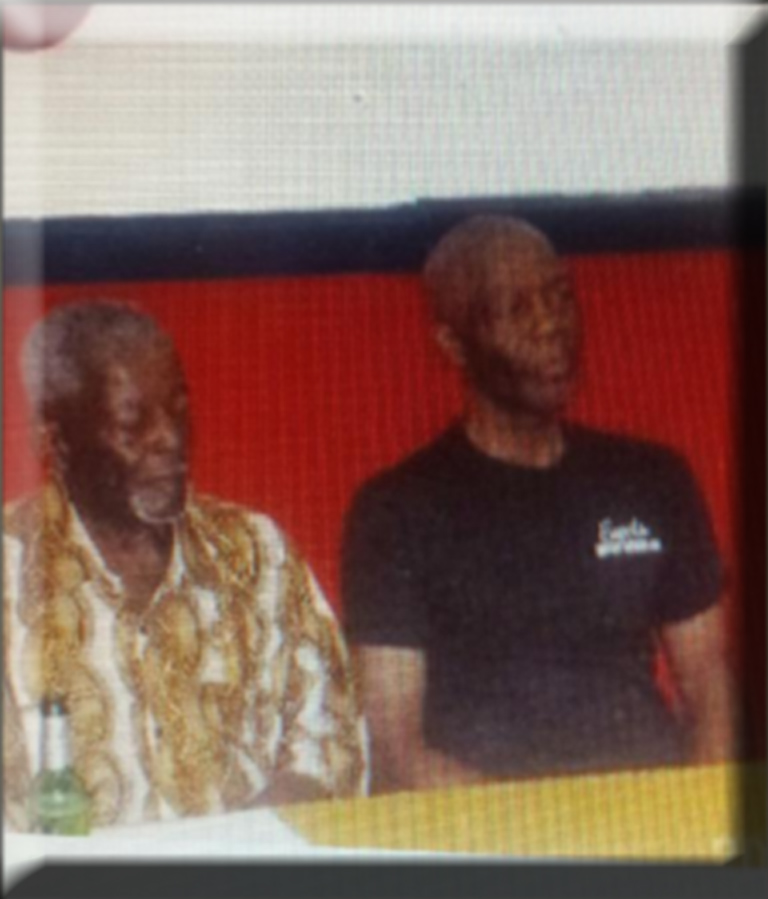 George Sackor (L)
with his
younger brother
Garrestson
"Bulldozer" Sackor
The exceptionalism of a country is constructed by the unique contributions from all its citizens who are blessed with different unique backgrounds that qualified them to make such contributions. Generally, a country demonstrates its appreciation by honoring the citizens in the areas of their contributions. A statute, building, or street that has relevance to the citizen's contribution is constructed and named in honor of the person. In Liberia's recent past, to demonstrate our appreciation as a nation for such contributions, President Sirleaf has used the occasion of her annual message to recognize these individuals. Sadly, this recognition comes to them in death, which is why they are mentioned. So, when George Sackor, a legendary Liberian footballer, died in September 2011, it was assumed by many of us that President Sirleaf would mention the death of Sackor when the time came to deliver her annual message in January 2012. But when the president delivered her speech, Sackor was not mentioned among the names of prominent Liberians she named, all of whom were former government officials. Undoubtedly, this conveys the impression that they are the only Liberians whose contributions to the national life of Liberia make it a great country. This was particularly disappointing because the president and Sackor were once personal friends and high schoolmates at the College of West Africa (CWA).

It is four years this month, October 2015, when Sackor was buried in Newark, New Jersey. But I have decided to pay tribute to him now because the story of his life and death offers a valuable lesson for us to learn from. Mr. Sackor had died at St. Michael's Medical Center, in Newark, New Jersey, where he had apparently gone or taken for medical treatment. But homeless and without any address for the hospital to contact for a survivor, the only option left for the hospital was to bury him anonymously. In the Liberian community, Sackor was known to disappear from the Liberian community for months and reappear for few days. So, when he was not seen for months after his birthday celebration, it was not considered to be unusual. Even anyone who wanted to know his whereabouts could not locate him. He had no cellphone or any other means to contact him. Therefore, as the months went by, apparently after Sackor had gotten sick and died, the Liberian community waited for him to reappear as usual. But, as fortune would have it for Sackor, his family and the Liberian community, Richard Khavkine, a journalist with the Newark Star-Ledger, was able to discover information that linked Sackor to the Liberian community. So, more than a month after he died, Sackor was buried on 29 October 2011.

On Saturday, 29 October 2011, an unusual snow, mixed with light rain and with the determination to hold people hostage in their homes, started falling non-stop in the morning on New York City and New Jersey. On this date, the funeral of George McDonald Sackor, who died on 17 September, aged 75, was taking place in Newark, New Jersey. Despite the atrocious conditions on the ground, created by the snow and rain, hundreds of Liberians parked the Hopewell Baptist Church to pay their last respects to him. Among the audience were former national team goalkeepers Christopher Nippy and George Tarpeh, former Lone Star's Captain Jadeh Williams, former Barrolle's greats Forkay Nepay, Patrick Arthur Dormoh, Blanca Bowman, Jerry Verdier, Charles Verdier, the great singer Anthony Senyon Nagbe and IE and Lone Star's great striker Albert Nah. From Liberia's basketball world were the legends Charles Wordsworth, John Gabbindon, Toyuwa Harris, and Jomo Stubblefield, an accomplished television news cameraman in the District of Columbia area.

Although the weather condition was atrocious, but it was appropriate, for it was reminiscing of the days when Liberians braved the torrential African rains to watch Sacko and his contemporaries play at the Antoinette Tubman Stadium. A majority that came to the funeral did so not because they knew Mr. Sackor personally or saw him play, but because he was a Liberian footballer, their footballer and, therefore, felt obligated to pay their last respects.

Mr. Sackor, who attended the College of West Africa (CWA), began his football career with Youth Leaders in the 1950s. While playing for Youth Leaders, Sackor quickly distinguished himself to witnesses that he was a player with promise to be great in the future. For his age and experience, he displayed an unusually impressive ability to control a football at his feet and a vision to pass it precisely to a teammate. Soon, the young Sackor took his admired football skills to Jets and became the "midfield general" who orchestrated the team's attacks that transformed it into one of the leading teams of that era. But he soon left Jets for Connections, a team that was sponsored by his brother-in- law.

While playing for Connections, Mr. Sackor did not only consolidate his resume as a good footballer, he began to exhibit the maturity and discipline associated with leadership. These qualities did not go without recognition as he was sought and taken away from Connections by IE, where he was later elected captain by his colleagues, one of whom was the great Garretson "Bulldozer" Sackor, his younger brother by one year. But his stay in IE was truncated by yet another move to Barrolle, where he became captain and partnered with Jackson Weah, Tarpeh Roberts, Mass Sarr, Wanibo Toe, Jasper "Jack Domino" Wreh, Arthur Wesseh, Josiah Johnson, Borbor Gaye, John "Monkey" Brown, and Charles Woeful as teammates, to the chagrin of his brother and IE fans. Mr. Sackor played for Barrolle until he came to America in 1971.

As a football fan, I never saw Mr. Sackor play, nor did I know him. However, I knew about him and his footballing brilliance from stories told to me by other football fans that saw him play. As a player, those who saw him play spoke of him as a footballer who intellectualized how a midfielder played. Others have contended that he represented the themes of a blue collar footballer. Better yet, some have also described him as the type of footballer who, in the service of Liberia, rolled up his sleeves, asked no questions about monetary compensations and played every game, giving an honest laboring man's effort. These different descriptions of Sackor, although unglamorous, portray a simple, humble and an uncomplicated man who bore the struggle and travails of a lifetime with admirably unselfish dedication to Liberia.

All these characteristics were promptly visible in my first opportunity when I met him. I was introduced to him in 1990 by Forkay Nepay, a former player of Barrolle, after a football game in Newark, New Jersey. I told him how honored I was to have met him. I told him that everyone I have talked to about Liberian footballers of the 1960s has referred to him as a "skillful" player. He simply responded that "ah, they say I used to play good? As we carried on the conversation, he continuously struck me with a modesty that is very unusual in athletes. The usual selfishness that drives athletes to focus on themselves in conversations about their performances in their sports did not exist in Sackor's comments. He genuinely preferred to talk about how great other players were than to talk about himself. He talked admirably of Gladstone Ofori, Wanibo Toe, Tarpeh Roberts, David Momo and his brother. This meeting commenced a friendship with him as he and Charles Wordsworth became my primary sources for information that I have used in my writings about Liberian football players of his generation.

The last time I saw Sackor was on a Saturday's night in May 2011. On this night, the sky was coloured with black and white, but it was cleared for one to see bats and airplanes with flashing lights fly by, interrupting conversations on the ground with thunderous noise as they got prepared to land at nearby Newark International Airport. On the ground in Newark, New Jersey, Liberians had gathered to celebrate the 75th birthday anniversary of his life. A majority that came was not born when Sackor, Wanibo Toe, Josiah Johnson, and Gladstone Ofori reigned as Liberia's football "midfield generals." However, after Sackor was introduced, the young people swarmed toward him, gushing about how much they have heard about him and other players of his generation from stories told by their fathers and uncles. Appearing genuinely surprised, Sackor, a quiet and humble gentleman, simply responded that "I can't believe people still talk about us." The celebration went on with Sackor and his younger brother, the incomparable Garrison 'Bulldozer" Sackor, telling stories of teammates and games they played.

While the celebration went on, Mr. Sackor appeared happy and grateful to the Newark Liberian community for the occasion. But as all things must come to an end, the arrival of dawn began the conclusion of the occasion as people, one by one, slowly, left to go home. The conclusion of the celebration, however, brought home the difficulties of the life Sackor was living. As I was about to return home to New York City, Sackor asked me to drive him "home." But "home," in Sackor's case, was not a studio, one room apartment, or a house. Rather, it was a homeless shelter where he had lived for many years until his death.

As he left the car, Sackor thanked Forkay Nepay and me and said "I am happy you people really made my day." This comment, undoubtedly, conveyed Sackor's appreciation to have had a night during which he was able to cast aside problems in his life for some hours of happiness among ordinary Liberians, his own people, who had honoured him for being a Liberian footballer and playing for the love of Liberia's honour. But significantly, it was the only occasion ever held to honour him specifically for his contributions to Liberia's national life as a footballer. As we watched, Sackor said good-bye and walked away and, without looking back, slowly disappeared into a dark alley that led somewhere, shielded by the vast Amtrak train station, back to the misery that was his normal life. Sadly, this turned out to be the last time any Liberian who attended the party would see him alive or talk to him.

Prior to the descent of his life into misery, Mr. Sackor lived an admirable life as a husband and father, and made his apartment a temporary home for other Liberians as they tried to overcome difficulties in their own lives in a foreign country. Others congregated at his apartment on weekends to watch sports, play cards and drink. So, how did the life of a man, who experienced the heights of national fame and, at some times, lived an admirable life in America, spiral downward and end in misery? The answer was detailed in a December article by Richard Khavkine in the Newark Star-Ledger after Sackor's death. It pointed to the personal choices he made in search of solutions to the hardship brought on him by sudden unemployment and lack of a professional qualification. In his frustration and hopelessness, he turned to drugs and alcohol that provided temporary relief. But, in so doing, he constructed a fortress that blinded him from seeing and realising the path of self-destruction that it eventually led him to.

There was something salient about Sackor when he and I talked about the road he had travelled. He never sought to blame anyone but himself for his misfortune. Nor was he indignant that friends who frequented his place in the good old days had all turned away from him. However, he expressed disappointment in the failure of the Liberian government to provide assistance to any of the aging former football players. In February of 2012, while appealing for his consent, which he never granted, to write an article about him, he lamented their treatment in these words: "All the football games we played for that country, I can't believe that the government can't find some kind of old government house for some of us to live in as senior citizens before we die. Look at the way they treated David Momo." In the years that I have known him, this was the first time that I saw him publicly display his disappointment and anger at the failure of the Liberian government to come to the assistance of aging former athletes.

But other Liberians will, to this, say that providing a shelter for Sackor was not the responsibility of the Liberian government. But Sackor's disappointment was well placed and legitimate as supported by precedents of the country's generosity toward others, well-off foreigners. In the 1970s, the legendary African-American jazz singer, Nina Simone, took refuge in Liberia as she was being sought by the American Internal Revenue Service. The government of President Tolbert, whose daughter was a friend of Simone's, provided a government owned beachfront house that the singer lived in as she carried on a romantic affair with C. Cecil Dennis, Sr. Then, there was the venerable South African musician, Mariam Makeba, who also lived in Monrovia in exile in a government-owned house as guest of the Liberian government.

Makeba and Simone were entertainers, musicians who performed before paid audiences. They determined where they performed and how much they were paid, making them financially self-sufficient to provide for themselves at any time in their lives. Mr. Sackor, too, was an entertainer, but a footballer who played before paid audiences. But, unlike these ladies, Mr. Sackor was constantly asked by the Liberian government to perform in the interest of the country and he did in the rain, mud, and under the hottest of weather conditions. Not only did the government constantly asked him to defend the honour of the country against other countries, the government also determined how much ordinary Liberians paid to see Sacko and his colleagues perform playing football. The performances made money, undoubtedly, millions of dollars, for the Liberian government from a decade of national and international games played. Although they brought in revenues, no wages were paid to them. The government, which collected the money paid by the public to watch the games, did not give any public account detailing how the money was used to serve the interests of Sacko and his colleagues, short-term or long-term.

It seems that our government is prepared to treat foreigners, who have made no contributions to Liberia's national life, better than it treats its own citizens who have made invaluable contributions to it. This was corroborated by the action of the Liberian cabinet in 2009. After the American musician, Michael Jackson, died, the Liberian cabinet met in cabinet meeting and presented a written condolence to the then American Ambassador to Liberia, Mrs. Linda Greenfield. But the recent deaths of David Momo, Gladstone Ofori, John "Monkey" Brown, Sylvester "Red" Weah, Philip "Coacha" Davis, Simeon Davies and George Sackor, men who sacrificed their bodies defending Liberia's honour on the field and generating money doing it, did not mean anything to have drawn any attention from the cabinet and legislature to issue proclamations. Since Jackson's death was significant to the Liberian cabinet, it begs one to ask the question: what good did Jackson do for Liberia that made his death to have deserved special attention in the meeting of the cabinet than that of Sackor's? Nothing, the record shows.

The juxtaposition of Sackor, Makeba, Simone and Jackson shows that Sackor, as a footballer, made meaningful contributions to Liberia than these singers. Therefore, while he lived, Sackor deserved to have been given the same assistance by the Liberian government as it did for Makeba and Simone and, in death, the recognition as it did for Jackson. But it is not late for the Liberian government to accord aging Liberian athletes the recognition, honour and care due them. The time has come now for the government built stadiums to be renamed in honour of former footballers. REST IN PEACE LEGEND!

About the author: Benedict Wisseh is a graduate of the defunct Charlotte Tolbert Memorial Academy and is known for being a teammate of Frank "Jericho" Nagbe when they played for IE and the Lone Star. Email: nwisseh14@aol.com.
---