Remembering Samuel Kanyon Doe


By Bai M. Gbala, Sr.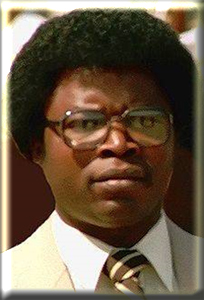 Samuel Kanyon Doe
21st President of Liberia
Foreword

"VP Zooms on Road, Agriculture". Vice President of Liberia, Excellency Joseph N. Boakai, Sr., former Managing Director of Liberia Produce Marketing Corporation (LPMC), Lofa County Branch, and former Minister of Agriculture, R. L., after a two-hour review conference with the current Minister of Finance & Development Planning, said that "government was (or is) finalizing plans for  major road work across the country (all-weather, safe, efficient & effective transport/communications system, nationwide) and revive the agriculture sector . . . Our biggest challenge is agriculture and roads". Remembering or reminiscing SKD?
A Coup d'etat
Coups d'etat, military or civilian, is, by law, illegal unless successful. So was the Event of April 12, 1980. Though successful, the event was a national tragedy because it resulted in the loss of many lives and brought pain and sorrow to many-citizen families.
Regarding this Event, we wrote, elsewhere, "Let it be recalled, lest we forget, that these AFL men, all young, average age of twenty-something years, were trained in the rigorous, extremely regimented, military science and culture of 'obey, obey, obey and duty-before-complaint'. Absent from their training were the required, democratic (political) notions of educated discourse – rational debate, compromise, disagree-to-agree, policy consensus, etc. Because of the absence of . . . socio-political culture and . . . leadership qualities, there were many mistakes, policy contradictions and confusion, given our, Liberian, socio-cultural, economic and political tradition, then prevailing". However, we believe that the soldiers performed phenomenally well, in the light of the prevailing conditions.
Liberia's Turbulent Past
The facts of the Nation's past social, economic and political history were characterized by a painful systematic abuse of human, civil, and political rights; armed hostilities; culture of impunity, violence and public policy confusion and contradictions. For more than a century of the nation's existence as an independent state, our founding fathers not only arrogated to themselves all political, economic and administrative power, tightly and rigidly centralized here in Monrovia, denied political participation to the indigenous peoples not only on the basis of ethnic/tribal, gender and socio-economic exclusion, but also refused to recognize their compatriots as full-fledged citizens, the overwhelming majority of the nation's population for some 57 years, after political independence in 1847.
These conditions gave rise to the Event of April 12, 1980 (an accident of history) led by 17, non-commissioned officers of the Armed Forces of Liberia (AFL) under the command of young, M/Sergeant, Samuel Kanyon Doe.
Although tragic, but the Event was and is consistent with and in response to humankind's enduring, historic quest for respect and dignity of the human person; for freedom, justice, equality of treatment, national unity and for recognition of the majority of the nation's population as full-fledged, tax-paying citizens under the rule of law.
Samuel K. Doe was fiercely patriotic, dedicated and committed to the nation and people. Born in a village of parents who were illiterates and subsistence farmers, young "Sammie" saw and experienced the indignity of an unjust, single-party, single-group rule – forced, hard and unpaid labor, taxation without representation and periodic illegal "exactions/collections", etc., to which his parents, relatives and others of the district were subjected.
Therefore, he became concerned and determined to "learn book" and be "quee" in order to lead and secure a better life for himself and his "people". He joined the Armed Forces of Liberia, received excellent, military training and rose to the rank of Master Sergeant. Thereafter, he enrolled in and graduated from the Marcus Garvey Night School at the Military Post of the-then Barclay Training Center, Monrovia. He continued private study, even, after he became Head-of-State and later, President of the Nation, and becoming a self-taught, educated man.
Young Samuel Doe was intelligent and learned very fast the critical requirement of local, national and international issues - social, economic and political/diplomatic. He was courageous, firm, but fair and, as a soldier, Samuel Doe "died with his boots on".
We are convinced that on average, the young soldiers performed extremely well, given the prevailing circumstances in which they found themselves. Here are the facts of our recent, political history preceding the Event:
The Event awakened the nation's social, economic and political consciousness from more than a century of slumber; more importantly, the it brought out and crystallized a new horizon of and for political, leadership challenges for change – change in our concept of nation and state in our context of the developing, pro-democratic movement worldwide.
First and foremost, the military government of the PRC, with Samuel Kanyon Doe as Chairman, introduced a challenging, new era into Liberia's socio-political thought and practice, based upon and, as close as possible to classical, democratic principles by the Constitution of 1986. Though not perfect, but among the many real, meaningful, political "firsts" were the competitive, multiparty (we went to polls with four political parties), pluralistic, peaceful, electoral, political process that produced a tenured-president in Liberia, on the African continent then notorious for one-party states and life-time presidents.
The benefits of this historic change – socio-economic and political emancipation – have accrued, will continue to accrue, not only to the poor, uneducated, disadvantaged, rural citizens, the overwhelming majority of the nation's population, but also as political redemption of our former ruling class, the African-Americans, from the shackles of totalitarianism, including political emancipation/redemption of the citizens, also, of the African-American group, but similarly poor, uneducated, disadvantaged and unrepresented. Due to this historic change, the unwritten but duly practiced policy of ethnic/tribal, gender, etc., exclusion has been abolished, such that today, ethnic/tribal, gender, etc., inclusion or diversity has become a national policy, based on merit. Indeed, it has been and being argued, reasonably, that almost all of our social, economic and political ills of the past, including the devastating, civil war, and the current, "failed-state" designation of our country are traceable to the past, irrational policy of ethnic/tribal, gender, etc., exclusion.
The rights of freedom of movement, association and independent, aggressive, free, fair and impartial newspaper reporting, in the effort to inform, educate and entertain, necessary preconditions for a functioning democracy have now become the rule, rather than the exception in our country, due to the efforts encouraged by the Event.
There is, now, a marked, vibrant increase in socio-political advocacy/activism for change, reforms, transformation, particularly, protection of human rights with determination, courage and enthusiasm, planted, grew from and given direction by the activities/encouragement of the Samuel Doe government/era. For example, powerful, political figures, once regarded as "untouchables", are now subjects for serious challenges regarding dishonest and questionable, socio-political activities.
There is, also, an encouraging number of young, determined, energetic, dedicated, patriotic and idealistic Liberians who have acquired, and are acquiring, the necessary education, training and experience in preparation to challenge the remaining elements or vestiges of the old order and seek to perfect and transform our young, democratic process.
In fact, the problem of corruption and denial of civil/political liberties, an entrenched vice and a profound, political tyranny that plagued our nation and people with impunity for more than a century, were brought out in the open and gained national consciousness and anger as "rampant corruption"and "Abuse of Political Power"by the April 12, 1980 Event, such that it gave rise to the formation and establishment of political activism, human right organizations and human right attorneys and counselors-at-law, in Liberia.
And, most importantly, the civilian government of President Samuel Kanyon Doe, an intelligent, energetic, idealistic, highly patriotic and dedicated young man, extremely committed to the development of the nation, took some radical actions, examples:
Cancelled several, questionable, rental contracts between the Government of Liberia (GOL) and some high-profiled officials of government for buildings and other properties  developed and built with stolen government resources for which rents were being paid to the same officials. That issue is now creeping or has crept into existence.
Planned the building of a new Ministry of Justice, renovate and expand the Ministry of Lands, Mines & Energy, both on Camp Johnson Road, Capitol Hill, Monrovia; and commenced building/construction of the Ministries of National Defense and Health & Social Welfare in Congo Town, completed and now occupied.
Planned the design and commenced construction of the nation's central bank at Ashmund and Buchanan streets, Monrovia; completed and now occupied as the pride of the nation, dedicated without mention of his name and the Late Tom Hanson, then Governor of the Central Bank of Liberia.
Introduced the Green Revolution, his Administration's signature program, for maximum food production/security, with local farm-to-market roads and Highways linking all county capitals to each other and to the capital, the City of Monrovia.
Planned and commenced funding negotiations for major, East-West & North-South, all-weather, national Highway system, beginning with "Ganta-Harper", from the city of Ganta, Nimba County – through Tappita, Nimba County; Zwedru, Grand Gedeh County; Fish Town, River Gee County – to the City of Harper, Maryland County; and the Atlantic Highway along the coast from the city of Robertsport, Grand Cape Mount County, linking the Cities of Monrovia, Montserrado County; Buchanan, Grand Bassa County; Cestos City, River Cess County; Greenville, Sinoe County; Barclayville, Grand Kru County; and Harper City, Maryland County.
Planned, organized and established the National Insurance Corporation of Liberia (NICOL) for health, life and death benefits coverage for all employees of government, particularly, the military, paramilitary, diplomatic and all, other GOL employees  & properties.
Planned/introduced modernized Civil Service Reforms for open, fair recruitment and placement of qualified candidates, with emphasis on retirement and pension for citizens who spent their lives in the service of the nation. The reform system included donor-assisted salary/wage allowance for adequate compensation consistent with merited qualification and cost of living conditions.  
Introduced and established the Bureau of State Enterprises (BSE) for centralized GOL oversight and control – modern, financial management, control & reporting of all state-owned enterprise activities.
Thus, some of the enduring contribution made by the "low-level, illiterate soldiers" to our country.
---
Author: Bai M. Gbala, Sr. can be reached at: gbala9@aol.com  
---