Keita remains a Hero of his Generation – Hatred can't help, Madam President

By Martin K. N. Kollie
Youth Activist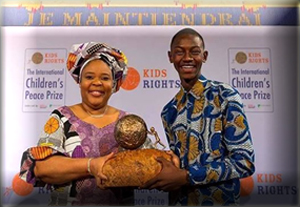 Leymah Gbowee and Abraham M. Keita
In 2011, the Norwegian Nobel Committee announced Madam Sirleaf as one of the winners of the Nobel Peace Prize. A day before awarding her this prestigious accolade, five giant-sized bill boards were erected at strategic locations with her photo on each one of them. These bill boards were designed and paid for with our taxes honoring her for 'contributing to peace' even though she remains an indictee of the TRC report. The Norwegian Nobel Committee needs to explain more to us as it relates to her selection. How can you honor someone who admitted publicly that she gave US$10,000.00 to a brutal warring faction (NPFL) during the civil war in Liberia?

Upon the arrival of Madam Sirleaf, after receiving an award that still remains questionable in most quarters, buses were rented with our taxes again for Liberians to troop their way at the Roberts International Airport to welcome her. Almost a week of celebration was held with thousands of United States dollars spent for unnecessary entertainment and jamboree.
In 2015, a young scholar and brilliant advocate, Abraham M. Keita proudly won the International Children Peace Prize for his tireless effort to promote children's welfare and rights. A day before he received this award, we did not see a single bill board erected by this government to honor him as well. Even up to now, nothing of such has been done. Isn't this visible cruelty and midday suppression? The government is yet to hold an official program to commemorate this unique achievement. I guess if it was Estrada Bernard, by now bill boards would have been erected all over the city celebrating him. Because it is Abraham Keita who hails from the slum of West Point, the award seems less significant to our oppressors.

When Kesz Valdez of Phillipines won the International Children Peace Prize in 2012, his government celebrated him for more than a month. When Malala Yousafzai of Pakistan won similar award in 2013, she was hailed as a heroine by her government. When Neha Gupta of the United States of America became the recipient of this award in 2014, she was honored nationwide by her government and people. Regrettably, when Abraham M. Keita of Liberia won this noble award, he was ridiculed, censored, unrecognized and bullied by his government, particularly President Sirleaf and her associates.
In 2014, the Grand Nephew of Madam Sirleaf, Estrada Bernard was brought from the United States of America to 'lecture' Representatives of our 73 districts in Liberia at a round-table consultation on Oil and Gas. Many officials of government, including President Sirleaf were pleased to call him an 'Oil Expert' and 'Energy Analyst' even though he was still a high school student at the South Anchorage High School in Alaska, USA. How could a high school student be referred to as an Oil Expert or Energy Analyst? The government of Liberia under the democratic stewardship of Madam Sirleaf spent thousands of tax-dollars to transport Estrada Bernard. His hotel bills were paid for and he was given huge allowance that he did not even deserve.
This was a clever attempt to make young Bernard eat free money that he could not justify. This was the real definition of a 'SPOILS SYSTEM'. In fact, what is even more intriguing is that an entire convoy of high-class government officials and big-shots went to receive little Bernard at the Roberts International Airport upon his arrival. Even though his presence in Liberia made no concrete impact or gave no direct benefit to Liberia, but he was imprudently hailed for reading from a PowerPoint presentation word for word. Even though he had no practical knowledge about what he was talking about, but he posted like a slapstick comedian in front of lawmakers, as he read from a 'copy and paste' text he did not pen down by himself.
I really do not blame this 'Oil Expert' (Estrada Bernard). I blame our lawmakers who sat under his voice. I hope this regime will call little Bernard back to lecture again, because NOCAL has gone bankrupt after his first lecture. Unlike him, brilliant young Keita worked with passion and patriotism to protect Liberian children from all forms of abuses. He was never paid by this government for bringing universal honor and pride to Liberia through his many years of consistent and honest advocacy.
As a result of the recent award young Keita won, Liberia will benefit from a 100,000 euro (US$105,590.00) donation to implement a charitable project for children. At least Keita brought US$105,590.00 back home, but what did Estrada Bernard bring? He brought fake theories he could not interpret, in return for thousands of United States Dollars. Madam President needs to know that Liberia is not a family farm, but a nation that belongs to all regardless of tribe, creed, culture, social identity and political affiliation.
I cannot understand why young Keita was bullied recently by President Sirleaf and Solicitor General Betty Lamin Blamo at a program marking the 16 days of activism. Instead of them flowering this teenage hero and champion who flew the flag of Liberia high recently in The Hague, they took pleasure in ridiculing him. Abraham Keita was never wrong to have said that he regards Madam Leymah Gbowee as a true Nobel Laureate. He was never compelled to describe President Ellen Johnson-Sirleaf as a true Nobel Laureate. Additionally, Solicitor General Betty L. Blamo must refrain from wasting her time on immaterial issues and focus more on ensuring justice for rape survivors.
The ongoing snubbing of award-winning child rights advocate by his own government signifies an appalling era of self-centered, hateful and unpatriotic public trustees who have been swallowed by the sickening semblance of nepotism, patronage and deceit. No wonder why Liberia's development continues to be halted even in the midst of abundant natural resources and unlimited international support. Most of our leaders are dream-killers and vision-assassins. Instead of promoting young talents and enhancing youth development, they engender schemes to strangulate the destiny of emerging leaders.
Keita remains our hero. He is our champion and century-admirer. This young and progressive activist remains a leader of his peers. His voice is a hope for many in this generation. Liberia is proud of him and will forever remain. The history Keita has set as a teenager is first of its kind in Liberia and West Africa. Many Liberian Children now see him as a perfect role model to emulate. Let it be known today that young Keita is not responsible for the massive failure of this regime. The more you criticize and hate him, he gets even stronger and smarter.
The Association of Hateful Females (ASHAFE) in this regime, which is led by Madam Betty L. Blamo, needs to do more in order to rescue the collapsing legacy of Madam Sirleaf. The Liberian people have endured almost 12 wasted years of poverty under this self-seeking regime and it is time to reverse this course. By harboring hatred and malice for young Keita further dents the image of this government.
We will always come in defense of Abraham M. Keita whenever he is under attack. At least he did not give a cent to any warring faction to kill thousands of Liberian children during Liberia's 15 years of hostility and bloodletting.

---
About The Author: Martin K. N. Kollie is a Liberian youth activist, student leader, an emerging economist, and a young writer. He is currently a student at the University of Liberia reading Economics and a member of the Student Unification Party (SUP). His passion is to ensure a new Liberia of socio-economic equality and justice for ALL. He can be reached at: martinkerkula1989@yahoo.com
---
---