Reforming Liberian Schools in Five Easy Steps (Part II)

By Elliott Wreh-Wilson, Ph.D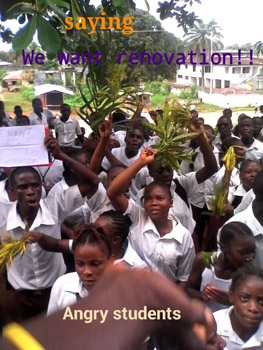 We want a building, reads a placard of the protesting students of Cape Palmas High School
On December 16, 2015 I called for re-starting the conversation on reforming our schools. See the perspective.org 12/15/15. There, I listed 5 provisional steps to reforming our schools. Now, taking into account the reactions to my invitation to fellow Liberians to join the conversation, I want to expand briefly on the first step, which calls for a reduction in class size. This time, however, I hope we can join the conversation without the invectives and name-calling.

Whether we have public schools or private schools, reducing class size to manageable levels is a no-brainer. Teachers and people in the school business agree that an essential requirement for effective teaching is when teachers are able to spend quality classroom time with their students on a daily basis. The way to satisfy this requirement is to reduce class size. Sadly in Liberia, the classrooms are most often overcrowded. The outcome is that teachers are generally overwhelmed, thereby defeating the purpose of assembling both students and teachers in a classroom.

Even where the schools make a concerted effort to limit class size, and this seldom happens in our public schools, the number of students assigned to a classroom very often exceeds 50 students. In fact, a majority of our schools in urban areas do run from 50 to 70 students.

In a country where we constantly worry about the performance of our students on standardized tests like the WAEC (West African Exam Council), this ought to demand our attention.

For example, many of the schools in Harper and Pleebo, not far from the Tubman University campus where I live, many of the public school are overcrowded. Cape Palmas high is a big offender, given that they now hold classes in an abandoned warehouse left behind by the departing UN peace-keeping troops. The same is true for most high schools and junior high schools in large towns and cities across Liberia. From my personal experience, this is due also to the lack of teachers. (So, my next piece will address this issue.) But no one believes any teacher - let alone students - can benefit from such an arrangement. Consequently, we must consider building more classrooms. Not only will this decrease class size, it will also improve teacher and student performance.

Indeed, I realize that all this will require funding. In a country where people struggle to meet their basic needs, building more classrooms will be secondary to meeting basic needs. But our people can be creative. We do live in mud brick homes, so we can educate our children in mud brick schools - if that is what it will take to expand existing structures. Local communities can pull their resources to appropriate land where it may be necessary to relocate schools just so we can have more space to build larger structures. This does not exempt the government, including local businesses to lend a hand. Yes, we can begin to think about school choice and a voucher system for students needing to enter the right schools, but Liberia is not at that point yet. Besides, most children live in towns and cities where school choice is not an issue.

I appreciate very much the reactions to my earlier invitation. Some suggested privatizing our schools while others called for abolishing the Ministry of Education. In either case, we will still have a need to reduce class size. The goal is to improve instruction and student performance. Teachers need ample time to interact with students and conduct fair and accurate assessment of student work…and this calls for smaller classes.

Part III to follow.
Related Articles:
Reforming Liberian Schools in Five Easy Steps
Confronting The Liberian Education Challenge
Reforming The Liberian Education System: A Worthy National Debate
Issues in Transforming the University of Liberia
The Proliferation of Thousands of Graduates Amidst massive Unemployment: What Is The Essence?


---
The Author: Elliott Wreh-Wilson, Ph.D., Tubman University, Harper, Liberia
---
---