Eulogizing the Legend of Liberian Literature: Bai T. Moore

By Martin K. N. Kollie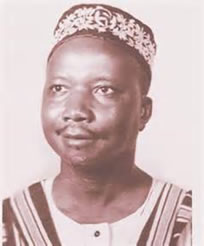 Bai T. Moore
There is profound happiness in honoring great statesmen and women who have gone beyond the call of duty to impact society in positive ways. It pays to always remember a very great hero whose existence on earth brought special pride and recognition to Liberia. It is unfortunate today that most Liberians careless about celebrating past patriots and nationalists who made vast contributions in different areas of life to ensure our sweet Land of Liberty remains a shining image among comity of nations in Africa and beyond.
If no one will remember Bai T. Moore today, I will! His legacy is replete with amazing lessons and rich thoughts. I began reading about him when I was in secondary school and most of his books have been very useful to my educational sojourn. As one of Liberia's greatest writers ever, he remains a beacon of hope, inspiration and encouragement to most of us who believe in a new Liberia of modern Literature.
Even though he is dead and gone, but his lifetime's journey is a light to our path and we shall forever march in his footprints of exceptional inheritance. Father Moore taught us how to live a life of hard work and humility. Through his words and deeds, we are able today to dig out and interpret real facts about mankind. It would just be an affront to patriotism and disservice to nationhood if no one recognizes this day of his demise.
Bai T. Moore was not just a well-known writer, but a civil servant with an excellent record of discipline, integrity, accountability, and modesty. His vision was to live in a country of justice and equality for all, regardless of status, creed, background, or political affiliation. His ambitious plan to promote Liberia's heritage was beyond imagination as he did everything he could to ensure cultural preservation. As a result of his endless commitment to his homeland, the Liberia National Cultural Center became a reality.
Bai Tamia Johnson Moore commonly known by his pen-name, Bai T. Moore, was truly a rising star during his generation. This Liberian poet, novelist, folklorist and essayist used his gift of writing to transform those around him and society in general. He was never too big or pompous to work for his people. His selfless and self-sacrificing lifestyle was a testimony of his unflinching dedication to nation-building.
It was on January 10, 1988 when Liberia lost this great son. The nation is still mourning his death, because it seems almost difficult up to now to replace this illustrious champion. His death remains a serious blow to our nation even after more than two decades. Twenty-eight (28) years ago, he was with us, playing an active role in pushing public interest, but today, his voice is passive. We no longer have an opportunity as Liberians to drink from his fountain of wisdom and kingdom of knowledge. His homegoing has left deep pain and sorrow in our hearts.
In spite of all those challenges he underwent during his existence, he kept pressing forward to achieve his ultimate goal as an innovator. He was a true symbol of change and an emblem of inspiration. I, in particular have learned a lot from him, and hope he could be around to give me more insight as a young writer. Unfortunately, I have no choice right now, but to make maximum use of what he left behind. Surely, I am proud of him and will forever remain an admirer of his good works. His devotion to service has given me a renewed vigor to expose societal ills without fear or favor.
Bai T. Moore who was born in Dimeh, a traditional Gola village on the Monrovia-Tubmanburg highway on October 12, 1916, was an expert in agriculture. He was trained abroad as an agriculturist at Virginia Union University before returning to Liberia in 1941 to occupy a post as a civil servant. He did not only work for his government, but also held various cultural, educational, and tourism positions for UNESCO.
In 1957, he headed the government's Fundamental Education project designed to bring education and information to rural Liberia. He was appointed by President William V.S. Tubman as Under-Secretary of State for Cultural Affairs and later Minister for Cultural Affairs and Tourism under President Samuel K. Doe, a position he held until his sudden death at age 71. In 1962, Bai T. Moore was part of a team of Vai scholars who took part in a conference at the University of Liberia to standardize the Vai script for modern usage.
I guess most of us can still remember his favorite novella, Murder in the Cassava Patch (1968). This book is indeed a masterpiece. As a result of his outstanding literary performance, Bai T. Moore is well-known as Liberia's best writer. He was a contributor to a collection of Liberian folktales entitled Chips from the African Story Tree. Furthermore, he has written several other wonderful books, novels, and poems some of which include:

Echoes from the Valley – 1947
Ebony Dust – 1962, reprinted 2001
The Money Doubler - 1976

It is indeed sad to note that this loyal patriot is no more with us, especially at a time when Liberia needs great minds to unleash inclusive reform. We've got to miss him, because his presence today would have meant a lot to us. It is not easy to accept this matchless loss. It is no doubt that the cemetery currently stores one of our best brains!
As I sat and stood at his tomb some months ago, tears of regret came rolling down my eyes, as I reflect on his golden days on earth, specifically in Liberia. Nothing could comfort me easily as I quietly read his favorite quotation on his grave which says "It is not the dress we wear that counts, but what we are and what we mean. For men will soon or later change, but what we do will here remain." The spirit of Bai T. Moore will forever live on as our nation strives to rise above those enemies of yesterday. We must evoke the undying courage of Pa Moore to triumph over poverty, ignorance, and disease. We can surely get there if we begin to walk like Bai T. walked!
I am mourning his death today, because in him I gain uncompromising strength to advance a relentless advocacy. I am observing his 28th death anniversary, because his life was different from most of his peers. Bless our pens Bai T. Moore as we continue to write in defense of social justice and academic freedom. Bless our thoughts as we promote those unique cultural, social, religious, economic, and political values of our glorious territory.

We ask even today, where is Bai T. Moore? Where is his uncompromising voice? Where have this patriot and educator gone? No one can easily answer our questions. Our hearts are greatly terrified by this irreplaceable loss! With tears in our eyes pouring down our cheeks like waterfall, we shall forever remember this fallen legend and champion.
Liberians, why have we forgotten so soon to memorialize this fallen hero? Until we can stop celebrating thieves and refrain from honoring micro-crooks, our nation is doomed. It is not a surprise for our government to give this day less recognition.

For us who know and read about Bai T. Moore in secondary school, we are proud to commemorate his lifetime on earth as Liberia's best writer. Rest in peace our leader, rest in peace our poet, rest in peace our novelist, rest in peace our essayist, until we meet again, rest in perpetual peace our noble reformer.

---
The Author: Martin K. N. Kollie is a Liberian youth activist, student leader and a young writer. He is the founder and current ED of Masses Against Poverty (MAP). Furthermore, he is currently a student at the University of Liberia and a member of the Student Unification Party.
---
---