Reforming Liberian Schools in Five Easy Steps -- Part III


By:  Elliott Wreh-Wilson, PhD
WVS Tubman University
Harper, Liberia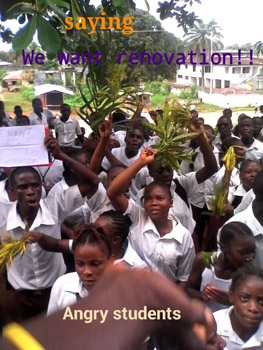 House Speaker Alex Tyler
Let me first thank the Editor at The Perspective for entertaining this discussion. Second, let me thank Mr. Scott, Mr. Hodge, Mr. Smith, Mr. Doe and all those who have joined us in the conversation. These are all very familiar voices, and they enlighten me each time I view what they say. Yes, there are answers - many answers - what we can do now is to weave them into a not-so-complex whole that may save our children one day in the near future.

Now, I hope you will permit me to remind readers of the points raised in my initial post.

First: that we think seriously about reducing class size. It is good not just for instruction and assessment, but also for teacher sanity.
Second: that we think about re-introducing the old "In-Service" teacher training program. There is always a new and different way to teach a class. Our teachers need to know.

Third: that we introduce students to technology. Laptops are a necessity, not a luxury anymore.

Fourth: that we view English not only as our official language, but also do what it takes to move to proficiency in English for all our children.
Finally, that we move new college grads with high scores into graduate programs at home or abroad. It is an investment in our children's education.

Indeed, we could reduce class size and yet fail to achieve our goal to improve instruction. This is what some of you have said. Hope I got that right. So, what will improve instruction? Vouchers? Move all our kids to private schools?

And, what if we abolished the Ministry of Education and returned the Ministry's budget to families in the form of vouchers? Just consider how much pushing and pulling will have to occur before this can happen. Is this a fight we want to take on when what we really want is school reform?

And, could better trained teachers be the solution? This is what I advocate as a second crucial step in reforming our schools. Now, how we do that may require creativity; but overall, it needs to be done in order to avoid what one of our commentators called fake degrees and credentials. The last thing a parent wants is that her child has a teacher with "questionable" credentials.

What about online schooling and home schooling? I am guessing that this proposal views technology as the medium through which we might improve our schools. I realize that cost will be a problem here; and I am assuming we all do. So, how can we do this in a country where electricity and internet service are lacking even in urban and semi-urban areas?

Is any one of these suggestions the magic bullet? What if we tried a combination of all the proposals? Do we then have a panacea? And, will Bill Gates and others ever come to our rescue? What about wealthy or well-to-do Liberians? Could they provide the vouchers and support we crave?

Forget my suggestion that we go back to the old mud houses and thatch houses. What else was I to suggest in the absence of sustained support for crumbling schools like Cape Palmas High? Yes, good students do not need bigger buildings to do well in their lesson. And, the size of a school house does not determine the quality of its students. Still, no one believes the way to improve our schools is to have classrooms that hold 70-80 students. These large classes do not promote learning-not to mention the fact that teachers tend to prefer smaller classes for evaluation and assessment purposes.

Let's continue the conversation.
---
---