Chickens Always Come Home to Roost!

By Elder Siahyonkron Nyanseor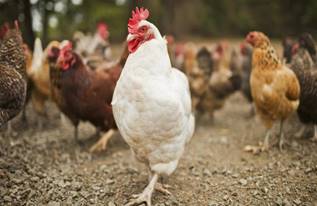 Chickens coming home to roost
The expression "Chickens come home to roost"is similar to "what goes around comes around". Basically, it means that the consequences of one's evil actions catch up in a negative way. In addition, the idea that a wrongful curse comes back to the one who is cursed as a "bird returns to its nest" dates back to the days of antiquity. But it wasn't until the 19th Century that Robert Southey wrote that "curses are like a young chicken: they always come home to roost." Since that time, the idea of evil men creating problems to return to their own door has become a phrase used to predict what will happen to an individual or a leader who engages in evil practices.
Therefore, if one says chickens are coming home to roost, it means that the bad or wicked things done today or in the past will begin to cause problems; such as greed, corruptions, ritualistic killings, the eating of the people's money, abuse of power, mortgaging the people's natural resources, uprooting them from their ancestors' land, killing them, and the 'gruesome assassination of Harry A. Greaves, Jr. In this case, IT CANNOT BE BUSINESS AS USUAL! THIS TIME AROUND, WE MUST NOT 'LET SLEEPING DOGS LIE'!
Today, the world in which we live is full of misfortunes and numerous surprises; some are temporary and avoidable, but most of them are caused by our disobedience to God's commandments. In fact, the Holy Bible is replete with proverbs and stories about everything under the sun. One story that readily comes to mind is that of King Herod, the ruthless king of the Jews, villain in the Christmas story. He was a wicked tyrant who wanted to "hold on to power in perpetuity" through children (like many African despot), and, therefore, saw the baby Jesus as a threat to be eliminated in his cradle.
Although Herod ruled over the Jews in Israel in the time before Christ, he wasn't completely Jewish. He was born in 73 B.C. to an Idumean man named Antipater and a woman named Cyprus, daughter of an Arab sheik. He was a schemer too, who took advantage of Roman political unrest to claw his way to the top. During a civil war in the empire, Herod won the favor of Octavian, soon to become Emperor Augustus Caesar. Once king, the wily Herod launched ambitious building projects in Jerusalem and the spectacular port city of Caesarea, named after the emperor. He restored the magnificent Jerusalem temple, which was later destroyed by the Romans following the A.D. 70. rebellion.
In the Gospel of Matthew, the three Wise Men met Herod on their way to worship Jesus. He tried to trick them into revealing the child's location in Bethlehem on their way home, but they were warned in a dream to avoid Herod, so they returned to their countries by another route. Yet after all these schemings; the question is, how did King Herod die? Based on an article that appeared in The Telegraph, written by Roger Highfield, the Science Editor, published on January 26, 2012, King Herod died from 'kidney disease and gangrene'. It reads:
King Herod is usually thought of as a paranoid and cruel leader. Now doctors believe he may have become even more ill-tempered towards the end of his life because of kidney disease and rotting genitalia. During his 36-year reign as king of ancient Judea, Herod the Great ordered the executions of one wife and three sons, and the Slaughter of the Innocents in a vain attempt to kill the infant Jesus. Clinicians and scholars met yesterday in Baltimore, Maryland, to unravel the mystery of what killed 69-year-old Herod the Great, or King Herod, as he is called in the New Testament. Medical detectives at the eighth Annual Historical Clinical Pathologic Conference were given details of the new theory by Prof Jan Hirschmann of the University of Washington, Seattle. Based on two accounts by a Jewish historian Flavius Josephus, "Herod the Great expired from chronic kidney disease probably complicated by Fournier's gangrene," he said. Herod's personality problems predated his illness, "but it might have made them worse. Chronic kidney disease can lead to depression (Herod attempted suicide during his illness), paranoia, and irritability," said Prof Hirschmann. "Josephus lists several major features of the disease that caused his death - among them, intense itching, painful intestinal problems, breathlessness, convulsions in every limb, and gangrene of the genitalia," said Prof Hirschmann.
http://www.telegraph.co.uk/news/worldnews/northamerica/usa/1382769/Herod-killed-by-kidney-disease-and-gangrene.html
We Griots (storytellers) are fond of telling stories because they pass on experiences contained in them so that others may learn from those experiences. Another story worth mentioning here is Saul of Tarsus' encountered near Damascus with Jesus Christ. It is safe to say here that apart from the life, death and resurrection of Jesus of Nazareth, the story of Saul of Tarsus' conversion to Christianity is the second most important event in human history. According to one writer, "If Saul had remained a Jewish rabbi; we would be missing thirteen of twenty-seven books of the New Testament and Christianity's early major expansion to the Gentiles". I agreed wholeheartedly!
As the story goes:
…Saul went to the high priest and asked him for letters to the synagogues in Damascus, so that if he found any (person) there who belonged to the Way (Christians), whether men or women, he might take them as prisoners to Jerusalem. As he neared Damascus on his journey, suddenly a light from heaven flashed around him. He fell to the ground and heard a voice say to him, "Saul, Saul, why do you persecute me?"
"Who are you, Lord?" Saul asked.
"I am Jesus, whom you are persecuting," he replied. "Now get up and go into the city, and you will be told what you must do."
The men traveling with Saul stood there speechless; they heard the sound but did not see anyone. Saul got up from the ground, but when he opened his eyes he could see nothing. So they led him by the hand into Damascus. For three days he was blind, and did not eat or drink anything (Acts 9:1-9 (NIV).
God can use anyone to fulfil His mission
Now, here was a wicked man who was obsessed with finding Christians anywhere to have them persecuted, but after his encounter with Jesus he had a different outlook on life. He was not the only one that God transformed. There were many persons in the Holy Bible and among us today who God changed from their ungodly ways through His Grace and Mercy. As the ultimate Judge, NOT man, He can do anything but fail! God can use even the worse among us to carry out His work. Therefore, none of us is qualified to pass judgement on anyone, no matter what that person did in the past.
Both Paul and Harry were killed by wicked people who intend to continue exploiting the people. Paul was taken from prison to be killed. It was from there in c. 65 C.E., he wrote his second letter to Timothy, in which he hinted that his death was imminent (2 Timothy 4:6-8), shortly after writing that letter, he was killed.
The Bible does not tell us the exact time or manner of the Apostle Paul's death, and secular history has yet to provide us with any definitive information. However, evidence highly suggests the apostle Paul's death occurred after his fifth missionary journey ended in 67 A.D. Paul was most likely beheaded by the Romans, under Emperor Nero. http://www.biblestudy.org/question/sauldie.html Whereas, Harry was probably kidnapped from the Robert Johnson's hotel by assassins, brutally beaten, murdered through fake drowning, and his naked body placed on the beach.
Nothing Remains Hidden Forever
Matthew (10:26), Mark (4:22) and Luke (8:17) all wrote that "There nothing concealed that will not be disclosed…"
.... No sin, be it ever so secret or privately done, as nothing is more covered than hypocrisy, but shall be detected sooner or later; if not in this world, which is often the case, yet the last judgment, and in the world to come:
Neither hid, that shall not be known; for how careful soever men may be to hide their vices from others, they are known to God; who will bring everything into judgment, and make manifest the secrets of all hearts. These were general sentences, which were used by Christ at different times, upon different occasions, and applied to particular cases. http://biblehub.com/luke/12-2.htm
The expose below might have led to Harry's ultimate death.
It reads:
Every US dollar transaction, no matter where it originates or terminates, passes through New York and the Federal Reserve System. And don't think you can conceal your deception by putting the money in an account of a relative or close friend. That won't shield you either. There is a legal principle called "tracing". If ill-gotten gains can be traced to you, they can be confiscated. That is how the FBI recovers money, houses, jewelry, boats and other valuables from drug dealers. The old adage applies. "Caveat emptor". If you buy tainted assets from a rogue, you can lose them, even if you were an innocent purchaser for value.
So, if you are, say, a cabinet minister earning US$60,000 a year, and all of a sudden a bank account is found in the South Sea island of Vanuatu with a stash of US$2 million in it in the name of your 3-year-old daughter, the law presumes that a reasonable man would consider that to be prima facie evidence of corruption. So unless you can show that you have Warren Buffett stock-picking genes in your DNA, you would be under obligation to prove a negative, i.e. to show that the millions in that bank account were not the proceeds of theft of public money…
Yes, many of those misbehaving now think they can just get on a plane and skip town in January 2018. As we say in Liberian parlance, they miss it. Even if you take up residence in Outer Mongolia, you can be extradited and be brought back to Liberia to face the music.
("Let's Lecture: PEPs Beware!" Daily Observer, October 13, 2015)
In President Ellen Johnson Sirleaf's own words, "Liberia is not a poor country, but rather is a country that has been managed poorly over the years." (From her Interim Poverty Reduction Strategy, 2007 presentation) To which I say, Liberian officials and their supporters can pretend all they want, Scriptures is clear about the fate that awaits those who disobey God's Commandments. We can sin by the things we knowingly do; or we can sin by the things we do not do. And that is, we know that something is wrong but fail to speak against it because the person or we belong to the political party that does the wrong or we benefit from the spoils, while the rest of society suffers. To which James 4:17 explains: "… To him who knows to do good and does not do it, to him is sin".
Liberians have settled for – minding their OWN business like the German Protestant Pastor Martin Niemoller did "When the Nazis Came":
For the Communists, and I didn't object
For I wasn't a Communist;
They came for the Socialists, and I didn't object
For I wasn't a Socialist;
They came for the labor leaders, and I didn't object
For I wasn't a labor leader;
They came for the Jews, and I didn't object
For I wasn't a Jew;
Then they came for me
And there was no one left to object
We Must Not Let Sleeping Dogs Lie!
With all the atrocities and corrupt practices going on in the country, Liberians are preoccupied with 2017 presidential election in an environment that is hostile and unsafe for citizens' movements. This time around, the electorate should get commitments from candidates for PRESIDENT to PLEDGE that if elected they would go after government officials who were engaged in corrupt practices while in office. Because as Linda Thomas-Greenfield, former US Ambassador to Liberia, correctly observed: "Corruption in Liberia is holding you (us) back".
God requires of us to do good, and because of greed and selfish reasons we neglect to do them, that failure too, is sin. Those who fall short of what God required of them to do are called hypocrites; because God expects more of us than our simply meeting minimum standards of behavior. The truth of the matter is that the world is facing many problems today as individuals, leaders, organizations and countries refused to do and live as God intended for them to live; instead, they chose to do it on their own. It is regarding these behaviors that the God we serve instructed King David to write: "They are corrupt, they have done abominable works, there is none who does good. The Lord looks down from heaven upon the children of men, to see if there are any who understand, who seek God. They have all turned aside; they have together become corrupt; there is none who does good, no, not one" (Psalm 14:1-3).
Conclusion
Mind you, there is a difference between God controlling evil and God creating evil. God is not the author of sin, but He can use sinful men to attain an objective. Romans 8:28 says, "For those who love God all things work together for good, for those who are called according to his purpose." "All things" includes both good and bad things. God can use struggles, heartbreaks and tragedies in ways to bring about His glory and our good. Such events, even though we don't understand the reason for them, are part of His perfect, divine plan. If God could not control evil, He would not be God. His sovereignty demands that He be in control of everything, even "dreaded" nations such as Babylon, and Liberia is not an exception.
In short, let me leave with you "Conversation in Waterside English", a poem I wrote in January 1, 1992. The last verse: "Everyday for rogue, one day for master", reminds me of what awaits those who mismanage the people's resources and eat their money.
It reads:
What happened to me
Na to be something small
To joke about;
A na go be the same
Six and seven thing
They do round here;
A be like putting finger
In somebody eye
In the broad open day light
For me, my part, I na go talk plenty
That person will soon see
What will happen!
The country people make a parable
They say softly, softly catch monkey
That the way a go be!
This time, a na go be for ROGUE
A go be the day for the
Real, real Master, GOD!
My people, dad me again-O! We cannot let the deaths of Harry A. Greaves, Jr. and the plenty, plenty people killed mysteriously 'go in breeze'!
About The Author: Elder Siahyonkron Nyanseor is man of God; former Chair, Vice Chair & Secretary of the ULAA Council of Eminent Persons (UCEP), Inc. He is a poet, Griot, journalist, and a cultural and political activist. In 2012, he Co-authored Djogbachiachuwa: The Liberian Literature Anthology; his book of poems: TIPOSAH: Message from the Palava Hut can be obtained at: Kiiton Press – www.kiitonpress.org. Nyanseor can be reached at: siah1947@gmail.com
---
---