An Open Letter to President and Mrs. Barrack Obama on Michelle's Historic visit to Liberia on June 27, 2016

By Jerry Wehtee-Maotee Wion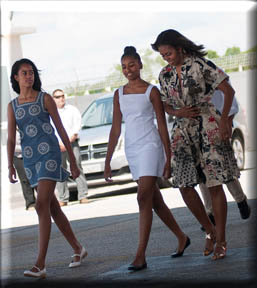 Malia, Sasha & Michelle Obama
I am a Liberian journalist based in the greater Washington, DC area. I have organized and led peaceful protests by Liberians outside the White House and the United Nations Headquarters in New York City against corruption and human rights abuses in Liberia under President Ellen Johnson Sirleaf.

I have written President Obama twice, first on March 18, 2014 and just days before he received President Ellen Johnson Sirleaf at the White House on February 27, 2015. My themes in my letters are about corruption, injustice and human rights abuses in Liberia. The Liberian people have suffered far too long and they need immediate relief. Please help them.

We Liberians see Mrs. Obama's visit as our only and perhaps last chance with a black man in the White House whose father is an African. Liberia is Africa's first failed experiment at genuine democracy on the Continent. After nearly 170 years of so-called "independence" on July 26, 1847, we are still as a nation trying to figure out how to run clean and safe drinking water into pipes to Liberians in our cities and towns from the abundance of our reservoir of fresh water rivers and lakes. It therefore suffices to say Liberia's greatest export to the rest of the colonial and independent Africa has been the infectious, incurable cancer of corruption.

The overall national healthcare system was exposed when EBOLA killed nearly 5000 Liberians in 2014. Thanks for your timely intervention for who knows how many Liberians would have died from Ebola. Our President and many senior government officials have not had their blood pressure checked at any government funded medical center in Liberia; they all run to the United States and elsewhere for the best in healthcare treatment paid for with our Liberian tax dollars.

President Ellen Johnson Sirleaf has described the education system in Liberia as "a mess", and a big mess it is indeed. The state-owned University of Liberia has a little over 30,000 students who must share four public toilets on both campuses. There are dilapidated classrooms on both campuses, leaking roofs, students have no access to the global superhighway of learning, the INTERNET. Students must fend for themselves to commute between both campuses miles apart because the University of Liberia doesn't have its own fleet of buses to transport students. There is no running water on campuses and electricity is sporadic with off and on that disrupts learning.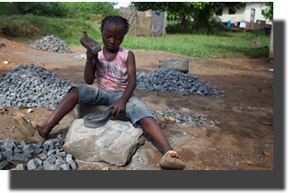 School age girl crushing rocks
The operating budget of the University of Liberia has been hovering between $5 million and $10 million since President Sirleaf took office from 2006 to 2015, and just went up to $15 million this year (2016). President Sirleaf promised compulsory education for Liberian children and threatened to jail parents who don't send their children to school. But most children are now crushing rocks with their bare hands in the scorching tropical African heat trying to help jobless parents feed the family. Please help Liberia.

For the sake of the suffering Liberian people, if necessary, Mrs. Obama should spend an extra day in Liberia to see firsthand poverty and underdevelopment. Please have the US First Lady to visit both campuses of the University Liberia founded in the 1860s by freed black slaves, especially as your daughter is about to go to Harvard University.

In addition and for the sake of humanity, Mrs. Obama and delegation need to visit the notorious and overcrowded South Beach Prison in Monrovia, built decades ago to house 350 prisoners but now houses over 1000 detainees many of whom have not had their day in court for months and others for years. Worse still, over 100 detainees/prisoners have died in the prisons from hunger, malnutrition, no access to medical care, illnesses contracted while in prison, according to the US State Department Annual Human Rights Reports, Amnesty International and Human Rights Watch. Please help Liberia.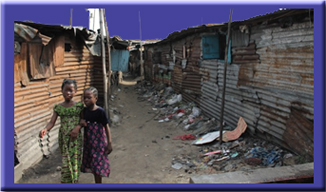 Slum of Liberia
The prestigious Nobel Peace Prize won by both Presidents Barack Obama and Ellen Johnson Sirleaf, and Dr. Martin Luther King Jr and The Madiba Nelson Mandela, connotes the highest respect for human rights. We Liberians challenge Mrs. Obama to visit Liberia's largest slum, West Point in Monrovia and its forgotten 75,000 residents who are the poorest of the poor and who must share four public toilets and no access to clean safe drinking water. But this too is Liberia.

Finally, Michelle represents the eyes of President Obama and the Messenger of Hope for many hopeless Liberians. And as we say in Liberia, "I take God to beg you" and the memories will live with you forever. I wish you and delegation a safe trip to The Motherland. I hope to hear from you.
---
About the Author: Jerry Wehtee-Maotee Wion is a Journalist and Political Commentator, Washington, DC, USA.

---
---