Foreign Aid to Liberia: An Instrument meant to empower the Political Elite and Oppress the Poor


By Moses Uneh Yahmia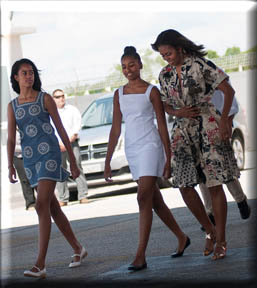 Malia, Sasha & Michelle Obama
After the visit of Mrs. Obama, and her daughters, and the donation of over USD25Million toward girls education in Liberia,  I don't see any significant improvement that will be made in providing access to education to over One Hundred Thousand (100,000) Liberian girls who are out of school either due to lack of finance, teenage pregnancy, etc. This is because; aids given to Liberia by rich nations have been misused by the political elites who have monopolized power. Despite the good intention of aid, it has not met its expected outcome for Liberia. More frustratingly, the rich and industrialized nations who give these aids through international governmental and non-governmental organizations do nothing about the wastage of their tax payers' resources. This makes us to want to believe the argument proffered by some scholars like Walter Rodney, Dambisa Moyo, etc. that the big guns of the international system will continuously give aid to developing nations in Sub-Sahara Africa, Latin America, and Asia   because they in return benefit from the natural resource based economies of those least developed countries.
According to the website of the United States Agency for International Development (USAID), in the 2011 fiscal year, USAID contributed to the national purse of the Republic of Liberia USD23.3Million toward education and social services spending. In the 2012 fiscal year, USAID again gave the government of Liberia as aid to education the amount of USD 20.3Million. In 2013, a little over USD21Million was given by USAID to the government of Liberia to buttress its effort toward education, especially girls' education. USAID again never hesitated and provided to our government in 2014 USD32.5million for the purpose of improving education in Liberia. During the 2015 Fiscal year, USD28Million was again injected into the national purse for education. Just yesterday, June 27, 2016, Mrs. Obama announced during her visit to Liberia, an amount of USD28Million that will be given by USAID this fiscal year toward improving girls' education.   
Additionally, America's humanitarian assistant over the period of five years (2011-2015) according to the USAID's website has accumulated to 350.7Million. In 2011, the Organization for Economic Co-optation and Development (OECD) reported that over the period of ten years, Liberia's official development aid amounted to 765Million United States dollars. Despite these huge amounts of dollars reportedly given to Liberia to improve all sectors of its society, specifically in health, and education, nothing significant has been done to improve those sectors which have led to majority of our people to live unhealthy and uneducated, and as experience poor and unimproved living standard. Majority of the people still lives in abject poverty in the sea of abundant finance provided through foreign aid.  
The educational sector still lies in ruins and tatters. Many children in urban and rural Liberia still do not have access to quality primary, and secondary education in a country that has been heavily aided by non-governmental and governmental international organizations own and run by big industrialized western nations. Where these huge amounts of monies have been going, when in fact they have not been making any impact in the lives of the people, is the one million dollars question that needs answer. It raises more concerns when the U.S through its Agency for International Development and other development partners continue to shower this government with more aids when the previous ones have not proven to be directed in the interest of the people. Aid has failed to provide decent education for Liberians. Aid has failed to provide decent health care for Liberia. There is no sign that aid will substantially end poverty in Liberia.
Retrospectively, in 2008 at the time I was just 15years of age, Liberians witnessed President George W. Bush stepped on the Liberian soil, as part of a historic tour to Africa. At that time, it had been thirty years since a sitting president of the U.S. visited Liberia. At the Barclay Training Center in Monrovia, President Bush delivered a beautiful speech which mesmerized every Liberian that was opportune to have listened to the leader of the most powerful nation on planet earth. In his statement, Bush promised to give the West African Nation which emerged as a political entity in 1847, one million text books, as well as enough desk and chairs for 10,000 students.
Four years after the symbolic donation of the textbooks and desks which was done by the then U.S. Assistant Secretary of State for African Affairs Jendayi E. Frazer, it was reported by the media that the books and school furniture went missing. The then outgoing Minister of Education, Hon. Joseph Korto, did not have knowledge of the books and furniture. His successor Madam Etmonia Tarpeh also had no knowledge of how the books and school furniture were distributed around the country. Today, the ratio of textbooks to students in our educational sector still remains one of the major impediments to the people's children acquiring quality education in their own country of equal citizenship. The whereabouts of the donated items still remain a misery. The victims continue to be the many Liberian children who dream is to have the same opportunity as those children in the western industrialized nations. The victims of this callous and barbaric act continue to be those ambitious young people of Liberia who are in search for a better platform where they would develop and exercise their talents and skills.
Compatriots, it is visible to the blind, and audible to the deaf that aid which is an important feature of Liberia's fiscal policy has done nothing to improve the human development index of our country Liberia. The visit of Mrs. Obama, and her children for the purpose of  improving girls education will not change the miserable condition of our sisters who have time without numbers been denied the opportunity to attain quality education in a country their forebears fought to establish under the insignia of liberty, and justice for all. If the American government, the European Union, etc. are really honest about the good intention of aid given to Liberia, let them do that which is right.
We call on our development partners to prevail on the government of Liberia to get rid of those economic institutions that have systematically blocked the incentives and opportunities of the poor masses of our people to make things better for themselves and posterity. These economic institutions which are analogous to apartheid, according to Daron Acemoglu and James A. Robinson, the authors of the book, "Why Nations Fail", are referred to as "Extractive Institutions". These institutions blocked the people's aspiration to move forward. It is because of the poverty, misery and backwardness these extractive institutions distributed in Liberia in the concluding 20th Century, the 14years of Civil Madness evolved. We have still not learned from history. The poverty of the people in Liberia cannot be taken away by bit more aid, because the extractive institutions which disallow the people the opportunity to advance are still well and alive. The economic enigma we face today is as the result of the way political power has been exercised by monopolized political elite. Giving more aids to Liberia means, making the political elite more economically powerful to oppress the masses of our people.
If the EU, UN, United States of America (our traditional friends), etc. want us to believe that they are not partners to those extractive institutions that have stagnant our people, let them take practical steps toward the plundering of resources given as aid. International sanctions would be one of the major steps. This means, the governments of the countries where aid comes from to enter Liberia should consider cutting economic and diplomatic ties with the government of Liberia like was done to apartheid in South Africa, until robust, and significant democratic reforms can be holistically carried out in government institutions.

---
---