Microscoping Liberia's Security Sector as UNMIL Transitions


By Martin K. N. Kollie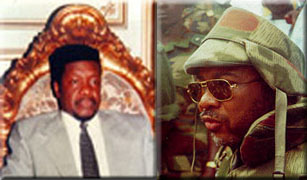 Warlords Kromah & Taylor
Reflecting on a horrible past
Sitting under an old zinc kitchen lecturing with friends in 2003 at an Internally Displaced Center in Paynesville city, my small brother came running to me in his pajamas and said "They are firing again".  I was mute for almost 30 seconds and could not say a word. Finally, I told him that Liberia shall become free of gun sound one day and peace shall prevail.

Soldiers loyal to ex-President Charles G. Taylor and various warring factions were never willing to put an end to bloodletting and butchery in Liberia as straight bullets, mortars and grenades could not just spare our people. There was a loud cry out for rescue from the compound of Greystone as LURD and MODEL invaded Monrovia.

Rocket Propelled Grenades (RPGs), AK-47 rifles, M16 rifles and machine guns were at the throats of the Liberian people. There were child soldiers everywhere in arms intimidating and harassing citizens. We were compelled to wake up and go to bed with gun sound in our ears. The Liberian people had no choice, but to endure such a horrible past.

Our sisters and mothers were raped and sexually abused by cocaine-infested soldiers and dissidents who had no justification for holding arms. Monrovia became a hub of mass destruction, atrocity, massacre and genocide as poor Liberians kept crying on the International Community for help. There was dead bodies everywhere especially during World War 3 in Liberia – Corpses were all over on sidewalls.

Neither LURD, MODEL nor Government Forces could pity our condition by reaching a Peace Deal. The voices of Liberians calling on all parties to cease fire were immaterial as our people died en masse on a daily basis. The destruction and looting of properties by rebels and government militia were unprecedented. Anarchy and mayhem became the order of the day.

Schools, churches, mosques, businesses, and public facilities were shut down as a result of this deadly civil unrest. The State was in total disarray and chaos. Those perceived as enemies were butchered in cold blood. Women, men, youth and children were captured forcibly to take up arms and fight for a cause they had no knowledge about.

Students were out of school – doctors and nurses could rarely be seen in hospitals and clinics – hunger was increasing – safe drinking water was nowhere to be found – the number of children without parents was growing. The guns were in exclusive authority. Survival of the fittest was the only slogan we knew.  

The Liberian people were in a mood of severe distress, fear, frustration, mourning, and hopelessness when no one could easily come to their rescue. Our nation was bleeding with terrifying scenes. As a result of a prolonged crisis from December 1989 to August 2003, more than 250,000 of our compatriots and countrymen had to fall prey to death. May those fallen souls rest in long-lasting peace!

The Comprehensive Peace Accord – A Victory for Peace in Liberia
Between June and August 2003, it was a 'do or die' battle between government forces and LURD rebels in Monrovia. After all of the fighting, looting, raping, beating and killing in Liberia, our hope, resilience and persistence as a people and a nation finally propelled us on a peaceful shore. Nothing was more paramount than PEACE!

The world was tired seen us being abused and slaughtered like animals. The United States of America, the United Nations, the African Union, the European Union, ECOWAS and other regional organizations had to quickly come to the aid of Liberia because our people were dying like flies between 2001 and 2003.

After series of outcries, mediations, negotiations, dialogues and consultations, a deal for peace in Liberia was finally sealed in Accra, Ghana to put an end to a protracted era of turmoil and tragedy. Monday night of August 18, 2003 was a landmark victory for peace in Africa's oldest republic after two and the half months of peace mediation.

Spearheading this peace deal was the Economic Community of West African States (ECOWAS) in collaboration with the United Nations. At long last, the Liberian people were about to embrace a new and historic beginning – a beginning of sustained peace and stability – a beginning of relief from continuous gun sound, macabre massacre, lawlessness and human rights abuses.

The passage of UN Security Council Resolution 1497 on August 1, 2003 authorizing a multinational force and an International Stabilization Force was a genuine step to securing long-lasting peace in Liberia. The first 198 Nigerian ECOMIL peacekeepers were greeted by a jubilant group of war-ravaged Liberians on August 4, 2003.

Across Liberia, we heard the voices of starving, but yet courageous Liberians "We want peace, no more war".  Under the heavy down pour of rain, our people cried in a joyous mood. Monrovia was upside down as thousands came out of their hiding places and little corners to celebrate the arrival of the Vanguard Force.

On September 19, 2003, UN Resolution 1509 authorized the establishment of the United Nations Mission in Liberia (UNMIL). On October 1, 2003, UNMIL assumed exclusive peacekeeping and security responsibilities from ECOMIL with a manpower of 3,500 Peacekeepers from West Africa, mainly Nigeria. Liberians remain grateful to ECOMIL and UNMIL for sustaining peace in Liberia for 13 years. It is because of you and the resilience of the Liberian people that our country has come thus far.

Security Gaps in Liberia as UNMIL draws down
Sustaining Peace in Liberia beyond UNMIL's drawdown is a matter of national imperative. The Liberian people have lived in peace for 13 years now and this uninterrupted peace can only be maintained if exiting security gaps are mitigated. As UMMIL transitions by turning over security responsibility to the Liberian government, it would be very crucial to find remedy to visible threats that could undermine our hard-earned peace beyond June 30.    

Highlighting prevailing gaps within Liberia's security sector as UNMIL's mandate comes to an end within less than 24 hours is essential. Since Liberia began a process of transforming its military, the US government has made a commitment of US$95 million to train over 2,000 soldiers, but this target is yet to be actualized.

The mass abandonment of posts by AFL personnel and dismissal of military men without according them due process through a system of Uniform Code of Military Justice (UCMJ) is scaring especially as 2017 approaches. One (1) military personnel who has abandoned his/her post as a result of poor treatment is a serious threat to national security.

Over the last 6 years, budgetary appropriations to the AFL have been reducing for unjustifiable reason(s). During 2010/2011 fiscal year, the AFL received US$15 million. This amount was reduced in 2012 to US$12,533,017. The Armed Forces of Liberia has a current force of 1,800 active personnel with a budget of US$11 million. Can 1,800 military men provide security for 4.4 million people?

The Liberia National Police (LNP) has less than 4,000 personnel with a budget of US$21 million. How can 4,000 police officers provide security for 4.4 million people? This is totally unrealistic. Some of our counties have less than 5 police officers. 500 Immigration Officers have been trained since 2009. There are 176 known border crossing points across Liberia. 45 of these border crossing points are official with immigration officers manning them while 131 of them are vulnerable to illegal entry. The capacity of LNP, AFL, DEA, BIN, LNFS, NSA and MoNS is very weak.

Liberia's security sector is experiencing serious manpower, logistical and funding challenges. The vacuum in our security sector is too wide and needs immediate mitigation; otherwise our nation's peace would remain susceptible to peril. The high-rate of youth unemployment poses serious threat to our security. Extreme poverty and inequality as a result of corruption remain undermining factors to our nation's peace. Bad governance is exponentially contributing to public discontent! The need to economically empower the people and ensure basic social services across Liberia cannot be over-amplified.

I am one of those who strongly believe that UNMIL should remain in Liberia until our general and presidential elections are over in 2017, but again we have no choice. UN Security Council resolution 2190 of December 15, 2014 brings to an end UNMIL's mandate. The total cost to keep UNMIL in Liberia for just 12 months is $344,712,200.00 – this amount is more than half of Liberia's national budget.

Liberian security apparatuses are unready and ill-equipped to take over from UNMIL, but nothing can be done about this now as our nation goes through this very crucial transition. As it stands, the government of Liberia needs US$90 million according to the Security Transition Plan in order to assume full security responsibility from UNMIL. Out of this amount, GoL has made US$20 million available for this process, which is just a drop in the ocean.

With less than 24 hours to go, our government needs to raise an addition of US$70 million to meet its overall target. Sadly, Liberia's national budget has dropped from US$622,743,420.00 to US$522,843,420.00 after a recast process. It means that US$69.9 million has been cut. This shows our country's unpreparedness to fund security sector reform.
A Patriotic Plead to Liberians
The security of every nation is tied around the citizens, especially young people. Liberians from every sphere of life have a very pivotal role to play in promoting peace and security beyond UNMIL's exit. Either we choose to build peace or break it as UNMIL draws down. It is time for us to jealousy protect our infant democracy through genuine peace, reconciliation and integration.
Wherever you are or whoever you are, the responsibility to keep Liberia safe and secured rests upon your shoulder. Peace starts and ends with every citizen. Liberians deserve peace because they have been through a lot. The days of using guns to express our dissatisfaction are over. Even if we are pushed against the wall, we must never run to the bush to find answers like others did. Peace has to reign across mama Liberia forever. Solutions to our many problems cannot be found in RPGs, AK-47 and M16 rifles.
The adherence to the Rule of Law is critical beyond UNMIL's drawdown. Preventing violence and managing conflict in every community is a genuine step forward. Young people must be law-abiding and refrain from being used as scapegoats or spring-boats by greedy politicians. They must serve as watchdogs to expose crimes and build a bridge of cordiality with state security. 
On the other hand, state security must refrain from harassing, intimidating and provoking peaceful citizens to anger. The usage of lethal force/weapons against armless civilians and peaceful protestors is injurious. Arbitrary arrest and witch-hunting create a fertile ground for civil disobedience. Amidst all these potential risks, peace must remain an indispensable priority in Liberia.
Recommendation:
Beyond UNMIL's drawdown, these are few recommendations to our government and its partners:
Recruit, train and equip more officers to serve LNP, AFL, BIN, LNFS, DEA, LNFS, NSA and MoNS.
Increase funding and logistical support to every security agency including private security firms.
Organize a National Conference on Peace, Reconciliation and Security in every county.
Establish Community Watch Forum in each of the 73 districts across Liberia.
Promote community policing with each community having a Security Network Committee (SNC).
Prioritize youth employment, education and empowerment. The provision of basic social services such as electricity, housing, healthcare, safe drinking water, etc. is vital.  
Enforce the teaching of Civics in every school across Liberia.
Construct a Conflict Resolution Center in each district. This will serve as a meeting point for young people to discuss peace and conflict resolution on a regular basis.
It is my hope that in our lifetime Liberia will have no need for a military force or army. It is possible for our nation to be like Andora, Costa Rica, Dominica, Grenada, Kiribati, Liechtenstein, Solomon Island, Samoa, Palau, and other countries that have absolutely no military forces, but yet citizens of these countries live in peace.  Liberia can only attain this height if patriotism and nationalism take precedence.

From the largest slum of West Point and the top of Ducor, I see a new Liberia rising above the African continent. 

---
Author's Statement: Martin K. N. Kollie is a Liberian youth activist, a student leader, an emerging economist and a young writer. He hails from central Liberia, specifically Bong County. Martin currently reads Economics with distinction at the University of Liberia and he is a loyal stalwart of the Student Unification Party (SUP). He can be reached at: martinkerkula1989@yahoo.com

---
---